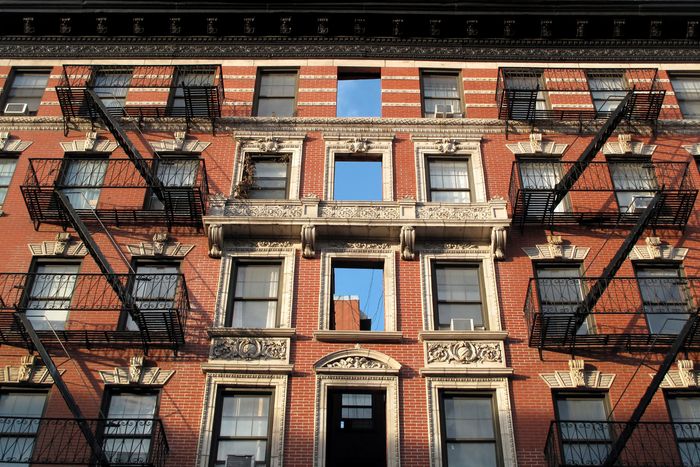 Photo: Busà Photography/Getty Images
For the past five years (until this summer), writer Kate Knibbs lived in a two-bedroom Clinton Hill apartment with her husband and a roommate. But when her lease was up in July — when Manhattan vacancies were skyrocketing and Brooklyn rents sliding — her landlord told her the rent was increasing from $3,250 to $3,300. Knowing that it was a renter's market, Knibbs attempted to negotiate the price down, pointing to similar apartments going for far less. "We had a really rough spring and we didn't really wanna deal with moving on top of that," Knibbs said. Her landlord didn't budge, so they decided to move out — but she hasn't exactly moved on. Knibbs kept checking StreetEasy to see if her old apartment had rented already and for how much. That's when she realized the apartment had been listed for $2,583 per month, $720 less than the landlord had been asking them for.
Knibbs is one of a new brand of real-estate obsessives in New York: the spite watchers who keep coming back to a listing looking for proof that they were right about what the rent should have been. There are the tenants whose landlords wanted to raise the rent by 5 percent and are instead listing now-vacant units for less; the Manhattanite who had to move around the corner only for their old apartment to sit empty for over a month; the downstairs neighbor watching the rent slide lower and lower on the vacant unit upstairs and they prepare to renegotiate their own rent. It's usually too late for spite watchers to save any money themselves; they're in it to angrily watch the numbers drop on StreetEasy.
"It's just been really frustrating because we would have happily stayed in that apartment had they been willing to cut us some slack or negotiate in good faith," Knibb says. "I just saw the $2,500 and was … very mad"
While Knibbs and her husband landed in a $3,000 two-bedroom all their own in Red Hook, Lesley Moran didn't have many options after her landlord refused to negotiate on the rent. "I wasn't able to work and the rent was piling up," says Moran, a single mother with twins, who left behind a three-bedroom apartment in Fort Greene to go live in Florida. She's kept in touch with her former neighbors since leaving in late June, who tell her that the apartment sat empty, and was then put up for sale — first listed for $1.125 million, it's now going for $999,999. Moran says her out-of-state landlord's move wasn't too surprising. "I think those landlords that didn't live through the pandemic themselves are out of touch… My thought is, a little compassion would have kept me in the city I loved."
In Prospect Lefferts Gardens, Valerie Lippman's landlord refused to do anything about the neighbors who started smoking in the hallway at the height of the pandemic, so she and her partner ended up moving to another place just a block away. Lippman, a self-described "constant StreetEasy looker," kept tabs on the place and saw that it was listed for $1,750, $100 less than what she was paying before moving out, and $50 less than what she was paying when she first moved to the apartment in 2017. It still sat empty for three months before someone finally moved in.
"I feel like the thing with landlords is that there's never any consequences for them, you can dump your fee, and shout, and scream. But ultimately, they always win," she says. "So it's kind of nice to just see like, okay well, there's just a little bit of justice here."