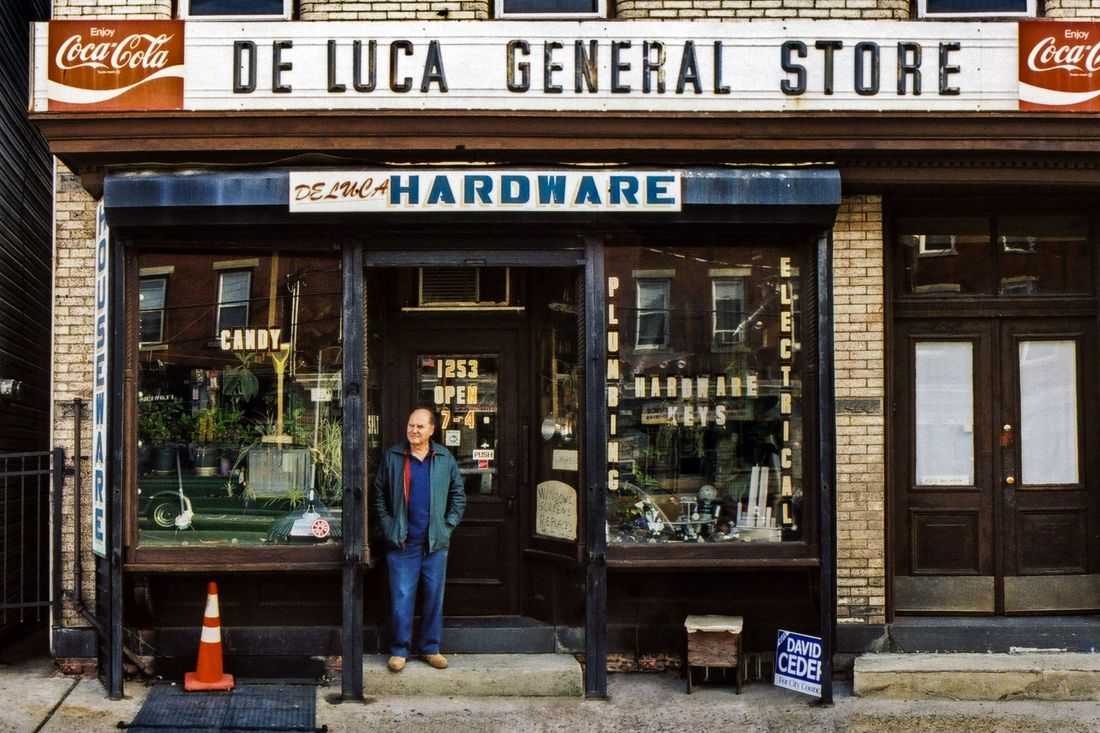 John DeLuca in front of De Luca General Store, Staten Island, 2005.
Photo: James and Karla Murray
This year, we have devoted New York's annual "Reasons to Love New York" issue to a celebration of the go-tos that have closed since the pandemic struck. A wake for the places that defined our lives here — that gave us community and let us try on new identities in return for our money. The bars where we came together for after-work drinks, the boxing gym where everybody thinks they're in an action movie, the gallery that trusted you to build a cloud, the coffee shop where you were left alone to read, the restaurant with the full bar where you'd find yourself trying to eat after an all-night bender, the place that was so of its moment that it became a relic and then (deservedly) an icon. All gone. And sadly, probably, more to come before the city returns to its purpose: a place of gathering. We'll be sharing these tributes all week on Curbed.
Retail
Rosebank, first opened in 1977
John DeLuca, who owned De Luca General Store on Staten Island for 43 years, died of COVID-19 in May.
John Guzzo, a regular since the '70s:
DeLuca wasn't the kind of place you'd go to if you needed something fast. Sometimes it would take John an hour to find the screws I wanted among all the nuts and bolts, but, you know, I didn't care. I always stopped at the coffee shop and got a large cup to drink it with him while he'd search through 500 boxes. He'd talk to you, tell you things about the neighborhood you didn't know or maybe had heard 700 times. He'd make sculptures out of beer and soda cans and had all these things he made — airplanes, spaceships — hanging from the ceiling of the store. He was a staple of the community, a generous man who would help you with anything. John always said he would never close, and that's basically what happened. The store didn't close until he passed away. —As told to Caroline Spivack
Retailer
Flatiron, first opened in 2015
The Copenhagen-based novelty chain Flying Tiger has miraculously given me a chance to buy gifts that look like a million bucks but only cost a pittance. The store has showcased everything from burger-shaped kitchen timers to shell-shaped soap dishes, and none of them were ever going to break the adorable pink piggy bank you could get there for peanuts. Now that it's closing all of its U.S. store, I'm going to have to either up my game and start spending a lot on gifts or just go back to sending greeting cards filled with confetti.
To heal, I went in mid-November to the closeout sale of the 920 Broadway branch, where every item left on the shelves had been marked down to 50 cents. I loaded up on household things (batteries, hairbrushes, place mats, and "choco sandwich cookies") as well as fun gift items for friends (a "Stuff Me With Your Stuff" makeup bag, impossibly cute finger puppets, and sparkly Christmas-tree earrings). I spent a total of $16 and came home with a gigantic bag full of delight, along with bittersweet memories of the merch I'd procured there through the years — particularly my green furry notepad with a shiny frog on top, a heart-shaped battery-operated alarm clock, and eyeglasses frames festooned with antlers and mistletoe to giddy up all those holiday parties (all cheap, $5 and under). Best of all were the themes, which made the place suddenly awash in well-thought-out flamingo motifs or unicorn images. (My mug with a unicorn-tail handle and a horned head sprouting out the other end is one of my favorite kitschy belongings, though I live in terror of a Tennessee Williams moment where I'll drop it and break the horn.) A value store may never be this valuable again. —Michael Musto
Bookstore
Stories
Bookshop
+
Storytelling
Lab
Park Slope, first opened in 2016
Sometimes, writing children's books is like howling jokes into a void. If you're writing for adults, there's a chance you'll meet a reader at a party or on social media. But even bookish kids aren't on Twitter. Which is why I appreciated reading at Sunday Storytime at Stories Bookshop near Barclays Center. A crowd would always show. I read my children's book The Ball Book: "Some balls you eat. Some balls you chew." Kids who came up to my knee were giggling at the rhymes: gumballs, meatballs, matzo balls, too. Their parents, some of whom actually looked up from their phones, also seemed entertained. (Important, since they're the ones with the credit cards.) Afterward, I signed copies: "Have a ball." —Joshua David Stein
General Store
Boerum Hill, first opened in 2016
I was between hobbies in summer 2018 and thought I'd try my hand at something new. I didn't know I would become obsessed with making ceramics, and I didn't know anyone would be remotely interested in selling what I'd made. But Dan Sorg, the co-owner of Regular Visitors, a shop at the corner of Smith and Bergen Streets, saw something in my work. Over many Instagram conversations, he encouraged me to sell my ceramics there. We ended up selling hundreds of dollars' worth. The last order I dropped off was a group of eight berry bowls I'd spent weeks making. A few hours later, Dan messaged me: "Sold out of your bowls. 1 person bought them all!" —Nikita Richardson
Grocery Store
Red Hook, first opened in 2006
Founded on the Upper West Side in 1933, the chain declared bankruptcy at the start of 2020; its Red Hook location, shuttered in June, was the neighborhood's largest grocer.
There is still a grocery store on the water's edge in Red Hook. It is still enormous, with aisles so long and a layout so one-directional that if you get to the checkout and realize you have forgotten, say, bananas, it is a lost cause. I went last week, my first visit since the onset of the coronavirus. It is enormous and well stocked, and it is no longer Fairway.
Fairway was a staple of my childhood on the Upper West Side. It wasn't the closest — that was Gristedes, a sorry substitute with gray slabs of meat sealed in plastic and sad-looking vegetables, not that I ate vegetables while I still lived in my parents' house — but it was the best. Its flagship store was (is, is, at the moment of writing, is) on Broadway and 74th Street, ten blocks from the house I grew up in, which meant that if your bags were too heavy, you could hop on an M104 bus and be home in a few minutes.
When Fairway opened in Brooklyn in 2006, I was in graduate school in Wisconsin, and when my husband and I moved back to the city a few years later, we lived all the way across the borough, but we had a car and so, once again, I could buy all the Fairway avgolemono my heart desired, which was a lot. I don't drink coffee, but even I could recognize that the coffee department smelled like heaven, populated by giant barrels of whole beans and a dedicated staff member who would grind them for you on the spot. The bakery department was run by a woman I knew in high school who had thrown epic New Year's Eve parties in her parents' apartment, in which she now lived with her own family. I ran into my therapist there. That was what Fairway felt like to me — proof that my life was one long, continuous line, stocked the whole way with Fairway's in-house challah and dried fruit and olive oil and unlimited samples of cheese.
In 2016, my parents sold the house I grew up in and moved a few blocks away from us in Cobble Hill. There are several small grocery stores within walking distance, but Fairway has always been No. 1 in my heart. My children love to visit the lobsters in the tank — still there, looking sadder, though maybe I was projecting — and eat samples of cheese (though when we went last week, our masks on, sampling was clearly not on the menu). There are so many parts of life that have been trimmed from our days, so many small pleasures that we took for granted. My children are picky eaters, and their love for obscure cheeses has always been a silver lining, a tiny moment of pride, when I have otherwise so utterly failed their palates. Without a prolonged interaction with a cheesemonger, it was no different than my filling a virtual cart on the internet.
What is grief for a grocery store? My father has been in the hospital since August, moving in and out of the ICU like a ping-pong ball. Many of my friends have lost family members in these past months and remain unable to hold funerals. We are all in a grief-stricken haze, vacillating between some semblance of normal life and grappling with the enormity of what we have lost. Fairway closing and a Food Bazaar opening in its place is a tiny shard of glass from the broken mirror that is 2020, a piece almost too small to notice. Walking the Food Bazaar's aisles felt eerie, like being invited to a party somewhere I used to live, the kitchen still in the same place but the walls a different color and all the furniture rearranged just enough to trip you in the middle of the night. Is it better? Is it worse? I don't know that I can see it clearly enough to say. What I do know is that it doesn't feel the same. That's part of what we're missing when these places close — not the ability to buy our favorite soup but the feeling of stability, and familiarity, and home. —Emma Straub
Retailer
Neiman
Marcus
at
Hudson
Yards
Hudson Yards, first opened in 2019
A year almost to the day before New York went into lockdown, that great big vertical shopping mall at Hudson Yards had its opening-night party, with free food, lots of drinks, and throngs of people from all walks of putative VIP-dom wandering around asking one another if they'd ever come back. Why would you? There wasn't much of anything here you couldn't get at any number of other, more conveniently located places in the city or, for that matter, at any number of other upmarket cities most anywhere in the world. Navigate five flights of manipulatively located escalators and you eventually arrived at Neiman Marcus — the city's first branch, although the store, anchor to enough dead malls already, reportedly had been a source of anxiety for the Hudson Yards developer, which worried it might try to wiggle out of its lease before it even opened. Nonetheless, someone hired Liza Minnelli to sing, and that festive night, it had spent a great deal of money to install the jauntily severed back end of a yellow taxi, trunk open, bursting with flowers, and set against a black-and-white establishing shot of a Manhattan skyline overlaid with a squiggly neon-yellow line of landmarks like the Chrysler Building and (of course) the Vessel. The idea, I gathered, was for you to take a selfie there, as if you were actually in New York City instead of this Dallas Galleria tribute to it, perhaps next to one of the models who had been hired to loiter hautily about, looking as if they'd escaped from a party scene in Sex and the City. I never did go back. And then, in July, to no one's surprise or regret, it shut for good, and Facebook is reportedly going to turn the location into office space. —Carl Swanson
*A version of this article appears in the December 7, 2020, issue of New York Magazine. Subscribe Now!
More Reasons We've Loved New York
See All