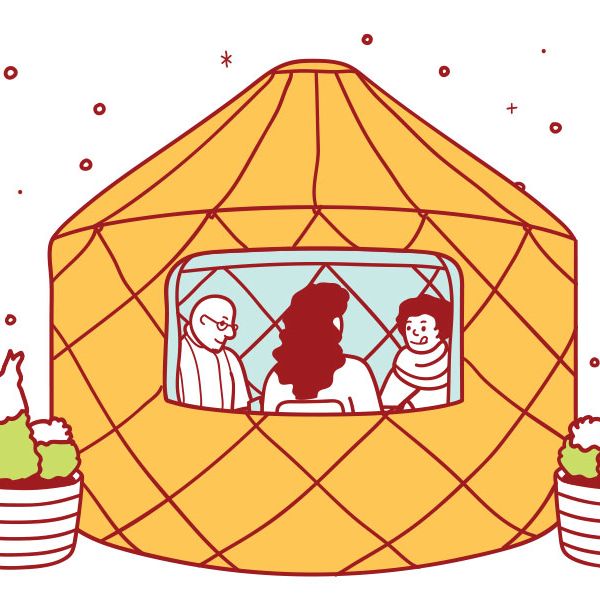 In the early days of pandemic outdoor dining, New Yorkers were lucky to find the shade and shelter of an umbrella. But at this critical, subarctic stage in the great alfresco experiment, the city's streeteries have evolved into their own architectural genus, loosely classified by material, size, and shape. Now, a stroll around the block will likely reveal structures of such distinctive mien and varied design that you need a field guide to keep them straight.
The Urban Yurt
Native to casually high-end restaurants, the Urban Yurt is a round tent with a pointed roof. Generally constructed by stretching canvas across a wooden lattice framework, Yurts tend to appear in clusters sometimes called "villages," with their soft interior glow visible from the street. Though often equipped with an overhead heat source, they also embrace preindustrial warming solutions, such as blankets.
Where to find it: Lilia, Crown Shy
The Upmarket Shanty
By far the most ubiquitous structure of the current era, the Upmarket Shanty uses wood (or sometimes a combination of wood and corrugated plastic) to protect diners from the elements. The Upmarket Shanty appears in both casual and formal situations, in streets and along sidewalks, strung with fairy lights or Edison bulbs. Often warmed by heat lamps, the two- or three-sided structure is frequently bedecked with seasonal greenery, such as pine.
Where to find it: Rezdôra, John's Pizzeria, 15 East at Tocqueville
The Plastic Igloo
Although it was among the first COVID-era structures to capture diners' imaginations, it is rare to spot a true Plastic Igloo, or "bubble," in the wild. Each snow-globe-chic dome houses a single table, and like Urban Yurts, space-heated Igloos are almost always found in clusters. Unlike Urban Yurts, however, Igloos keep diners in full view of the street by virtue of being clear plastic.
Where to find it: Cafe Du Soleil, Lucciola
The Tent
Perhaps the most iconic presentation of outdoor dining, the Tent is easily spotted in the wild. Many tables are placed in a single area, and that area is then covered by a large textile affixed to metal poles. Though traditionally associated with summer, the Tent can be winterized through the widespread use of heat lamps. Because it is frequently open on all sides, the Tent may offer less protection from the elements, but it is prized for its agility, being easier to set up and take down than many of its competitors.
Where to find it: Pearl Oyster Bar, Positano, Chez Oskar, Quality Bistro
The Individual Solarium
These petite solaria are house-shaped structures meant for single parties. With a metal framework and glass or clear-plastic sides, the Individual Solarium offers near-complete protection from the elements and has been known to feature amenities such as electric tabletop space heaters, AstroTurf, and festive winter décor.
Where to find it: Black Forest Brooklyn, American Brass, Malii Thai Kitchen, Lea, Peaches HotHouse
The Group Greenhouse
A close relative of the Individual Solarium, the Group Greenhouse is likewise a metal-and-clear-plastic house-shaped structure, but it's built for a communal dining experience. Because it's large enough to seat several parties simultaneously, the Group Greenhouse is more open than its fun-size counterparts. It's typically warmed with several freestanding heat lamps, and, much like its namesake, it's frequently decorated with plants.
Where to find it: Mo:den, Rebel Cafe & Garden
The Winter Garden
Native to high-end restaurants in Manhattan, the Winter Garden is quickly recognized, on account of the plants. Here, a basic scaffolding has been swallowed by seasonal greenery. Unlike the Group Greenhouse — also known for its flora — the Winter Garden substitutes plants for more conventional building materials: Thickets of pines shelter tables and potted ferns offer privacy while giant pillars of twisting vines grow up from the sidewalk, separating the dining area from the street.
Where to find it: Marea, The Forest at the Standard
The Plywood Chalet
The Plywood Chalet is most identifiable for being a wooden box. Rich and varied in presentation, Plywood Chalets offer shared dining experiences with many tables nestled in a single open structure, sometimes separated by plexiglass panels. Some draw inspiration from the Swiss Alps, optimizing for coziness with blankets, overhead heaters, and raclette, while others are modeled on shoeboxes, optimizing for minimalism over unnecessary ornamentation.
Where to find it: Il Violino, Petite Boucherie
The Cubby
A series of adjoining rooms — each accessible by private door — within a single wood structure, the Cubby allows for total separation between parties. It's often furnished with its own overhead heater and occasionally scattered with atmospheric pine cones. Elegant though never oppressively fancy, the Cubby lets diners feel as though they are eating in the winter issue of a Scandinavian-furnishings catalogue.
Where to find it: Oiji, Jua, Cote
The Cold-Weather Cabana
A freestanding structure similar to the Urban Yurt, the Cold-Weather Cabana takes its design inspiration, incongruously, from the beach. Each table can be fully enclosed in thick fabric, protecting diners who may indeed be wearing swim attire inside. You will never know — such is the privacy afforded by the Cold-Weather Cabana.
Where to find it: Daniel
The Reclaimed Alleyway
A rarity by circumstance, the Reclaimed Alleyway must exist under very special conditions: It is possible only when a restaurant has an alleyway to reclaim. Like truffles, Reclaimed Alleyways cannot be cultivated; they must be discovered in the wild, and then refined, mostly through the addition of tables and atmospheric twinkle lights.
Where to find it: Shuko
*A version of this article appears in the January 4, 2021, issue of New York Magazine. Subscribe Now!