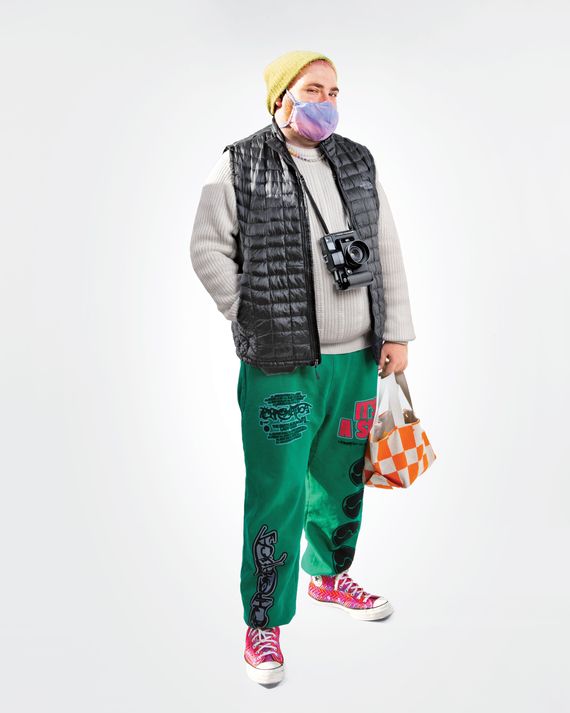 Hunter Abrams.
Photo: Rochelle Brock
Hunter Abrams (pictured above), Photographer, Crown Heights.
How often did you come here?
Well, this is my third day coming in a row, and I keep running into people. My roommates are here and my friend Kia — it's her birthday, and I just saw her waiting to get some cake and a patty melt. I'm back in the city now, but over the past few months, when I was living with my parents on Long Island, I would drive in a couple times to pick up takeout.
What dish will you miss the most?
My signature order: the Buffalo-chicken salad and a slice of cake. I also tried to buy the dressing recipe off Libby, one of the chefs, a couple of weeks ago. I was like, "Can I purchase access to the Google Doc of the recipes?" I know there's a Google Drive. She was like, "Well, no, but as a thank-you, I'll give you some dressing."
Are you a regular?
Yes. Two times a week, usually. It's just a place where you can lovingly gaze at folks in the queer community without some of the — well, you know sometimes how when you're in a queer bar, it feels kind of like a meat market? MeMe's never felt like a meat market.
So you're a chef?
Yes. I'm about to start work on this baking project: making za'atar-flavored pretzels for this campaign meant to put pressure on General Mills and Pillsbury to stop producing their products in Israeli-occupied Palestinian land. So solidarity, and they'll look good on Instagram.
When was the last time you were here?
The day Kobe died. We had this great meal and then walked out, and this man in a full suit stopped us and was like, "Hey, Kobe died." Strangely, the same thing happened to me when MJ died. I was in a café, and a man turned and told me. I was like, "Bro, you're fucking lying."
What will you order?
The patty melt. The last time I took a bite into that sandwich, I closed my eyes for a solid five-to-ten seconds afterward.
*This article appears in the December 7, 2020, issue of New York Magazine. Subscribe Now!