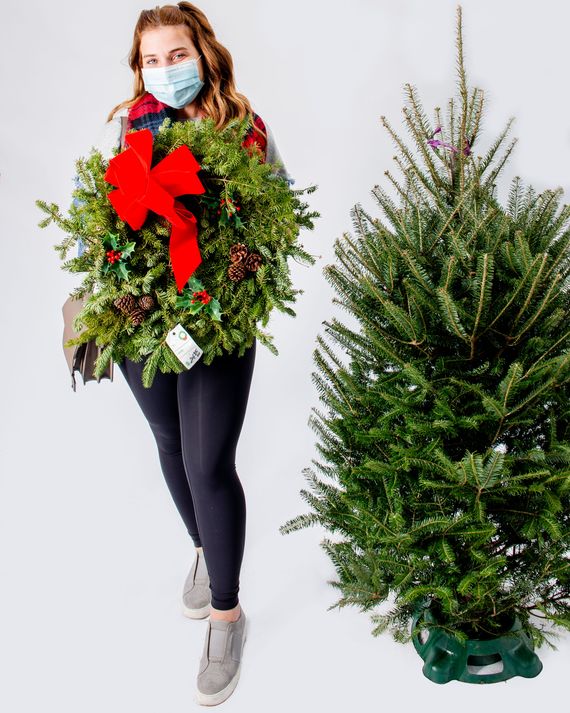 Meagan McKenna.
Photo: Rochelle Brock
Meagan McKenna (pictured above), day-care worker, Bensonhurst.
Do you have any Christmas-tree traditions?
Yes. We first feel the trees to see if the branches are healthy. Then we ask the workers if they can please fluff them out so we can see if there are holes. Then we smell them all. The guy who works there, Keith, is always a little scared when we walk in. But he helps us, because he keeps a Christmas-positive mind-set.
What do you do on Christmas?
We watch Hallmark movies. One year, we wore shirts that said "All I Want to Do Is Bake Cookies and Watch Christmas Movies." Last year, the movie was a good one: Same Time, Next Christmas. Lea Michele would go to Hawaii every year with her family friends, and then she stopped going, and then she fell in love with the family friends' son. I myself do not have a Christmas romance. Sometimes I go into the city and hope something magical will happen. With all the lights, it's easy to convince yourself it will.
Nice sweatshirt.
Yeah, I picked it up from PacSun. It looks vintage. I'm an old-school, vintage type of guy: newsboy caps, that kind of thing. I'm in sweats today, but usually I'm dressed to the nines.
What are your holiday plans?
Between catching my husband in an affair and putting my blind, diabetic 14-year-old Pomeranian to sleep, the past few years have been crazy. So I will be enjoying Christmas with my new puppy.
What did you come here for?
Well, every year I basically live here from the day after Halloween through Christmas. I came so often that they basically begged me to start working here. Now I do, and every day I come home with something new. Today it was some Christmas-tree skirts that glow up.
Is that a cross?
Yep. I'm the shop decorator. And I invented this tree-cross frame. This one is going to St. Athanasius on Bay Parkway. Monsignor Cassato wanted it for his altar.
*This article appears in the December 21, 2020, issue of New York Magazine. Subscribe Now!