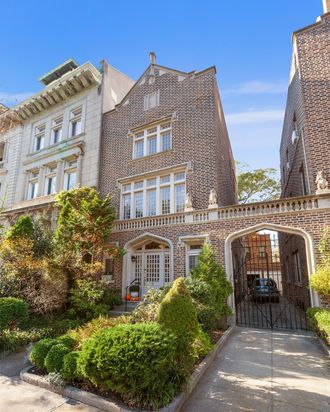 Photo: Compass / Michael J. Franco
Situated directly across from Prospect Park, with a dense front garden and gated driveway, this neo-federal brick townhouse has, for the past 12 years, been used as a bed and breakfast called At Home in Brooklyn. Generally favored by parents and grandparents coming to visit family in Park Slope, the space has, in the past, also been used to host musical and theatrical salons, as well as exhibitions for artists like Eric Aho and Jackie Weisberg. But income from the inn has dried up as a result of the pandemic.
When the owners bought the place in 1994, the layout made space for a doctor's office downstairs, and a residence above. During the three-year renovation that followed, Porter Clapp Architects brought some of the elements of the stately facade inside — they built, for instance, a limestone arch that matches the arches over the front entrance and driveway to connect the living and dining rooms.
Other upgrades were made. There are Pietra Serena limestone floors with radiant heat on the first floor. All the upper-floor street-facing windows (spread across two 18-foot-wide bedrooms) have Honduran Mahogany wood frames. A third-floor bathroom was enlarged, and got skylights plus an original stained glass window that was moved up from the former doctor's office downstairs.
They kept one room exactly how the doctor had it in the 1930s — the black and red tiled bathroom on the second floor, which, the owners say, the Brooklyn Museum was interested in adding to their period room collection as an example of Art Deco style.