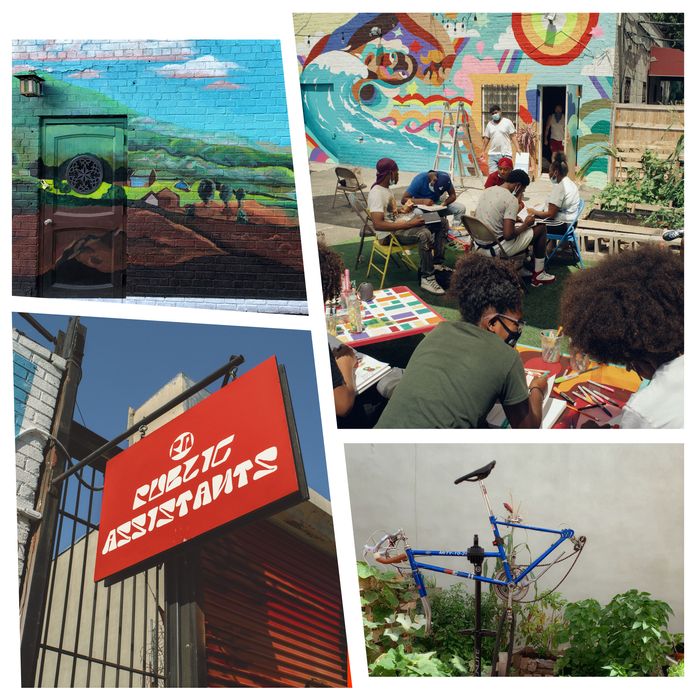 Photo: Diana Budds/Don Christian
The building on the corner of Franklin Avenue and Park Place in Crown Heights tells the story of its fast-gentrifying neighborhood as well as, just possibly, a vision for a better way forward. It housed a laundromat, a methadone clinic, and a restaurant and was sold in 2016 to real-estate developers who planned to demolish it to build condos. The pandemic put those plans on hold, but the laundromat and clinic had already closed. Instead, at least for now, it's home to the community space Public Assistants.
"People have been able to connect and find space for resistance," says the artist DonChristian Jones, who helped found the space, which is all about providing room for BIPOC and LGBTQIA+ artists to help each other, and help their neighbors, create. Or just hang out. "It's meant to feel like a family, like an enclave, like an oasis, and not like an organization. It's meant to grow and be in flux."
A new mural painted by youths from the neighborhood has taken the place of a shuttered laundromat's blank white wall; a formerly vacant lot behind the building now has a community fridge, vegetable garden, and bike-repair service in it; and if you passed by around the time the George Floyd protests were happening, you might have caught a glimpse of people painting "Your Liberation Is Bound in My Liberation" banners to bring to marches. Finally, in late November, the gates on the laundromat, which closed in 2019, opened for the gallery–workshop–studio space.
This year — amid the acute crisis of the pandemic, which exacerbated chronic issues of unaffordability — mutual-aid networks have sprung up to help fill in the gaps. Public Assistants is just one of many artist-run spaces that are responding to the needs of its community, whether it's free food, a place for affordable repairs, the use of production equipment, or just to feel welcome. It's in the same family as Playground Coffee Shop, Universe City, and Mayday Space but is also something entirely different: There isn't a leadership structure, it's bootstrapped through small donations, and the artists who work from the space are free to pursue programs based on their own interests. As a recent flyer Public Assistants sent out says, "We can do anything."
"Our founding tenets are 'undo respectability, aid mutually,'" Jones says about what Public Assistants stands for. "I just found that everywhere I went — every org, every educational space — mirrored a corporate space with regard to respectability politics, professionalism, and all these things I find are actually rooted in white supremacy. So I just feel like, while working within them — unless you're working to undo so many of these constructs and formalisms that are actually racist and patriarchal and misogynistic — it's like, What are you doing?"
Recently this has taken the forms of a toy and coat drive, which served 80 families last weekend; a Thanksgiving-meal giveaway; hosting drop-in days for bike repairs; and ongoing acupuncture and apothecary clinics. This week, the space has become a screen-printing studio for a line of merchandise Public Assistants plans to sell in order to support the space and its programs. And this weekend, Mercy Kelly, an artist who has worked closely on Public Assistants, is hosting a film festival focusing on work from queer directors. (Due to the COVID-19 spikes, it will probably screen virtually.) It's part of "Our Sanctuary," the Black trans programming Kelly runs through Public Assistants.
"There are some trans people that will never experience a family dynamic, or they'll never get to really share space with people without having to be picked apart," she says. "And we just wanted to have a wellness space where you can just come and do nothing. There's no expectation to perform in any way."
Public Assistants is in one of the most rapidly changing neighborhoods in central Brooklyn, and its birth was, paradoxically, in part contingent on that fact. When the redevelopment plans stalled, it so happened that the property managers knew Jones — and that he was trying to find space for his organizing work. They offered him the use of the vacant laundromat, clinic, and lot for the time being. (The restaurant is still in operation.)
The night he got the keys, in early June, he went inside the building. "It was a mess. There were rats, there was trash, but it was viable space," Jones says. He posted a picture of a tip jar to his Instagram with a note that said "Help get this place cleaned up." He woke up the next morning to $2,000 in his Venmo account, and within days he received donations of paint, brushes, cleaning supplies, and electronic equipment. "I felt this momentum," he recalls.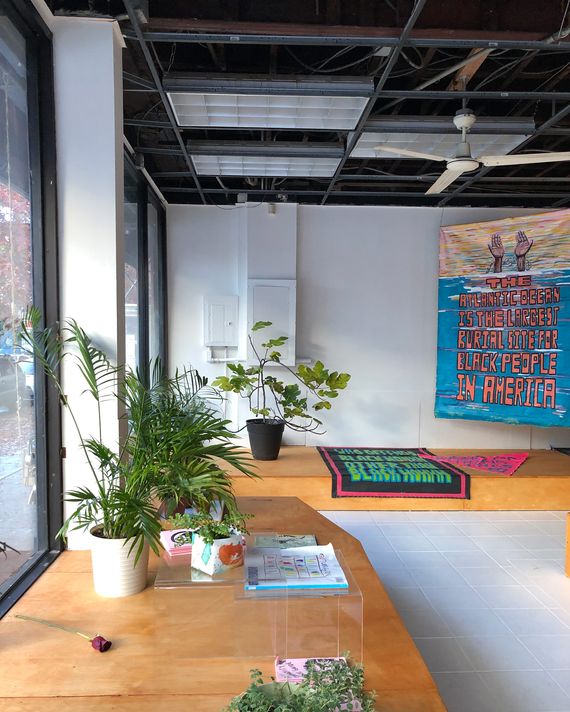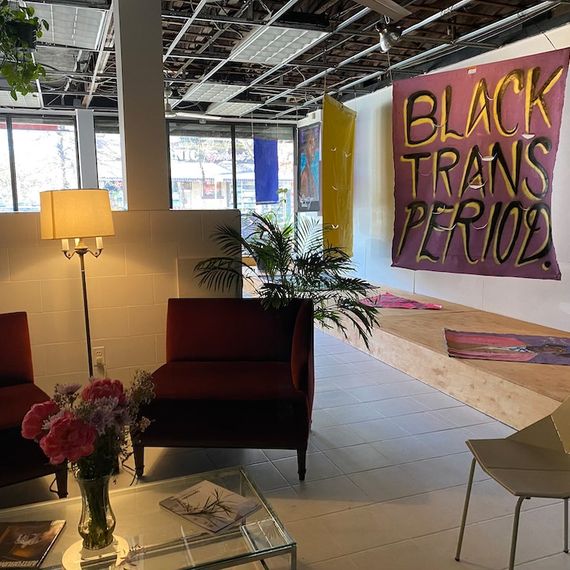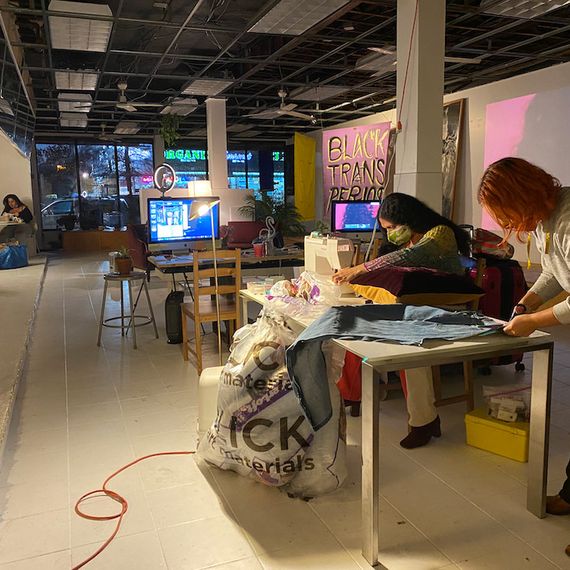 Mural painting, gardening, and organizing immediately began to happen in the back lot. Meanwhile, a skeleton crew built out the interior space, led by Caroline Wineburg, a friend of Jones's and an interior designer who was laid off at the start of the pandemic. The space was filled with so much dust and lint that the team members could only be inside for short periods of time as they demoed. "They basically cut the machines and left," Wineburg recalls. They removed the moldy acoustic tile, built plywood platforms to cover the electrical conduits and pipes, and applied fresh coats of white paint to the walls. And they hung a sign outside with their logo, designed by Rin Kim. The designer Julian Sharifi made their website.
"When we finally opened the gates to the laundromat, everyone who walked by in the neighborhood for a long time was so surprised to see we were here and that we were a community arts space, not a restaurant or bar," Wineburg says. "I think there was a bit of a relief that it's not just another bunch of condos and a construction zone, but also that someone's using the space, and there's color and life and vibrancy brought back to this specific corner."
Much of the vibrancy owes to the mural program that Public Assistants developed with Hugo Gyrl. Works by Misha Tyutyunik, Vince Ballentine, Victor Saint-Hilaire, and Hugo Gyrl cover the walls. The largest mural — and perhaps the most evocative — is the first of Public Assistants' youth residency. Jones, who had done work with organizations like Groundswell in the past, invited youth, between 12 and 18 years old, from the neighborhood to design and paint whatever they wanted.
"We asked them, 'What do y'all want to talk about?'" Jones says. "And they're all of color — Black and Latinx — and they said, 'Our neighborhood is changing. You can't afford things in our neighborhood. We're assaulted by the police constantly.'" The youths created a mural that addressed all of those things through an image of women braiding each other's hair; two black panthers, one that's wounded and exiting the frame; and Tamir Rice shooting a water gun into the sky that spells out Evaporate into happiness."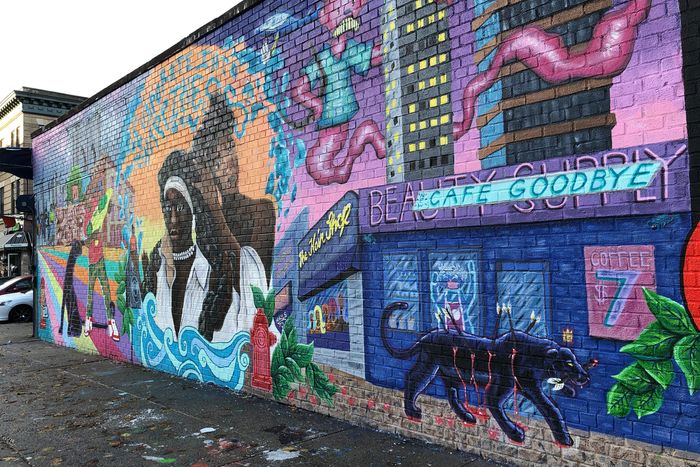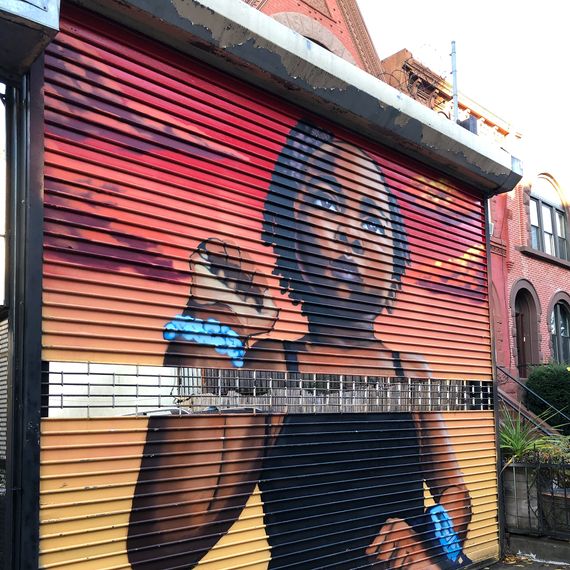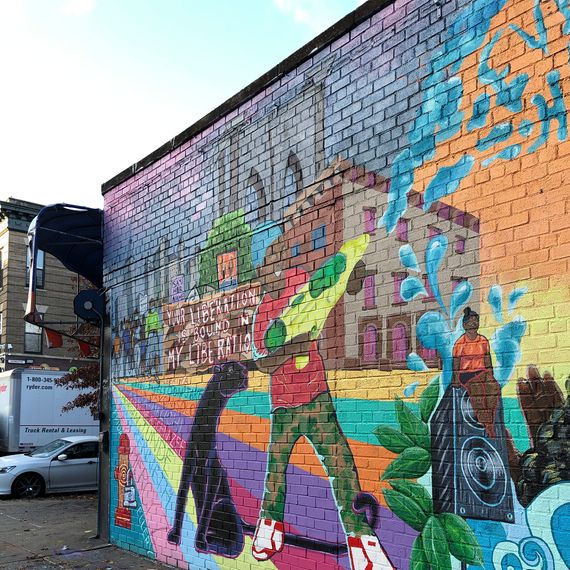 Creating and painting the mural gets to the heart of what Public Assistants is trying to achieve. While the kids were painting the mural, folks would stop by and ask them about it. An image of a demonlike apparition looming over apartment buildings provoked the most conversation and started dialogues about gentrification between the artists and the neighbors who were confused about the symbol.
"A mural is more performance than anything, in that you have to engage with the public every day," Jones says.
The artists at Public Assistants hope they can continue to grow and become a long-term fixture in Crown Heights, but they're also aware that the hub might be ephemeral. Still, the space they've created is bigger than its location in any one storefront.
"All that we've done here already transcends the space," Jones says. "So should we — in an upsetting world — lose this space, I know that we've kind of already created a model for something I've never seen before."