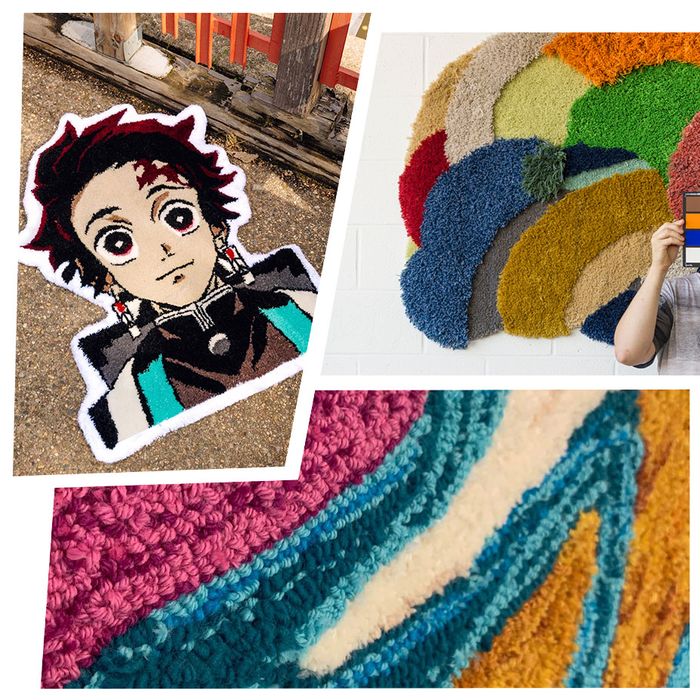 Photo-Illustration: Courtesy of Drake Sweeney, Kris Olynyk, Jaime Alvarez
During the pandemic, various throwback artisanal activities suddenly rose in popularity, presumably hearkening back to a simpler, more wholesome era when people slowly, carefully made things by hand instead of just ordering piles of junk online. But this being our current glued-to-your-phone era, it means that even these newfangled revivals have made their way across the culture by social media. TikTok, specifically, for one of them: tufting.
If you don't know, tufting is the way soft, fluffy rugs are often made. You can do it all by hand, in a fairly laborious process, but the technique that's gone viral involves a specialized heavy-duty "gun" that shoots a needle up to 45 times a second into fabric, enabling you to make plush, tactile patterns, all by pulling a trigger. Maybe it's because it looks slightly dangerous and almost magical that it's become trendy on TikTok, a platform generally better known for creator mansions, pranks, and lip-synching. And it's not just bored people who are exploring the tantalizing world of tufting. Established fiber artists, furniture designers, entrepreneurs, and influencers alike are all fueling a tufting boom.
At a time where DIY design is back in the spotlight; comfort and coziness are coveted; and everyone's attention span is about ten seconds, while also considering a hobby — tufting has found a perfect storm of conditions to thrive. We talked to five emerging artists — and Tim Eads, the godfather of DIY tufting — about their work, arguably the first real interior-design trend to go gangbusters on TikTok, and what's so irresistible about creating something so plush, soft, and tactile.
Claire Molenda, a 22-year-old artist in Chicago, has always been interested in textile design, mostly as a hobby. When she was young, her father, who was a comic artist back then, taught her how to sew, and they would often read books featuring the work of artists who made characters using fabric. But it wasn't until the COVID-19 lockdown in March that she got serious about it. "I just totally went for it," she says. After seeing a few videos on TikTok of people making rugs, she bought a tufting gun and started trying to make one herself. She posted a video to the platform on a whim, and within a few days it went viral. "It's funny because you're making fluffy, cute rugs with something sharp and chaotic," Molenda says. "When I first released my video, 50 percent of the comments were: 'What are these tools? It looks like a tattoo gun. It's so scary. You must be so strong.'"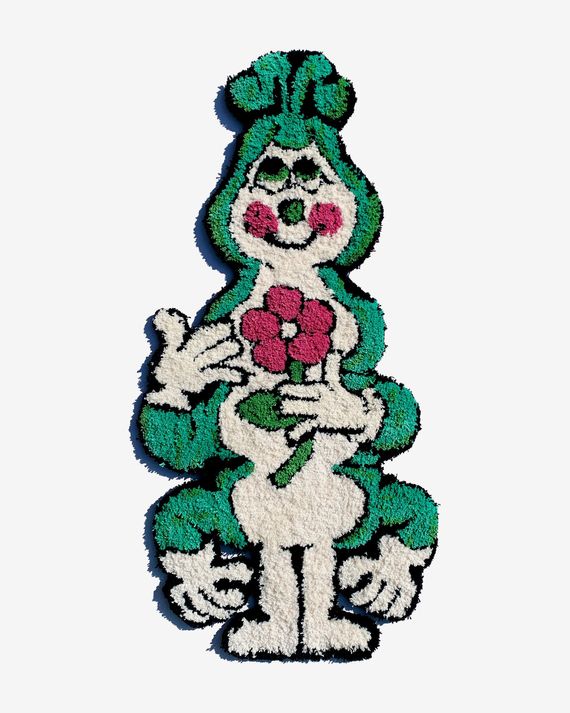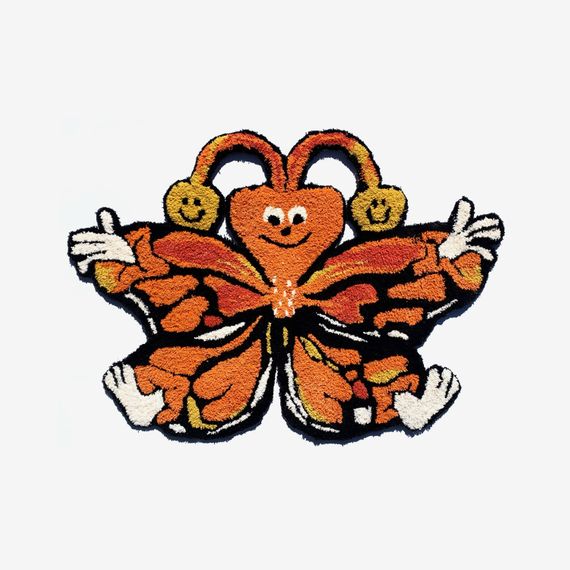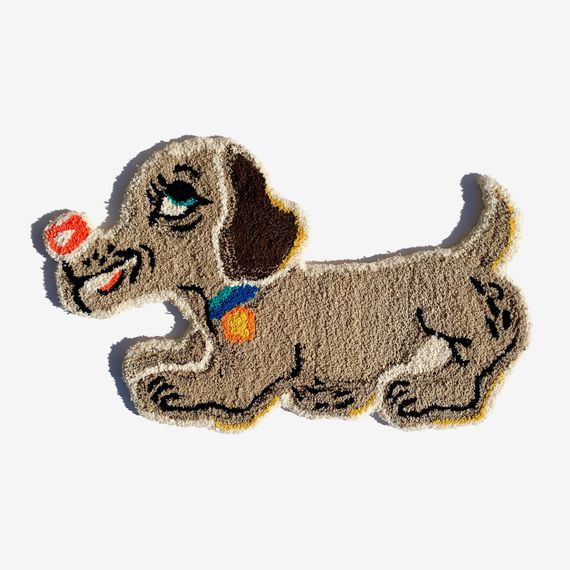 Since then, she's become somewhat of a Rug TikTok celebrity, known for her surreal and (slightly) cartoonish designs that look like they could be characters in Alice in Wonderland with an op-art edge: a smiling caterpillar holding a flower, a butterfly that looks like it wants to give you a hug. Molenda's influences include the artist Victor Vasarely, the quilters of Gee's Bend, and the ceramicist Magdalena Suarez Frimkess.
Some of Molenda's videos have received more than a million views, but this medium is deeper than a viral trend to her. Having an audience on TikTok, and receiving its support and encouragement (and dollars), has helped her find her calling. And perhaps most importantly, it has helped her to be really confident about it. Her designs sell out almost as soon as she posts them, and she's taking custom commissions. "TikTok has basically made it possible for me to be a working artist," she says.
Over the past few weeks, she's been experimenting with the possibilities of tufting and is thinking beyond rugs. She recently designed and made a tufted coat and an oversize bucket hat. "People might get bored of regular rugs, but we still don't know what artists are going to do with the medium," Molenda says. "There are endless opportunities for what people can make."
A self-taught photographer who lives in Chicago, Drake Sweeney started tufting during quarantine, like Molenda. He had seen artists tuft before (Notre, the streetwear retailer he works for, commissioned a piece from the designer Moira Quinn) and recalls being fascinated by the process, but thought it was a guarded technique out of his reach. He downloaded TikTok a few months before COVID, saw a few tufters there, and thought he could do it, too. He decided to try it out for himself when he had a couple of weeks off work due to the lockdown. "I was getting stir-crazy," he says, "and I wanted to make something with this time instead of squandering it."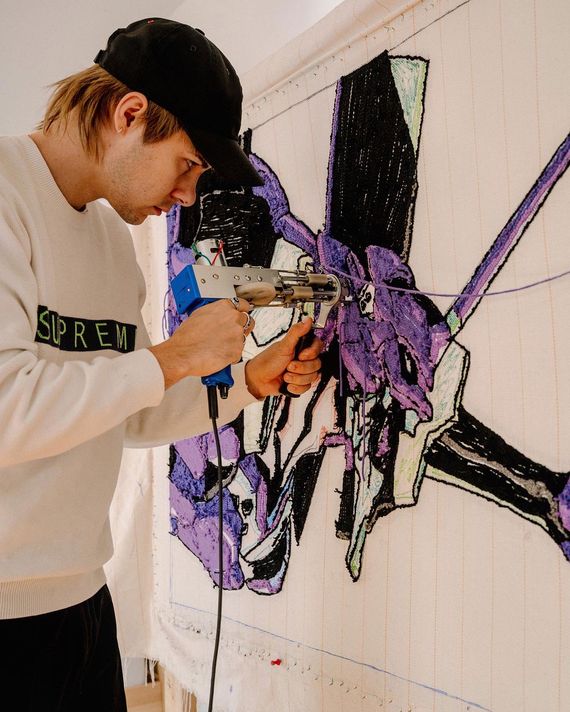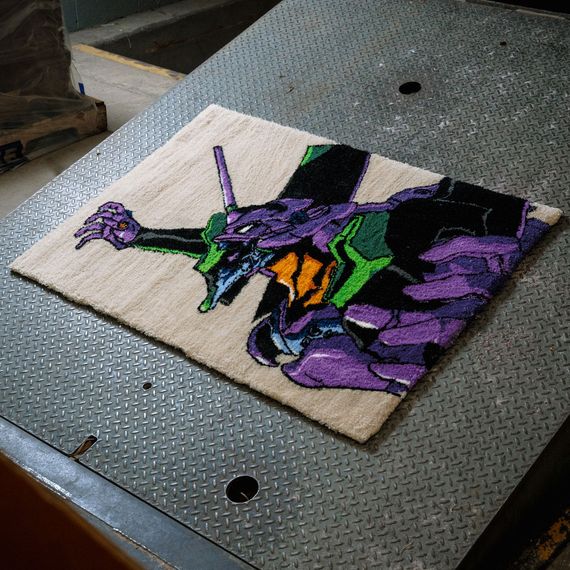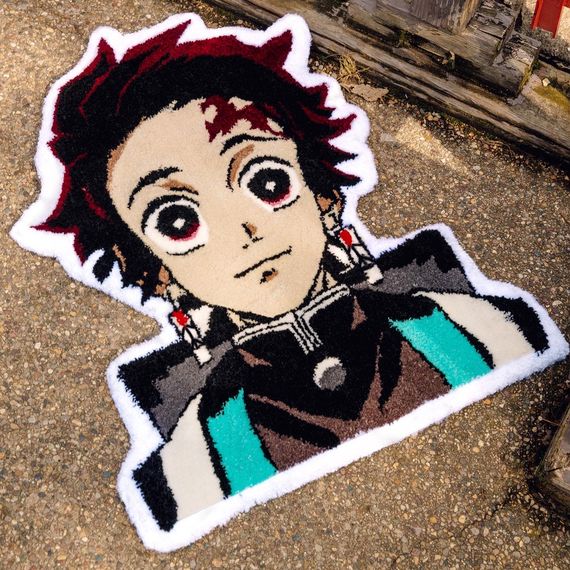 He started out with a punch needle and made a mat for his laptop. But he wanted something bigger and knew the hand technique would take too long. So he bought a tufting gun and started trawling YouTube for videos on how to use it. He looked to the Tuft the World community, as well as videos of rug-makers in India and Japan, to learn more techniques. To Sweeney, the appeal in tufting lies in the nearly instant gratification of making something he can use in his home. "The tufting gun is something made for this generation that's just like, All right, let's go," he says. "You don't have to have patience at all."
Sweeney thinks of his tufting project almost like a blog. Images he'd ordinarily put onto a mood board or his Tumblr became source photos for his designs, which are often his favorite anime characters from shows on Toonami and manga like Mob Psycho. It's more of a personal project, not a side hustle, but a few of his works occasionally end up on his online store. "This is just for fun," he insists. "I don't want it to be tainted by anything that has to do with money, if that's even possible these days."
The first time Bibiana Fuentes, a 25-year-old fashion student at Fullerton College, heard about rug tufting, she was hooked. This summer, one of her friends posted on Instagram that another friend was teaching a rug-making class, and she instantly signed up. "I'm an impulsive person, so I was immediately like, I am interested," Fuentes says. She has always wanted a vibrant rug for her room, but couldn't afford any of the ones she liked and was excited about making her own.
But it wasn't until she tried to get her equipment that Fuentes got a hint about how trendy it was. It took her a month before her tufting gun arrived, and finding affordable backing fabric involved some deep sleuthing on Etsy. But she was undeterred, and she talked up her soon-to-be-new hobby to her friends and to clients of her lash-extensions business. Fuentes was telling one of her clients, who is 19, about rug-making, and she mentioned it was big on TikTok.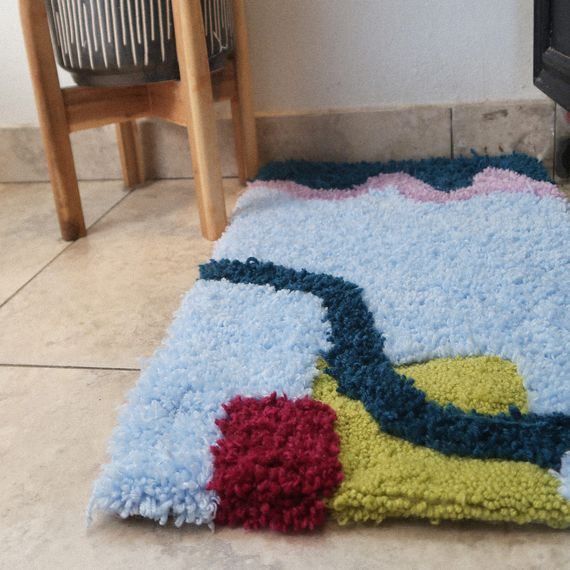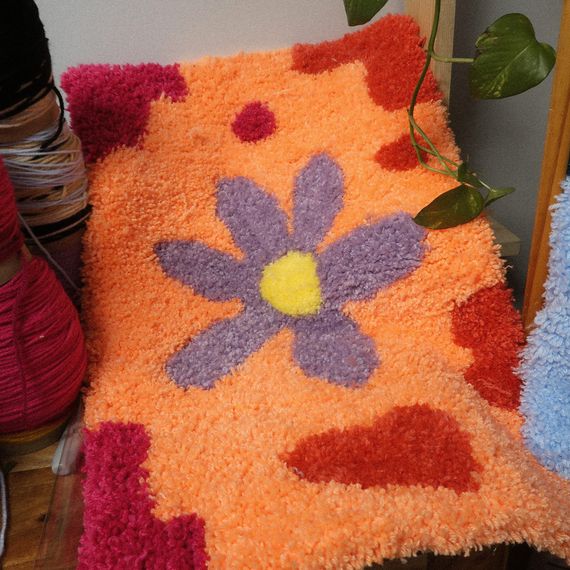 "And I was like, 'What do you mean TikTok?'" Fuentes says. "I made an account before she made it to her car." She started searching all of the hashtags and looking at the posts, and while they were really popular, it was just a few creators she saw making them. "That was also another breaking point. I thought, I can really dive deep into this. It's becoming more popular, but I feel like I still have a head start. It's popular on TikTok. But if I tell people in person, they say, 'I had no idea you could do that.'"
Fuentes finally got her tufting gun and took her first class in October. She typically likes to tuft the very popular checkerboard and cow-print patterns, and yin-yang symbols. She's inspired by fashion and often tries to translate the color palettes of the outfits her favorite influencers wear into rugs. The first rug-making video she posted to TikTok got 4,000 views, which surprised her. The next got 100,000. Her most popular one — a close-up of the tufts coming through the backing fabric — got 1.4 million. "I wasn't even planning to post that one," she says. "It was pretty boring, and I had it sitting in my drafts for like a week."
Now, Fuentes is making as many rugs as she can, time permitting. They often take her about five hours to make, and she's in school full time and has her lash business to manage too. She sells mini-rugs for about $18, bath-mat-size rugs for about $70, and custom pieces for about $150.
"The more you see these rugs, the more you realize you want them," Fuentes says about her growing customer base, which comes almost exclusively from TikTok. "People consistently see it in their feed, and it makes them feel like they need to be on trend, too."
Instant gratification was one of the reasons Madeline Ronzoni, the 21-year-old artist behind Happy Rugs, started tufting. She saw TikTokers making rugs and she decided to try it herself, but started with the punch-needle technique, which is a bit easier to try because it doesn't involve buying equipment. She loved it, and decided to get a tufting gun to up her production. She posted her own videos, some of which have received over 9 million views, and recalls gaining 150,000 followers in a day after posting a video on making a rug based on an Air Jordan sneaker. While Ronzoni never expected her rugs to become popular, the senior at Bentley University kind of knew in the back of her mind that she was onto something. "Something I learned in my advertising class gave me an epiphany," she says. "'It's unexpected, it's memorable images, and it's relatable.' We can all relate to rugs, but we haven't seen them in the shape of a shoe."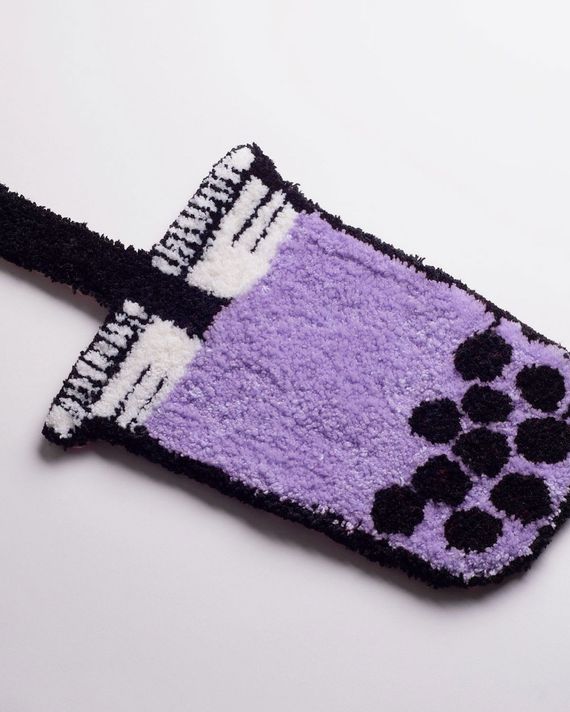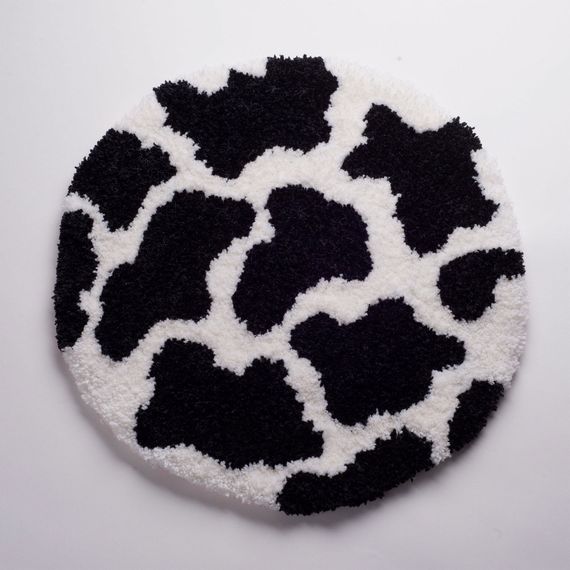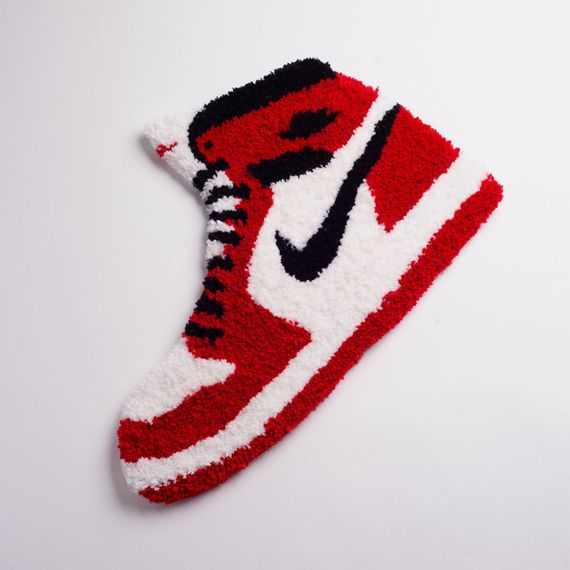 Most of Ronzoni's inspirations come from fashion — hence the Jordans — which she often sees on her Instagram Discover page. And she also mines her own obsessions, like with her bubble-tea rug. Most of her work these days is custom, and the No. 1 thing people ask for are tufted versions of their logos (a runner-up is renditions of their pets). She's recently made logo rugs for a matcha bar in L.A., where she's based, and for a YouTuber. And while Ronzoni is thinking of how she can turn her work into a viable full-time job, she's mindful of one of the reasons she got into rug-making in the first place: being able to express yourself without breaking the bank. She can only really make one 22-inch-wide rug per day, and usually prices them around $100 to $150.
"I like making these awesome, cool rugs for people, and also making customers' ideas come to life and have them express themselves as well," she says. "So I want to make sure people can afford them."
Kris Olynyk, a 23-year-old hairstylist in British Columbia, went from being a novice tufter to being somewhat of an expert overnight. He started using TikTok in March and quickly came across tufting. He had tried other fiber art techniques in the past (knitting, weaving, punch needles), and since he had a lot of time on his hands, he decided to try something new. Most of the videos he posted to the platform were of his cat and didn't get much attention, but that all changed once he posted his rug-making video. He was floored by the community that started to form in his comments. "It was so cool to see the reactions," he says. "People were asking all sorts of questions about tufting. And I was like, 'I just started this two weeks ago!'" So he started to research how to troubleshoot certain problems — yarn jams in the gun or tearing the backing fabric — and learned how to hone his skills. It was a rough start. "Trial and error for sure," Olynyk says.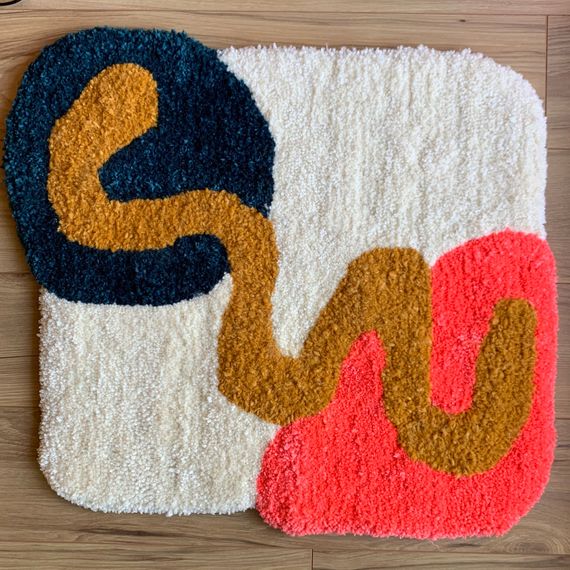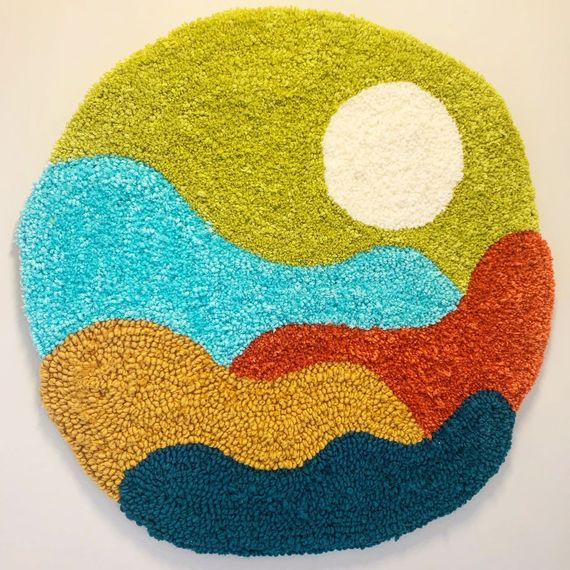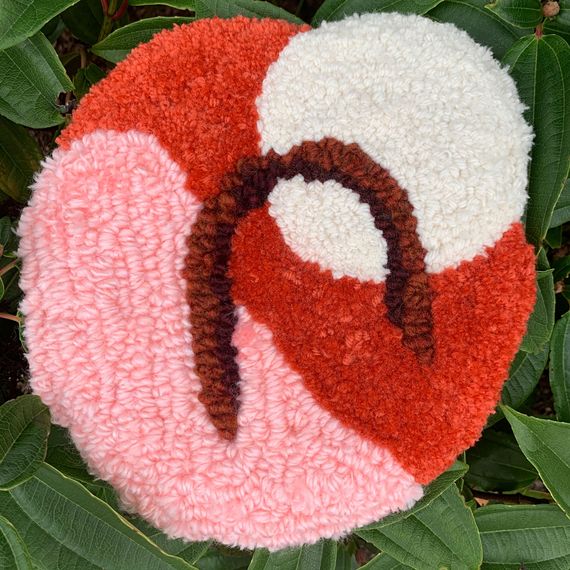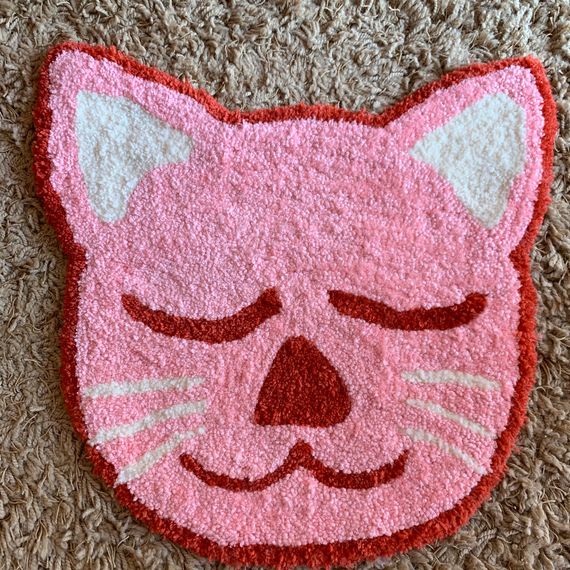 Olynyk's rugs are abstract swirls and color-fields. He usually sketches patterns on his iPad, then copies them with his tufting gun. "Anything you can draw, you can tuft as well," he says. He's inspired by fellow tufters, like Claire Molenda and Beth Joy. And as much as he loves his hobby, it's not something he wants to turn into a business. He'll occasionally give rugs to friends, but it's more personal to him. "I just like having a creative outlet in my spare time," he says.
Most of the TikTok tufters find their equipment and materials through Tim Eads, an artist based in Philadelphia. He, too, was fascinated with the technique when he first encountered it a few years ago, and also experienced a crush of engagement with the Instagram videos he posted of him using it. "I had been running this canvas-bag business for years, and I had never seen this rabid curiousness before," he says. But instead of just focusing on making videos of his own work, Eads was more interested in making this means of production more accessible. He founded an online community for tufters in 2018, and steadily began selling tufting guns and yarns, and posting YouTube videos on how to use and fix the tools. "I've always been someone who thinks that trade secrets as an artist is BS," Eads says.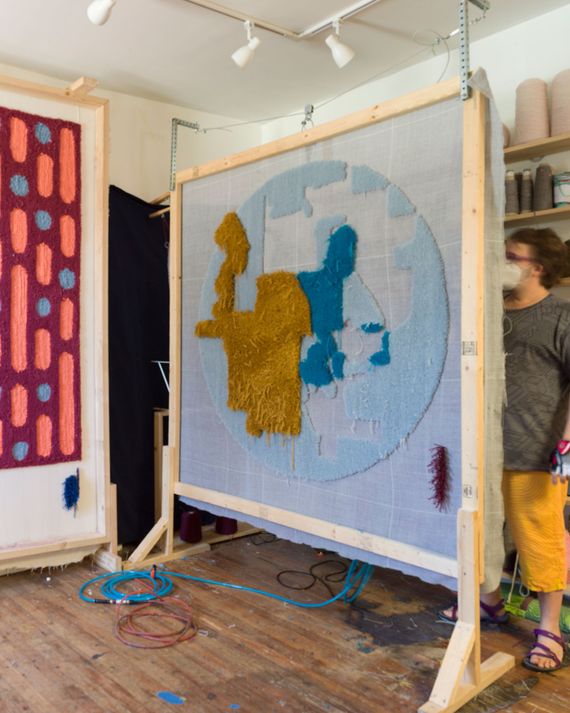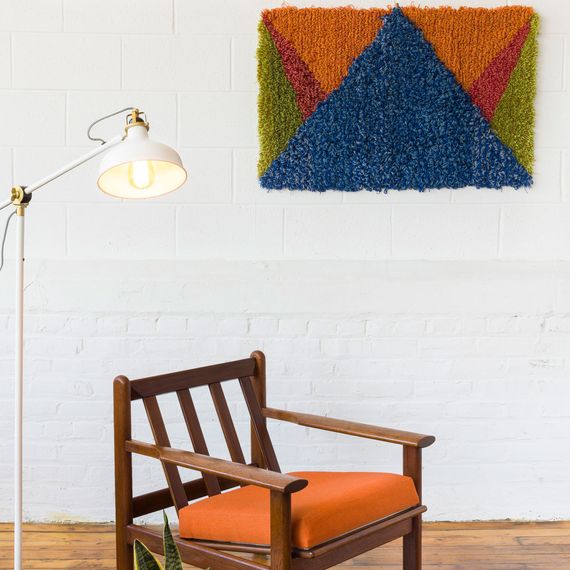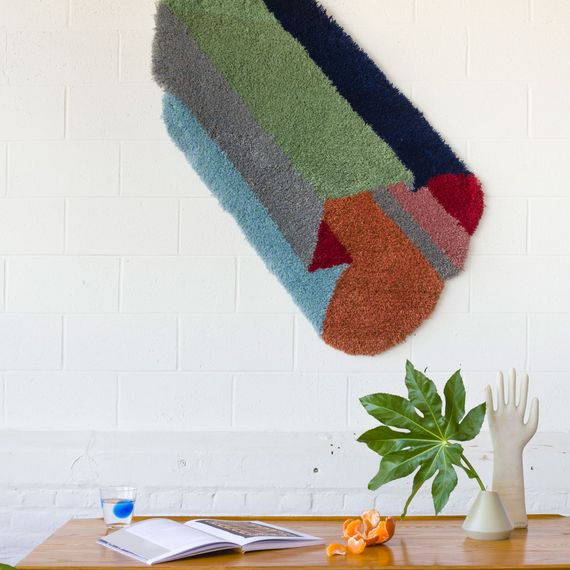 Tufting, in many ways, represents a union of many of the different types of artwork that Eads has done over the decades. He grew up on an Angora goat farm in West Texas, and his parents made mohair fibers. He studied graphic design as an undergraduate and was a screen printer for decades. After earning an MFA in ceramics at Cranbrook, he went to Philadelphia for a job at the Fabric Workshop, which he held for six years. Eads's rugs usually feature geometric patterns — often with a dimensional effect — and vibrant colors. Right now he's working on a series of rugs based on the shapes of gerrymandered congressional districts.
His business had been growing steadily — he's pretty much got the monopoly on tufting guns and supplies and has accessible lessons online — but since COVID hit, it's gone gangbusters. He's receiving six times the number of orders now that he did in February and has customers in 120 different countries. Eads sees a future in which tufting will lose its novelty, but not its appeal. "Like any art technique, it will become common knowledge, and people will learn about it in school," he says. "It will be like, Oh, yeah, people know how to tuft now."