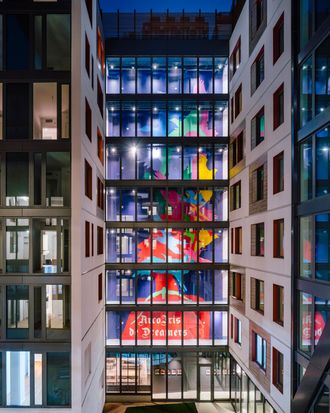 Mural by Gera Lozano and Modesto Flako Jimenez at Denizen Bushwick.
Photo: Imagen Subliminal
When you build in New York, you build for New York. Every architect and developer who would so much as place a brick anywhere in the five boroughs takes on concentric circles of responsibility: to the people who will spend their days or nights on the site itself, then to the street, the neighborhood, and the city as a whole. In this densely populated archipelago, no block is an island. And yet it's rare to come across a building generous enough to embrace that sense of architectural citizenship. By the time cost-cutters have trimmed out the frills, all that's left of contextualism are a few perfunctory gestures: a bit of terra-cotta trim meant to evoke the Gilded Age, or a naked duct paying homage to a neighborhood's blue-collar heritage. A big project's relationship to its surroundings often starts out somewhere on the continuum between suspicion and indifference. Neighbors focus on the damage a new project will do, like darkening streets, straining sewers, boosting rents, and thickening traffic, which leaves developers playing defense, arguing that the results won't be that bad.
So it's good to see Denizen, a two-block apartment complex on the old Rheingold Brewery site in Bushwick, unapologetically claim its place in urban society, not just as marketing rhetoric but as an architectural goal. From the outside, the building, designed by ODA, has an austerely industrial look. Oversize gray bricks pixelate the surface, and steel trusses and Y-shaped columns suggest an apartment building that's got a viaduct or bridge in its family tree. That kind of tough-guy musculature is architectural shorthand for "Brooklyn" these days. But step through one of the portals and you're in a brighter, softer, greener world. Two sets of buildings, separated by a block-long parklet, twist like ampersands around inner courtyards, some of which you can wander into even if you don't live upstairs. And there you find bursts of color, texture, shadow, and sun, all swirled together with a sense of playfulness that's utterly New York–y in spirit yet rare in the city's prim architectural universe. It's a design intended to melt hostility.
"This project faced resentment, and I felt that as an architect," says ODA's founder, Eran Chen. "People were afraid they wouldn't have a stake in the future of Bushwick. So I said, 'Let's find a way to involve the communities we're designing for.' We came up with the idea of using the building as a canvas for people to express the community through art. That would give them a stake in the project and also encourage them to come in."
Chen's firm spun off a nonprofit arm (ODA's Public Engagement in Neighborhoods, or OPEN) and teamed up with Bushwick Collective to commission multistory murals and other artworks scattered around the complex. The art helped shape the architecture. Instead of driving hallways through the center of each mass and lining them with front doors on either side, hotel style, ODA's architects turned each set of glass-sided catwalks into a building-size surface for oversize painting. Look across one courtyard and you behold Sipros's underage seven-story superhero with big ears and untied sneakers. Walk down the right hallway and you feel like you're under observation by the boy's gigantic eyeball. Aaron Li-Hill's snowy owls swoop along a second façade. The artist known as Mantra has covered yet another with a gridded array of anatomically precise butterflies, as if the whole building were a lepidopterist's display case. There is hardly an undecorated surface in the whole complex.
There's something quintessentially Brooklyn about the idea of a real-estate developer as the custodian of street art. Paintings are fragile, especially when they can't be removed from a wall. If a pipe bursts a decade from now, will the mural be restored? If the owner, Yoel Goldman's All Year Management, sells the building (the company recently missed a bond payment, alarming investors), will future owners feel any sense of responsibility to what they might dismiss as vulgar décor? Perhaps it's too late to worry about what's authentic and what isn't, or whether art should be treated as an amenity (which it has been since the days of Lascaux), and just appreciate the weirdness of a live-in Museum of Bushwick.
One of the pleasures of the art that permeates the building is that it looks handmade, not in the precious, boutique-certified sense of, say, artisanal soap, but as the fruit of someone's labor. ODA expanded on the flavor of roughness with an almost comical variety of finishes: pavers, slats, planks, tiles, glazed bricks, rough bricks, weathered steel, painted steel, stainless steel, corrugated steel, plywood, raw concrete, polished concrete, and an uncatalogable profusion of grasses and plants. It's as if they rolled into the building-supplies equivalent of a dim-sum palace and ordered one of everything.
The inclusive aesthetic reads as exuberance rather than chaos. Architecture was once presumed to be the most unified of plastic arts, fundamentally raw until the painters, stone-carvers, sculptors, carpenters, and gardeners had all completed their work. Modernism forged a new, complementary relationship between sculpture and architecture, most visibly in corporate plazas and lobbies that set off large, usually single works by Isamu Noguchi, Henry Moore, or Harry Bertoia. But as the London-based architect and designer Adam Nathaniel Furman has documented in a dazzlingly illustrated yearlong Twitter thread, the modernist period betrayed a long history of strong colors and surface ornamentation in architecture, treating it as vaguely disreputable postmodern indulgence. There's no need to be embarrassed by color in the Instagram era, which has given brightly hued buildings a new, deliciously shareable reason for existence, reenergizing the reputations of 20th-century chromatic masters like Luis Barragán, Ricardo Legorreta, and Antoni Gaudí.
ODA's style is built on modernist DNA, but it also begins to break down the two-block mass into a town within a neighborhood. Chen originally talked it up as a "European village," a term that didn't go over too well in a largely Latino neighborhood. He must have learned from the objections. The pastel Art Deco district of Miami Beach, street art in Puerto Rico, and public buildings in Mexico City and Guadalajara that are encrusted with fantastical, passionately political murals — all these non-European expressions form part of Denizen's heritage.
Chen had hoped to make the project a showcase for his notion of public and private spaces that interpenetrate so that building and neighborhood bleed together. Instead of a block-long strip of yawning retail spaces conceived for a bank or a Trader Joe's that might never materialize, he envisioned a blurrier boundary. A small park cuts through the middle, and the public can wander into verdant dead ends. Denizen is only halfway to stitching itself into the neighborhood the way Chen intended. The art gallery and home brewery are nice, but they're not the kind of facilities that Bushwickians have been agitating for. The outdoor ping-pong table, which might have a wider constituency, remains out of bounds. And, at the moment, an abundance of shared spaces doesn't jibe with the strictures of COVID. When I visited on a recent weekday morning, one or two residents were taking their frustrations out on leather bags in the boxing gym, a few more were camped out here and there with laptops and masks, but the swimming pool, climbing wall, children's playroom, pool table, and rooftop dog run were all quiet.
The example of Denizen matters to the wider city because it has led to other, bigger jobs. A consortium of developers (Silverstein Properties, Kaufman Astoria Studios, and BedRock Real Estate Partners) hired ODA to upgrade Chen's vision into a master plan for Innovation QNS, a sprawling development planned for an industrial zone in Astoria. That project is still embryonic, but already it has triggered the inevitable opposition. (The local City Council member, Jimmy Van Bramer, has fulminated against it, though since he has just over a year left in office before he is term-limited out, he may not get the chance to kill it.) The challenge for the designers, then, is to double down on neighborhood-building. The first step is to bypass the default arrangement of homes in one tower and offices in another, stacked above a layer of revenue-generating retail along a typical street front. "The weakness of a linear arrangement of storefronts is that it doesn't give you the ability to congregate," Chen says. "You can walk by it, but you can't be in it." The master plan calls for a quarter of the site to be dedicated to open space, threaded through the buildings.
In 2016, when Denizen was still in its earnest larval stage and the art had not yet been baked into the design, I wondered whether Chen's concept could really meld with a developer's cold math. "If the gates wind up staying closed, if the cafés are too precious and the shops too generically fancy, then all the best architectural intentions in the world can't halt the creation of a pseudo-urban dystopia, a barricaded enclave with the look of a city and a suburb's soul," I wrote then. The skepticism still applies — the companies behind Innovation QNS will have to acquire plenty of boldness and learn a lot about Astoria before the project earns its aspirational name. But now there's a prototype and a lesson to draw from it: Make the complex more even mixed, open, colorful, affordable, gritty, and fun than Denizen is — a development that's deliberately messy.