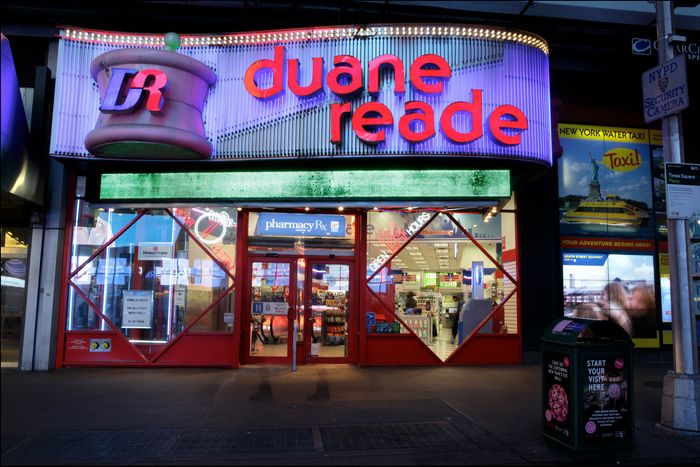 Pour one out for the 1,000-plus chain stores that closed in New York City this year.
Photo: Oliver Morris/Getty Images
"What would New York City be without Metro PCS?" This is not, of course, a thing anyone would ever really say, even considering the fact that 134 locations of the prepaid-mobile-phone-card dealer closed in the city in 2020. They are joined in their disappearance by myriad other national and regional retailers — 70 Duane Reades, 21 SoulCycles, 15 Mattress Firms — all detailed in a December report issued by the Center for an Urban Future. According to the organization, there's been a 13 percent decline this year in the number of chain stores throughout the five boroughs. The closures have mostly been concentrated in Manhattan and constitute by far the largest year-over-year drop that CUF has recorded in its 13 years of doing these reports. Clearly, behemoths like Duane Reade (which is owned by Walgreens) are not up against the kind of long-term survival odds as, say, a De Luca General Store or even a Century 21 — and it's worth noting that the report's listing has a whole category for businesses that are only "temporarily closed," indicating some kind of COVID-related purgatory. And in the meantime, who's really going to miss the Goliaths anyway?
I will, for one. These chains have, for better or worse, become part of the city's DNA, particularly the ones that were born right here: The Duane Reades, even after the company was acquired, were a steady presence on every other corner, reliably gleaming and open 24 hours; the New York Sports Clubs (minus 26); the Golden Krusts (minus 5); the Jimmy Jazzes (minus 26); the Key Foods (minus 7). They were unfancy retailers in a too upscale city, and they were, in a word, useful.
Sure, none of these Everywhere stores quickened a shopper's pulse like an outing to a less predictable trove such as Maha Rose or In God We Trust (RIP to both). But damn if it wasn't convenient to be able to stop at Papyrus (minus 22) on the way to your anniversary dinner and pick up a card for your partner, no matter what the chosen neighborhood for the meal might've been that year. And, hey, eventually you might've actually needed a baseball glove from Modell's, whose first outpost opened on Cortlandt Street in 1889, and when that day came, it would be just over there — or at any number of its 43 storefronts that have gone dark in 2020.
Not that we're dining out or finding too many new reasons to shop. But obviously what's kept us going in these times is the promise of an eventual return to "normal." How normal is it going to feel when we head out as a group of freshly vaccinated co-workers ready to settle for a fast lunch of Pret a Manger, only to discover that even Pret is gone? Sixteen of its locations shuttered this year. Yes, a chain store is sometimes annoying, but it grows less annoying if you come to rely on it. And an empty storefront — deserted and dark for one or two or three years, or even longer — is a lot worse. No sweet local business is likely going to come in to replace it at this point — the chains won that competition a long time ago; they're all we have now. Or so we thought.