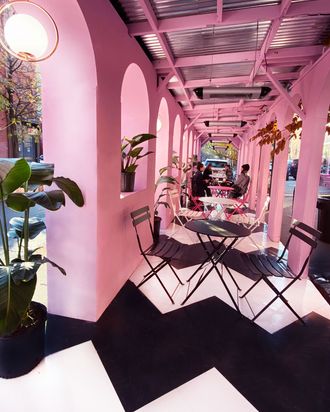 Photo: Photo: Justin Wootton
Alicia Guevara, who owns the wildly popular Clinton Hill sandwich shop, bar, and gourmet grocer Mekelburg's, had no intention of starting a second business during the pandemic, but at the end of September she opened Guevara's, a Cuban-inspired vegan café and "plant palace" on the corner of Clifton Place and Grand Avenue. The café Urban Vintage had closed earlier this year, and the building's landlord didn't want the storefront to sit vacant, so he convinced Guevara to take over the space (and sweetened the deal with rent concessions).
But opening Guevara's is more about adding to the neighborhood than launching another business. The concept was to create something like Mek's, which is just on the next block south, but that wouldn't compete with it. "Vegan was it," says Guevara, who herself went vegan during the pandemic. Meanwhile, the pandemic also influenced the space's concept. Guevara, who is half Cuban, found herself wishing she could take a vacation, and had fond memories of a recent trip to the country. She thought folks who were stuck at home and in low spirits would also appreciate a vibrant (and COVID-safe) escape they could walk to each day.
The Design
Having an outdoor dining area was always part of the plan for the café. "At both my locations I have zero interest in indoor dining," Guevara says. "I morally do not agree with it at all." But aside from that, and wanting it to be pink, she left the concept up to her friend Justin Wootton, a designer with a background in retail and sets. He was with Guevara on that trip to Cuba and remembered how lovely it was to have dinner while sitting under the archways around the city's public squares.
The streetery riffs on Spanish colonial architecture, with a façade of deep, rounded arches in all the windows and entryways, and a black-and-white tiled floor. You could even say that the corrugated metal roof's scalloped edge is reminiscent of tile roofs. The arches are also an attractive way to ensure good ventilation.
"Everything is about creating an oasis and escape for people who need one right now," Wootton says. "You sit there, and for 20 minutes you feel like you're outside of New York City."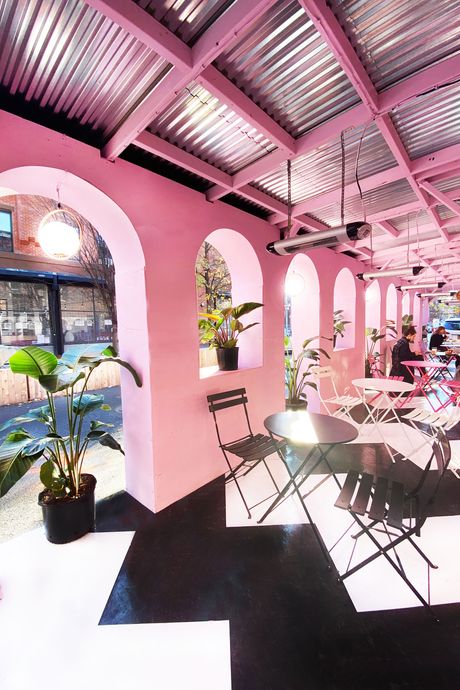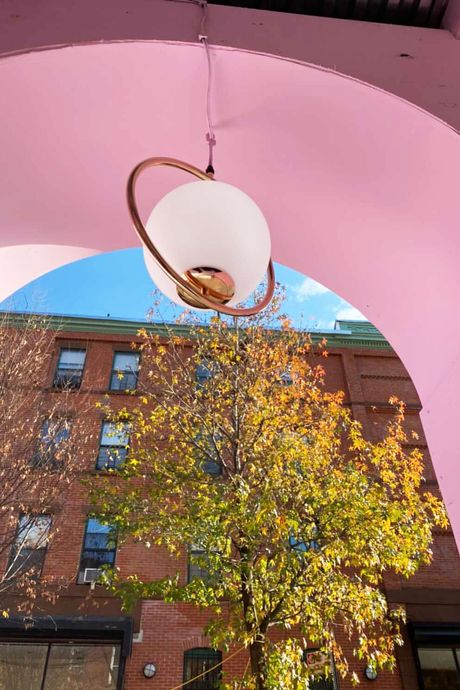 The Construction
To build the streetery, Wootton called up friends who were unemployed and people he'd worked with before on retail installations. The streetery's frame and foundation are made from pressure-treated lumber, and are anchored to the pavement. Its plywood walls are built deep enough to disguise wiring and hold potted plants on the window ledges. On the walls, Wootton used Behr's "Kiss Good Night" paint, which bounces a warm hue around when you're sitting inside. It's a color he chose because it would look great even on snowy days. But one of the most striking elements is the floor, which is done up in black-and-white linoleum tile (which can easily be replaced if it gets too worn) in a bold zigzag pattern, just like the inside of the café. Wootton hung heaters from the ceiling beams and installed glass pendant lights with gold-toned hardware in the arched doorways.
The Day-to-Day
At Guevara's, expect to find potted house plants, household items like ornaments and pet toys, and grocery items for sale; vegan soups, sandwiches, pastries, and breakfast items on the menu; and a coffee program, developed by Jess Hobbs, that focuses on small roasters like Maquina and Mother Tongue. That the café offers so much is part of the reality of doing business in the city, even before the pandemic. "It's really hard to pay your rent unless you're able to become a successful business, and to do that, you have to have something for everyone on the street," Guevara says.
With its finishes and furnishings, the streetery feels like an extension of the café itself. "This outdoor area doesn't look like it exists because of COVID," Guevara says. "It looks like it was always supposed to be there."