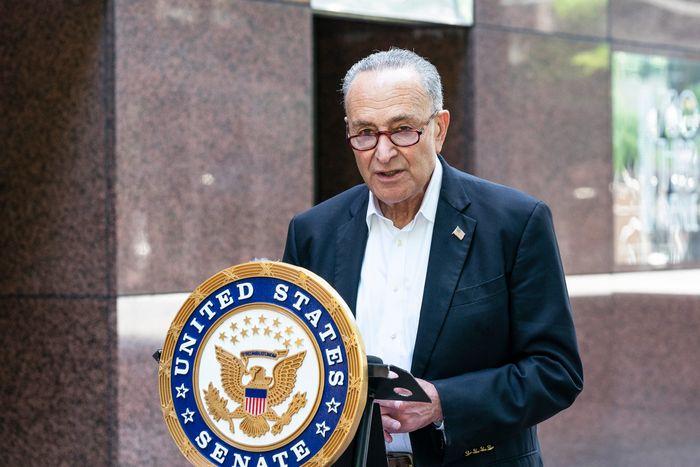 Schumer talks transit.
Photo: Lev Radin/Pacific Press/LightRocket via Getty Images
With negotiations in Washington on a COVID relief bill hurtling toward a conclusion — though what that conclusion will be was extremely unclear as of this morning — Chuck Schumer, the Senate Minority Leader and senior senator from New York, spent the day on the phone in negotiations. On Sunday, he also hit up the Upper West Side Greenmarket (and explained to voters there that he need to get home early to start Hanukkah celebrations in order to accommodate the bedtime of his first grandchild) and hosted a press conference at a Brooklyn subway stop where he made the case for a relief bill that includes a bailout of New York buses, subways, and regional rail. A few nights ago on a Zoom call with transit activists, he called that goal his "No. 1 priority."
It's a dire situation for New York transit. The MTA faces a $12 billion deficit, owing to the pandemic-related plunge in ridership and a drop in tax revenue dedicated to transit. Last month, the agency unveiled a "doomsday" budget scenario that included 9,000 layoffs, plus service cuts as deep as 40 percent on subways and buses and 50 percent on commuter lines like Metro-North and the Long Island Rail Road. Schumer's trying for $4 billion now, with more to come once the Biden administration is in place. In between phone calls, Schumer spoke with Curbed about the state of negotiations in Washington.
David Freedlander: What's the current state of the negotiations?
Charles Schumer: We're making our final push for an immediate, emergency short-term $4 billion that the MTA desperately needs in the COVID relief package that should hopefully come together this week. And I don't have to tell you how important mass transit is for New York City. Ridership is down about 70 percent, they've told us. And this would be a temporary bridge till Biden becomes president. He's friendly to mass transit, very friendly. I used to work with him on mass-transit money when we were both at the Senate together. But they need money now — it can't wait, to avoid layoffs and everything else. And so we're going to do it. We're going to try to do everything we can to get the dollars.
And what is standing in the way of that? Or rather who is standing in the way?
There are a whole lot of Republicans, particularly in the Senate but in the House too who don't want to spend any money on anything. The mass-transit package helps not just urban areas like New York — obviously it is of great importance to us — but also there's money for rural buses and things like that.
And so the objections from the other side are not so much about New York and the MTA?
It's spending. They don't like spending it at all. It is not particularly aimed at New York. It is any kind of governmental spending.
So how do you convince them to go along with it?
Well, you know, we desperately need help. The whole economy depends on it because mass transit is the lifeblood of New York, but New York's the lifeblood of the economy.
Is there horse-trading going on? What actually happens in the negotiation?
Sometimes, but the real problem is there are 20 Republicans who don't want any spending.
So how do you get around them?
There are a bunch who do, and now with this Gang of Eight there has shown some break there [in the Republican ranks]. There's a bunch of Republicans who want the money, who need some help. It could be for different things. They may need it for rural assistance. There's money for broadband. Their rural hospitals are hurting. That's the kind of thing you do. Everyone wants small business money. Restaurants are hurting and there is money for restaurants.
How does your being the Senate minority help or hurt the effort to get transit funding to the city? As minority leader, you have to be responsible in way for the whole caucus.
We form a broad coalition. And that's why we include a lot of money for buses, which affect rural and Republican areas. And there are lots of other cities now — you know, 30 years ago, it was sort of New York alone. Now there are a lot of other cities that have large mass-transit systems. Washington, D.C., has said they're going to shut theirs down for many hours a day if they don't get help. So it hits home to the senators, too.
Are all the Senate Democrats onboard?
I believe so, yes.
How would you like to see the money distributed among buses, subways, and regional rail?
I leave that to them. I give the money to the MTA and they distribute it. The state and city decide.
This transcript has been lightly condensed and edited.