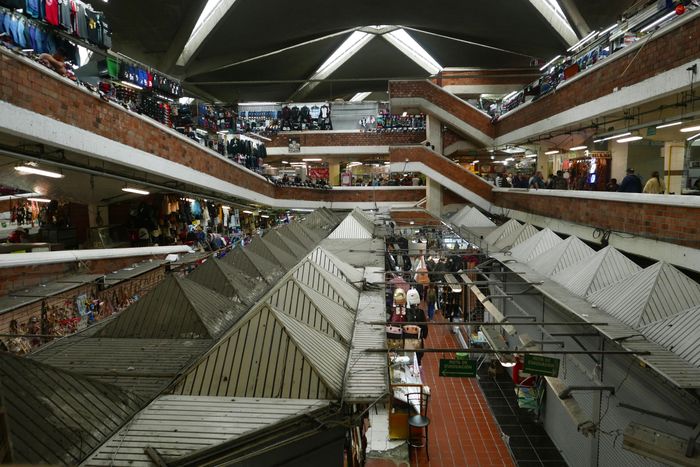 The Mercado Libertad in Guadalajara.
Photo: Angela Ostafichuk/Shutterstock / Angela Ostafichuk
During these long months of visiting and revisiting the familiar landscapes within walking distance of my home, my mind has kept circling back to one work of architecture I saw shortly before the pandemic hit — not a baroque church or a UNESCO World Heritage site but the main public market in Guadalajara, Mexico. With its densely serried stalls, tight passageways, and a central node filled with lunch counters and family restaurants, the Mercado Libertad, also known as the Mercado San Juan de Dios, embodies the communal life that so much of the world has had to suspend. Most of its thousands of vendors have stayed away for months, as have the tens of thousands of shoppers who, in normal times, meander through each day. The quiet must hit tapatíos (residents of Guadalajara) especially hard because the market structure is a hive of the city's social life, its commercial heart, and its principal modern monument. But from this distance and at this moment, it also feels like a wellspring of inspiration.
Even as they stagger through a bitter winter, New York's retailers and restaurateurs can start to dream of a softer season. Yet by the time it comes, they may need new models—or rather old ones, ways of doing business that predate torrents of flush tourists, expense-account conventioneers, part-time residents, and office workers allergic to making their own coffee. After months of takeout, home cooking, and online thrift, we may no longer be willing to pay a premium for décor and rent. We do have a pre-existing trend to fall back on: the indoor, food-centered marketplace, New York–style. The reincarnated Essex Market, the New World Mall in Flushing, the defunct Gansevoort Market, Time Out Market in Dumbo, and the grandmother of them all, Chelsea Market — these upscale food courts offer a pale echo of the informal street emporia of other continents, though developers kept citing the same couple of strictly European models, most often the Mercat Santa Caterina in Barcelona. They share a similar aesthetic of pendant lighting, brick walls, and black steel trim. Knickknackeries and specialty grocers flank a free-for-all takeout zone, where crowds hover around common tables, hunting for somewhere to set down their rapidly cooling orders. There are plenty of options and never enough seating, the prices are high, and so is the ratio of disposable packaging to each $6 microwaved mouthful.
Mexican urban markets have a different vibe. More popular than precious, crammed with necessities as well as trinkets, they serve virtually everyone except the frequent-flier elites who stick to air-conditioned malls at the city's edge. Step inside the Mercado Libertad and it's like entering a roofed, three-tiered metropolis. Turn this way and you find yourself in a neighborhood of watchmakers, locksmiths, knife sharpeners, and cobblers. That way, and you hit the butchers' alley, where pig carcasses and plucked chickens dangle from hooks. It's a cinch to get lost among stall after stall of plastic toys, soccer jerseys, underwear, flip-flops, wicker baskets, handmade calfskin jackets, pottery, smartphone cases, video games, luggage, and mountains of dried chiles: guajillo, pasilla, ancho, morita, Oaxacan chilcosle. Objects churned out of Chinese factories mingle promiscuously with those crafted in nearby villages beneath fluorescent lights.
In the center of all this abundance is a whole district devoted to lunch. Here, customers sit down and dine como Dios manda (like civilized people), either at counters that wrap each open kitchen or at proper tables, almost always eating off actual plates. The food at Mexican market stalls can be good or bad, but it's hot, fast, and sometimes memorable: tamales cocooned in masa so soft and light it practically melts; squash blossoms and mushrooms wrapped in a fresh blue corn tortilla, cemitas, guisados — a range of short-order marvels that varies by region and makes New York's global-capital-of-imported-food-fads schtick seem amateurish.
There has been a market on this spot in Guadalajara since at least the 16th century. Farmers and artisans converged on the banks of a creek named San Juan de Dios (long since channeled underground), in an open area framed by the three landmarks of a growing city: a church, a flour mill, and a bridge. The first two attempts to coax vendors indoors, first with a late 19th-century shed, then with a 1920s neo-Gothic palazzo, proved insufficiently ambitious. Vendors soon overflowed the structure and sprawled back outdoors, cramming the streets with stalls and open fires under flammable canopies. In the late 1950s, the city took the kind of approach to commerce that authorities all over the world did to public housing, bus stations, and cultural centers: they razed several blocks and hired a modernist architect, Alejandro Zohn, to design the ultimate market, the grandest in Latin America: 430,000 square feet, with scarcely a wasted inch.
Zohn had the perfect combination of local and European credentials. Born in Vienna in 1930 to a Jewish family that escaped just in time, he arrived in Guadalajara as a 9-year-old and studied engineering and architecture at the city's university. Still in his 20s when he received the commission for the municipal market, he fulfilled it with a tour de force of showy rationalism and a nod to Frank Lloyd Wright. (It's part Port Authority Bus Terminal, part Johnson Wax Headquarters.) From the exterior, the building's three levels wind around in ribbons of glazed ochre brick. A single, continuous ramp unfurls inside, Guggenheim style. The whole structure is topped by a grid of hyperbolic paraboloids, those swooping concrete canopies so popular at midcentury that they came to define the space age roofline. The complex includes a central patio, a parking structure, and a footbridge that vaults an adjacent street (echoing the vanished bridge over the vanished river) and lands on a plaza ringed with stairs. Zohn's Cartesian orderliness merges with a distinctly Mexican sense of the fluidity between indoor and outdoor space, between the single work of architecture and the rest of the city.
Over the years, the building has blurred. Vendors have multiplied and spilled beyond the perimeter again. The carefully hidden wires and ducts have given way to a visible tangle. The adjoining neighborhood has crept up around the structure, obscuring its monumentality, and mariachi bands for hire mill riotously across the street. That kind of lively, messy accretion obscures an original design, but at the same time brings it alive. Zohn, who died in 2000 after a career largely confined to the state of Jalisco, had reason to be proud of a building that wove itself so tightly into the fabric of his adoptive hometown.
Translating that institution to New York would be a kind of great leap backwards. . La Marqueta, the Latino market beneath the Park Avenue viaduct in East Harlem, has declined over the decades from a vibrant Latino institution spread across five pavilions to a scant smattering of vendors. In the 1930s, Mayor Fiorello La Guardia, hoping to tame the throngs of pushcarts that clogged the streets, established a citywide network of vendor halls. One of the longest surviving of that crop, Essex Market, moved into the Essex Crossing development last year, where it spread out, spiffed up, and fused with the private new Market Line downstairs. These days, American cities tend to segregate shopping the way they do housing and schools, dividing necessities from frills, big-boxes from boutiques, food from goods, national chains from family stores, cheap generics from status-boosting brands. Malls unite some of those categories, but the cool urban marketplace rejects the family resemblance.
I'm not suggesting that New York can solve the existential challenges that face storefront retail by erecting a shiny new megamarket. We don't need to. Two decades of unsustainable rents and supersized floorplates, followed by a pandemic and a recession, have left the city with plenty of empty ground-floor real estate looking for new life. The Kingsbridge Armory in the Bronx, having defeated attempts to turn it into a shopping center and recently conscripted as a temporary food-distribution depot, still sits vacant. And developers continue to envision farmers' market–grocery superstore combos mixed in with shops and restaurants as the social glitter on residential complexes. If real-estate investors are looking for a new/old, less expensive or exclusionary way to get people buying, selling, and noshing, they might forget about copying Europe and make a field trip to Guadalajara instead. New Yorkers clearly relish the concept of a collective market, which is why they're willing to tolerate the cost and limitations of the local version. We should have a less stilted option.