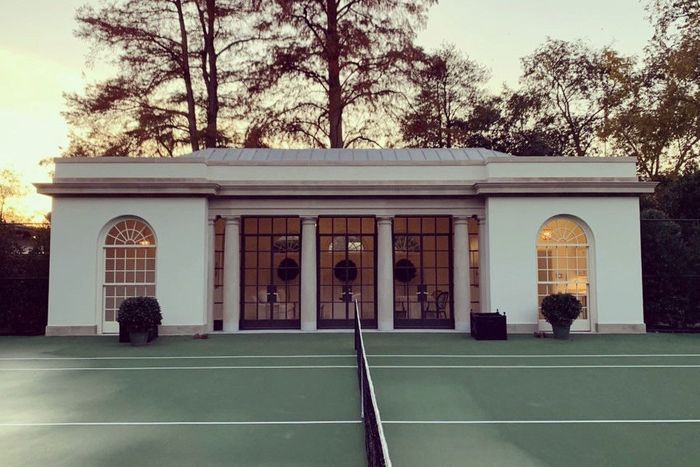 Photo: Courtesy of the White House
Melania Trump, being best, unveiled the White House's new tennis-court pavilion today. It's a pretty, restrained, nicely proportioned little building, replacing a dumpy shed that looks several decades old. It's "contextual," blending in with the looks of the West Wing, and it certainly conforms to the administration's wish to erase any hint of the past seven decades from government architecture. Predictably, it was savaged this morning: fiddling while a quarter-million people have died, Marie Antoinette in white-soled kicks, etc.
Although golf — the game of choice of most presidents, especially Donald Trump — is obviously the great signifier of wealthy indolence, tennis is not far behind. Until comparatively recently, and sometimes still today, it has been among the whitest of sports, a game of country clubs with restrictive admissions policies. And, weirdly enough, this is not the first time it has caused a presidential public-relations headache. In 1978, James Fallows — then a White House aide, now a longtime Atlantic contributor — described Jimmy Carter's poor management skills with an anecdote about the president's signing off on every appointment booked at the White House tennis court. (Carter denied it on-camera, but there's a paper trail.) It became a memorable encapsulation of Carter's flawed presidency: focused on trivia while the big sweeping visions and crises over the Middle East and the economy went unaddressed. Take note, future presidents: Don't do anything with the tennis court beyond playing tennis, and you might make it to a second term.