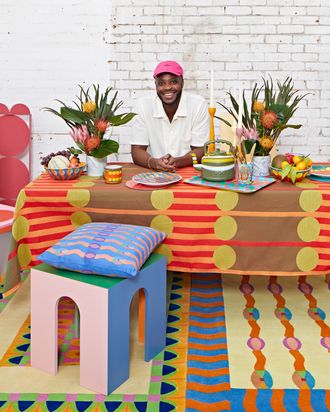 The British designer Yinka Ilori has brightened London's streets with prismatic murals, its parks with optical architectural installations, and its storefronts with vibrant window displays that riff on the African fabrics he grew up with. Now, you can bring his color-obsessed work into your home. Earlier this month, he launched a line of home goods that includes tableware, pillows, hand-knotted rugs, and even socks.
"My work is always about trying to impart a sense of joy and hope, and those are two things that we needed [during lockdown]," Ilori says. "So I wanted to create a collection of homeware that was ticking those boxes and trying to keep us sane during a tough time."
Ilori's foray into home goods happened because of the pandemic. He had a full year's worth of installations planned, but one by one, they were canceled, so he had to hatch a plan to keep his six-person studio afloat. On a whim, he decided to produce some socks using an online printing service (the kind where you can put photos on T-shirts). They were so popular that he figured he could make more products at a higher quality.
"It wasn't a planned collection; it was just like, Oh, okay, I'll add a mug. I'll add a tray. I'll add a place mat," Ilori says. "And before you know it, it was a full range."
All summer he researched manufacturers that could produce the level of quality he wanted in products, and most importantly, in the exact same colors he uses in his installations. He found a textile mill in Portugal to make his soft goods, a rug-maker in Nepal, and a factory in Poland for his enamelware; and he also sourced from factories in Belgium and Switzerland. Normally he would travel in person to look at samples and test runs, but due to the pandemic, he did it all over Skype, Zoom, and email.
Ilori is hoping to expand the collection next year, and also partner with retailers in the United States to help make shopping more accessible Stateside. Until then, you can purchase the items through his online shop, which ships internationally.
Photo: Andy Stagg
Hand-knotted in Nepal from Tibetan wool, Ilori's rugs feature patterns inspired by London's cityscape and history, like the Thames river and the Royal Docks. The pineapples in the Ope pattern are a nod to international trade.
Photo: Andy Stagg
Ilori describes his melamine trays as "mini canvases" that are "artwork in their own right." They can also help keep you organized. The Ere pattern is something he originally used in an installation about childhood play and creativity.
Photo: Andy Stagg
Every designer seems to be making ceramic statement mugs, but Ilori opted to do his, which holds nearly 20 ounces, out of enamel, a very traditionally British material.
Photo: Andy Stagg
This 100 percent cotton throw pillow cover is made using a jacquard weave, which is durable yet soft.
Photo: Andy Stagg
Also woven from cotton jacquard, these tea towels are just as absorbent as they are vibrant.