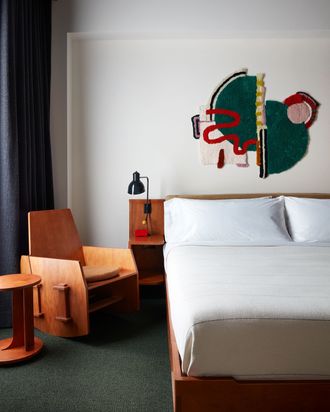 Photo: Stephen Kent Johnson/Stephen Johnson
This spring, pandemic be damned, the Ace Hotel is coming to Downtown Brooklyn, and it will be the largest location to date. The hospitality group, which created the category of design-forward boutique accommodations where it's actually cool for locals to hang out at a hotel bar, is opening the Ace Brooklyn on the corner of Schermerhorn and Bond. The 287-room hotel, a brand-new construction, has been in the works since 2014.
Roman and Williams — the studio behind the interiors of the Midtown and New Orleans locations of the Ace — designed the building's facade and interiors. Stonehill Taylor is the architecture firm of record. The hotel's sensibility is inspired by "the raw studio spaces of European modernism," with gridded windows and exposed concrete. The rooms are well-appointed with the kind of furnishings you'd come to expect from the Ace (custom wood furniture, a warm industrial aesthetic, comfortable beds). Guests can also find the same mix of amenities that's worked for the hotelier in the past: an indoor garden, an art gallery, a bar, a restaurant, and a lobby roomy enough for guests and locals to come work. For its art program, the Ace is working with over a dozen local fiber and textile artists and will have a large-scale installation from the sculptor Stan Bitters in the lobby.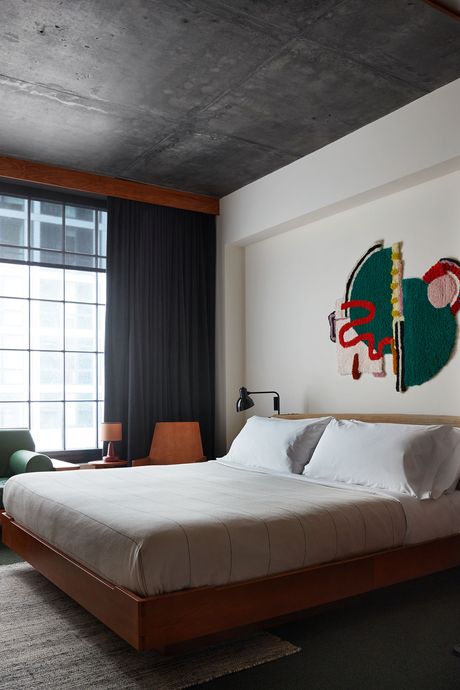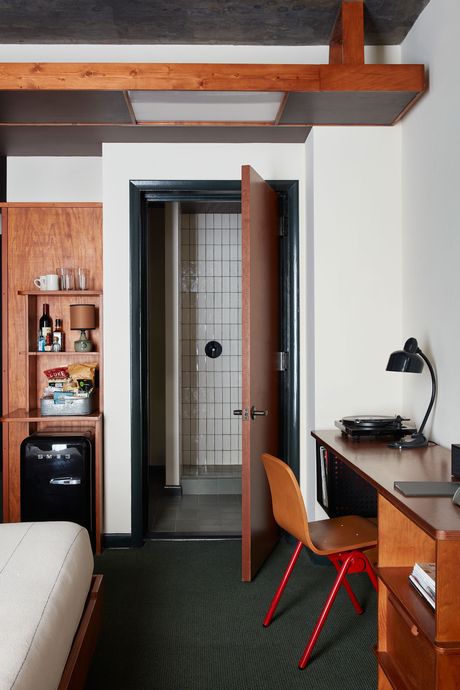 But what's perhaps most interesting about Ace Brooklyn is where it's located — in an area of the borough that's approaching the tail end of many years of significant upscaling. In fact, the only thing really missing from the mix of new food halls, luxury apartments, cafés, and shopping malls that have risen up is a reliable boutique hotel.
"We see the neighborhood as a gateway to just about everywhere," says Brad Wilson, president of the Ace Hotel Group, pointing out that the new hotel is walking distance from BAM, BRIC, Barclays Center, Fort Greene Park, the Brooklyn Bridge, and even Prospect Park (if you're feeling ambitious). But while the location is so close to all of these destinations, the block itself is still somewhat of a backwater. There's a Holiday Inn next door, an unemployment office on the next corner, and a Goodwill down the block. Not much by way of welcoming storefronts, compared to the more bustling shopping corridors on Fulton Mall to the north and Atlantic Avenue to the south.
But, as for many of the Ace locations around the country, this is not expected to be a major roadblock. "We designed a ground floor with plenty of indoor and outdoor spaces for our neighbors and guests — spaces made to be activated, which we're excited to see come alive," Wilson says.