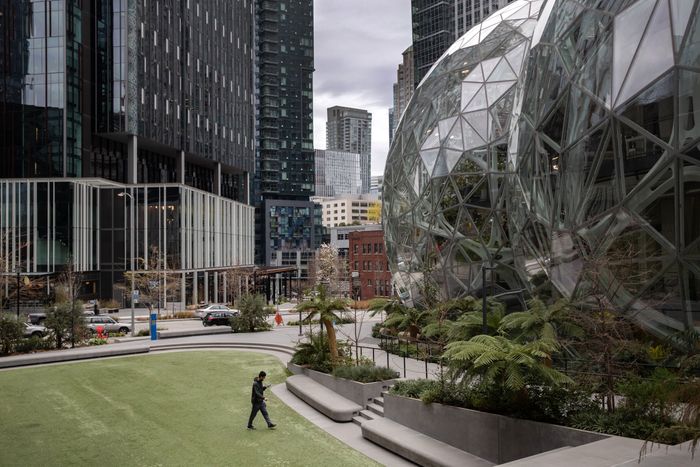 Photo: John Moore/Getty Images
Amazon announced this week that it will pledge more than $2 billion toward the creation and preservation of affordable housing in three areas where it has large offices — Seattle, Nashville, and northern Virginia — becoming the latest tech company to commit resources to reducing housing costs, joining Facebook, Google, Microsoft, and Apple.
Ostensibly, it's a move that attempts to lessen a raging problem the companies themselves have helped create. The Bay Area, home to Facebook, Google, and Apple, is the most expensive housing market in the country thanks to the effect of Silicon Valley over the last 20 years, and in Seattle, where Amazon and Microsoft are based, home prices have risen 125 percent since 2012, according to Zillow data.
In Nashville, a newly emerging tech city where Amazon has established its east coast logistics hub, home values have risen a staggering 81 percent over the same period, while the Washington, D.C., metro area, where it will establish its HQ2, has seen a 41 percent increase — rates that could soar with an influx of highly paid tech workers. That's why Amazon is attempting to get out in front of the issue. But drilling into the company's plan reveals how little, if anything, it will do to address affordable housing shortages.
Most of Amazon's $2 billion pledge will come in the form of below-market loans and lines of credit, meaning it isn't contributing $2 billion to building affordable housing; it's just lending $2 billion to developers at favorable rates. And $2 billion is not a lot for the company, as it tends to hold $20 billion to $30 billion in cash during any given quarter. In the Seattle area, Amazon plans to invest about $185 million in loans and grants to preserve 1,000 affordable apartments. For scale, the region has lost a net total of 112,000 affordable homes in the last 10 years. The company's plan for Virginia is similarly minimal; it aims to "create or preserve 1,300 affordable homes," in an area where Arlington alone needs 8,000 affordable units.
Amazon isn't an affordable housing developer, nor does anyone expect it to be. But it could simply pay the 21 percent corporate income tax on the $11.5 billion it earned during the first three quarters of 2020. This alone would generate about $3 billion for the federal government to directly invest in affordable housing. The company could also redirect the $600 million it received in tax breaks for its new headquarters in northern Virginia (a subsidy that the richest company on the planet hardly needs) toward local affordable housing. But Amazon isn't trying to solve the affordable housing problem. It's just trying to avoid blame for exacerbating it.