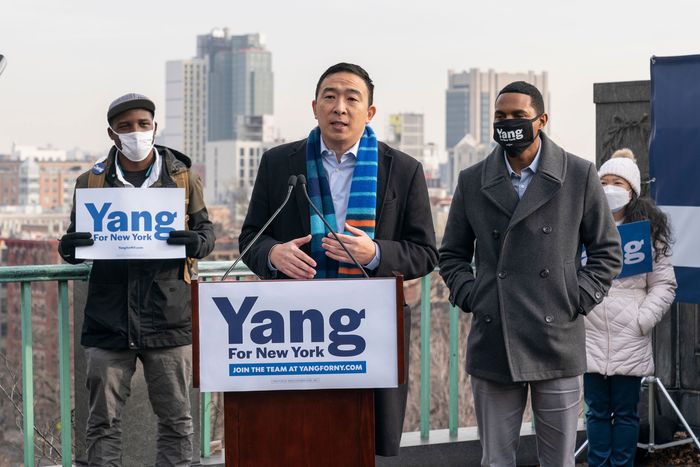 Andrew Yang: For, and possibly in, New York.
Photo: Lev Radin/Pacific Press/Shutterstock
Andrew Yang, who launched his mayoral campaign by admitting that he'd spent the past few months avoiding the city, wants you to know that he's back in town, baby! A couple of days ago, we all saw him playing the piano in the middle of the street next to the Wonder Wheel, and hanging out in a coffee shop, and folding his pizza slice correctly, and talking up his Mets/Nets/Gray's Papaya fandoms, checking every New York box ever seen on Friends. There are lines like, "In 1996, I moved to Morningside Heights," which is a cute way of saying he got into Columbia.
Today he's gone a step further, tweeting out a video in which he stops by his local gourmet deli.
He calls it the bodega, inadvertently activating a particular New York nomenclature argument that is the sociolinguistic equivalent of stepping on a rake. After grabbing two plastic bottles of chilled green tea, he attempts to pluck a banana from a basket one-handed, then gives up mid-twist and takes the bunch, referring to it as "the whole bushel," as absolutely no human being ever would. And then he pivots to voicing his support for the 14,000 bodegas citywide.
"I love bodegas," he says, courting controversy. After which he issued a followup tweet that should be reproduced as a campaign poster:
We look forward to his next such video, and have a hunch that it will involve an Anthora paper cup.