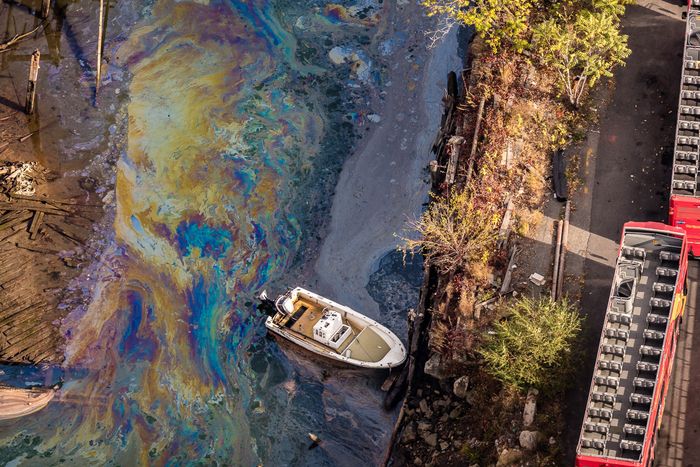 The blighted banks of the Gowanus Canal.
Photo: Max Touhey
It's been two steps forward and one step back for the Gowanus Canal cleanup this week — or one barge, rather. On Monday, the Environmental Protection Agency announced that a boat transporting toxic muck dredged from the bottom of the legendarily filthy waterway made it only a short way south before sinking at its mooring in Gowanus Bay. The EPA says the barge, which sank in an area known as Bay Ridge Flats off the coast of Sunset Park, contained 850 ton of sludge laced with noxious chemicals, like coal tar, scooped up from the canal bed as part of its multi-million dollar Superfund cleanup. The EPA discovered the barge partially submerged and resting on the mudflats. It's actually the second vessel associated with the cleanup that has sunk, and before you write that joke, no the Gowanus ooze it was carrying did not eat through the steel hull.
On Tuesday, dredging in the canal was halted so crews could concentrate on securing the downed barge. Cashman Dredging, the contractor that owns it, managed to pump water from the boat and resurface it. Crews discovered a small hole in the hull — and patched it — that appears to be the cause of the mishap. It's since been moved back to the Gowanus Canal at Smith and Huntington Streets. The bulk of the fetid sediment on the barge, according to an agency statement, remains contained. Still, the EPA is continuing its investigation and says it is reviewing field operations associated with the canal's cleanup. No spill sheens were observed in Gowanus Bay, but Cashman has mobilized inflatable booms and silt curtains where the barge sank in hopes of trapping any contaminants. If not, there might need to be a smaller Gowanus Bay cleanup too.