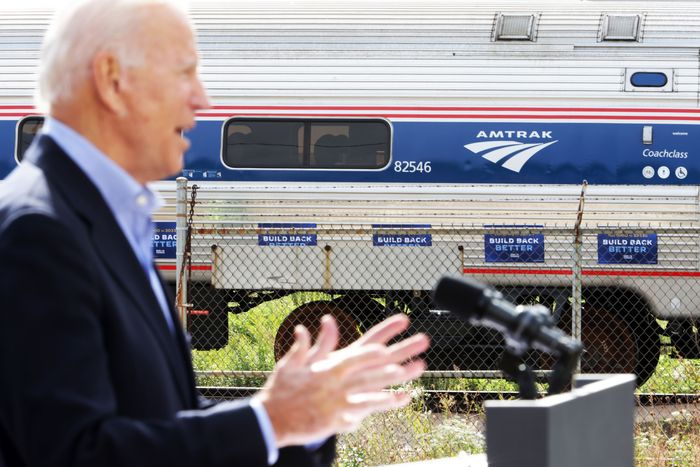 He'll be riding in a very quiet car with the Secret Service instead.
Photo: Alex Wong/Getty Images
In a development that seemed inevitable as soon as the security fencing began to fall last week on Capitol Hill, the Biden-Harris transition team confirmed yesterday that the president-elect will not arrive to his inauguration by train as previously planned. Biden's reinstatement to federal office via Amtrak had been heralded, particularly by giddy transit fans — He's one of us! — as a symbolic transfer of power, the return after an open-ended trip that booked Biden out of D.C.'s Union Station four years ago.
The change of plan, announced as National Guard troops were bedding down in camouflaged clumps on the marble floors of an armored Capitol for the second night, was lamented as yet another milestone stolen by Trump — another grim cancellation in a year of rescheduled weddings, drive-through graduations, Zoom funerals. But Biden's derailed trip had been, in the planning, more than just a ceremonial nod to train travel. Amtrak Joe started commuting by train in 1973 precisely because of the Northeast Corridor's relative reliability; after his wife and infant daughter were killed by a drunk driver just after he'd been elected to the U.S. Senate, knowing that the 90-minute trip would get him home from work at the same time each day provided consistency for his two young sons. Boarding the southbound train from Wilmington, Delaware — at a station now named after him — on the morning of January 20, 2021, was going to be that gesture writ large, Biden's way of returning us to something normal and, yes, predictable.
If we — naïvely, perhaps — ever believed that the election would offer some kind of turning point for this country, we now know that one inauguration ceremony isn't enough. But it would have been a small but significant comfort to watch Biden make his way to Washington by mass transit: the whistle announcing an on-time (usually) departure, the beaming pride of Amtrak employees, the familiar rhythms of an otherwise unremarkable commute. Instead, our next president will begin his journey to the White House invisibly, on a secret route, and no one knows what lies ahead.