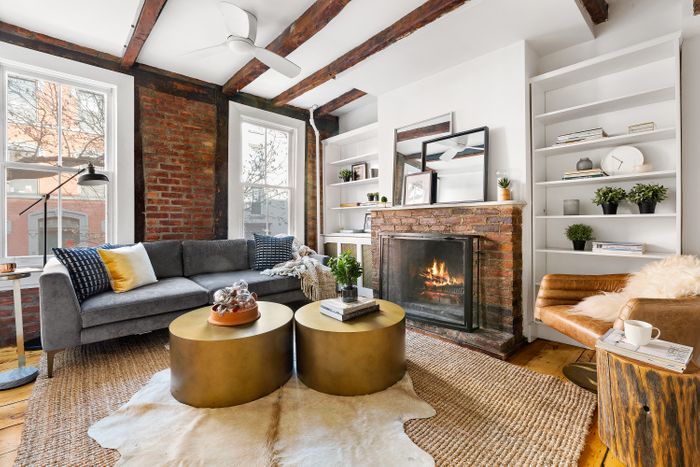 Photo: Courtesy of The Corcoran Group
Rumored to have been a barbershop around the time the Brooklyn Bridge was being built (in the mid-1800s), this co-op building sits on the block-long Poplar Street, which has a sidewalk lined with real gas lamps.
Combined from two separate apartments, this particular unit spreads over two floors (each retaining its own entry) that are connected by a staircase under double-height ceilings. There's a large bedroom, dining room, and kitchen on the lower level, while the upper level houses the living room, master suite, and another smaller bedroom. The apartment has an almost absurd number of original beams and columns, seen in almost every room on both levels. There are also several exposed brick walls throughout (there's a 20-foot-long stretch of it in the dining area), plus two original brick fireplaces.
After the current owners bought the home in 2015, they sanded and refinished the wide-plank pine floors, which came from an old, reclaimed barn in Pennsylvania. More recently, they put in custom pale-pink wooden kitchen cabinets, made by local carpenter Tobias Waite.
Their biggest renovation project was upstairs, where walls that used to carve out a separate bathroom and kitchen were knocked down to create one open master bedroom that takes over the full width of the home. As seen in another recent Truly Terrific pick, the master bedroom now opens up the sleeping area to the bathroom. Here, the two areas are separated by just an old brick partition, where a double vanity sits on the side closer to the tub and toilet closet.
"Though it was a little scary thinking about having no separation between the shower and the bedroom at first, it has worked out beautifully," the owners say.
This room also leads to a private terrace, which is 19-feet deep and overlooks the common courtyard.