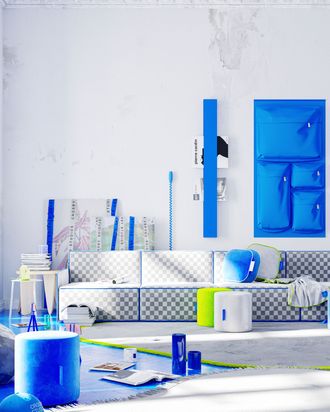 Photo: Courtesy of Crosby Studios
From a viral sofa stuffed with unsellable Balenciaga apparel to Surrealist design-fair booths and luxurious private residences done up with violet carpets and metallic faux leather, the work of Crosby Studios — the New York– and Moscow-based design-and-architecture firm founded by Harry Nuriev — sits somewhere between aspirational fantasy and conceptual artwork. Now you can bring that aesthetic to your apartment. Today, Crosby Studios, in collaboration with HBX, launched a new home-goods line that carries the same vibrant, minimalist (and sometimes twisted) sensibility that made Nuriev a design-industry darling, but at more affordable prices.
Nuriev's foray into home goods came about from a pandemic-related realization. Before quarantine and stay-at-home orders grounded his travels, Nuriev had never really lived in one place for more than two weeks at a time. He often moved freely between his apartments in New York, Moscow, and Paris. When lockdown began, he was stuck in Los Angeles; being in a place that didn't feel like home gave him a new appreciation for how things like pillows and scented candles can instantly create comfort.
"During quarantine, I was thinking about how to crack the code for people to be able to obtain a Crosby Studios space without having to do a full renovation," Nuriev tells Curbed. "I typically work with bigger-scale items, so it was fun to transform my interior language into small goods while keeping the important details."
The home-goods line consists of furniture, pillows, blankets, candles, rugs, soaps, decorative objects, and loungewear, all of which are inspired by Nuriev's past work for clients like Nike and Balenciaga as well as his own custom furniture collections from over the years. Think ottomans and notebooks swathed in faux fur, delicate powder-coated-metal shelving, office chairs with bucket seats, and checkerboard-print blankets.
Nuriev plans to open a flagship for the brand in Moscow later this year, but for now, the products are available online exclusively at HBX.com. The collection is shoppable via an augmented-reality digital storefront that looks like an apartment. The design of this virtual environment riffs on the three apartments Nuriev lives in and represents his desire to bring the same excitement of shopping in person (again, another pandemic casualty) to shopping online.
Photo: Julia Tatarchenko, Courtesy of Crosby Studios
This metal-frame chair is upholstered in velour and riffs on a design Nuriev created for a Nike collaboration a few years ago. Many of the fabrics he uses in his home-goods line, like velour and faux fur, are more closely associated with the fashion industry than with interiors. "I stand for merging art, design, and fashion," he says. "I don't want to furnish spaces — I want to dress them."
Photo: Julia Tatarchenko, Courtesy of Crosby Studios
Gray, blue, and green are Nuriev's favorite colors, and he uses them extensively in his own homes and in this product collection. "Green, for me, symbolizes hope and fresh starts; blue symbolizes power and love; gray is the new beige," he says. "Everyone can have a little piece of my room [with these colors]."
The gray checkerboard motif is a nod to the blank backgrounds of Photoshop. Nuriev's first serious job was as a graphic designer. "It's where I learned the importance of geometry and patterns," he says. "This background symbolizes a blank canvas for all my ideas."
Photo: Julia Tatarchenko, Courtesy of Crosby Studios
"I like to call this blue 'Crosby Blue,'" Nuriev says of the shade used on this powder-coated-metal folding stool, available in small ($220) and medium ($280).
Photo: Julia Tatarchenko, Courtesy of Crosby Studios
There's often a tongue-in-cheek side to Nuriev's work, as shown in this rug. "The inspiration here was pretty literal," Nuriev says. "You always throw your socks on the floor — why not have socks on the floor permanently?"
Photo: Julia Tatarchenko, Courtesy of Crosby Studios
The same goes for this body pillow. "The concept came about when I was studying pillows and thought, Why is everything square? Why can't we have a human-shaped pillow?" Nuriev explains.