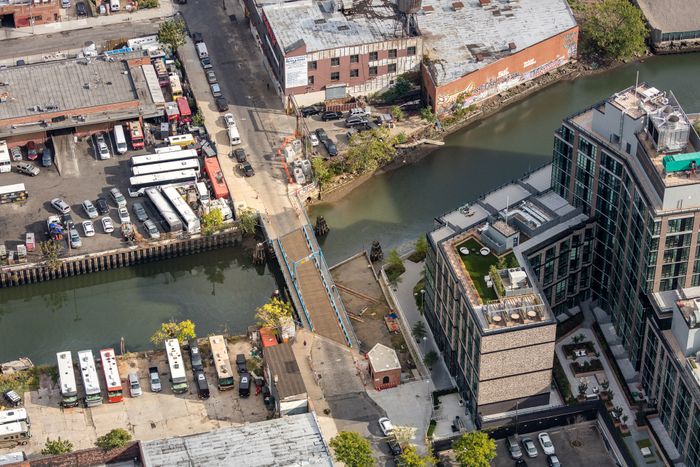 Mostly low-slung buildings and lots line the Gowanus Canal.
Photo: Max Touhey
Last week, the city was scheduled to proceed with the land-use review of a neighborhood rezoning that promises to create 8,200 new apartments in Gowanus. But a coalition of local groups and residents filed a lawsuit and obtained a temporary restraining order that halted the process. The suit charges that the city's plan to hold virtual hearings instead of in-person meetings violates city rules (among other arguments). If a State Supreme Court judge upholds that restraining order this Thursday, it would not only derail the Gowanus rezoning, but also set a new precedent that might upend future land-use proceedings during the pandemic.
Virtual public meetings are, of course, a new pandemic-era mainstay. They allow Chuck Schumer, a 7-year-old kid, or any registrant, really, to sign in and offer timed feedback. In March, as the city shut down, Mayor Bill de Blasio suspended the city's Uniform Land Use Review Procedure (ULURP), which requires a slew of in-person meetings, and in September restarted the process on Zoom (New Yorkers can also dial in by phone), following a statewide executive order from Governor Andrew Cuomo that allows public hearings to move online during the pandemic. And the city says it's seen more attendees than usual at those hearings, with more than 200 people tuning in to the last three Gowanus infrastructure-related meetings. But the local groups spearheading the lawsuit, including Voice of Gowanus and Friends and Residents of Greater Gowanus, argue that these virtual meetings violate the City Charter — which requires that they be hosted at a "convenient place of public assembly" — because some people lack access to the internet or technology. If the judge upholds the restraining order, land-use experts worry that it will give others who seek to stymie development a legal opening to delay the ULURP process. "That would be a terrible thing for this city because many projects would be stalled or discontinued and the city would lose a lot of jobs and investment, which are things we desperately need right now," said Howard Goldman, a land-use attorney and a former deputy counsel at the Department of City Planning.
In-person meetings also come with their own set of drawbacks. They can exclude those who don't have the luxury of trekking to a physical location due to work or child-care commitments, especially in low-income communities of color. Elise Wagner, a partner at the land-use department of Kramer Levin, calls in-person hearings "an imperfect tool" for public participation. "Yes, there are technology issues online, but to me, it really balances out, and I don't think you can say that one is better than the other," she said. Moses Gates, vice-president for housing and neighborhood planning at the Regional Plan Association, agrees. "In-person meetings have issues of inclusiveness and accessibility. On the other hand, a lot of folks might not have broadband access or be computer savvy," said Gates. He added that ensuring all meetings offer interpretation for non-English speakers would be a good start, as well as bigger commitments such as expanding the city's internet infrastructure, a costly undertaking that the city has begun with a $157 million commitment to expanding high-speed internet.
A court hearing is scheduled for this Thursday, after which the judge has up to 60 days to issue a decision. An extended delay could push the Gowanus rezoning into the next mayoral administration where its fate is unclear. Ultimately, that's the crux of this lawsuit: Opponents seek to stall the plan and take their chances with a different city leader. "This rezoning has taken close to a decade in community involvement," said Gates. "The idea that there has not been opportunity for citizens of the neighborhood or of New York to weigh in is ridiculous. I don't think this is really about the nuances of public participation. I think it's about trying to kill the Gowanus rezoning."