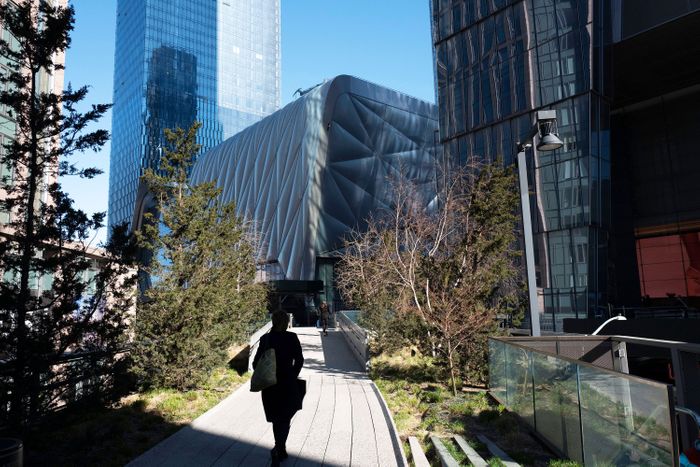 The High Line as it now meets Hudson Yards.
Photo: Mark Lennihan/AP/Shutterstock
Now that Governor Andrew Cuomo has taken care of planes, trains, and automobiles, he's refocusing his lust for infrastructure on the challenge of walking. The new bridge over the Hudson, the terminals at La Guardia Airport, the expanded Penn Station — all were warm-ups for what he presumably sees as the logical next step: an elevated pedestrian superhighway that would extend the High Line a full three blocks and cost $60 million.
I get the project's allure. Right now, the walk from Hudson Yards to the new Moynihan Train Hall is less than ten minutes but feels like 40. Pretty much any route takes you down inhospitable channels flanked by loading docks and forbidding walls, and improving that pedestrian experience is a noble goal. It also doesn't require constructing a new skyway. Even the most fume-smothered sections of the city already have the basics of pedestrian infrastructure: streets and sidewalks.
Cuomo's solution to making the streets of Midtown West livable — lift people above them — is oddly antique. A century ago, the architect Harvey Wiley Corbett envisioned Manhattan as a multilayered metropolis that pedestrians would crisscross on skybridges far above the traffic. Plenty more quasi-utopian visions since then have incorporated aerial streets. A West Side Cuomoville wouldn't have to generate such a network from scratch. Instead, the High Line appendix would vault the misery of Tenth Avenue, float above West 30th Street, make a left at Dyer Avenue (one of those Manhattan streets that only drivers know, because it's really the esophagus of the Lincoln Tunnel), then plunge through the heart of Manhattan West, another developer-built city-within-a-city that's currently under construction. And because the ground there slopes up, the aerial walkway makes a gentle landing at Ninth Avenue, with nary a step or an elevator along the way. All very neat, but let's be honest: The extra length of High Line will connect one branded megadevelopment to another, so that the traveler — customer may be the better word — can slip from Related's high-cost fiefdom to Brookfield's without ever touching down.
A second proposed branch of the High Line would head northward to Pier 76, where the NYPD tow pound would be converted into a park/running track/performance space/open-air bar or some other leisure combo. Repurposing the pier would also relieve the state from the need to clear space in the middle of this new high-density Eden: Just keep one strip of parkland up in the air and push the rest out over the water. On paper, the whole exercise in clever connections runs the risk of turning Midtown West into a maxi-size version of Hudson Yards, a forest of standing bricks with no street-level mortar to bind them into an actual place.
Props to Cuomo, though, for focusing on a part of the city that he actually has the power to fix. The Thirties and Forties west of Penn Station are choked with immovable megastructures: tunnel approaches, elevated bus ramps, rail yards, and train tracks, plus the crystal citadel of the Javits Center. For many years, those hardened oceans of concrete and agglomerations of superblocks made it difficult to find anything you might call a neighborhood in the DMZ between Chelsea and Hell's Kitchen. Then came the slow-motion squeeze play of glitzification. The 1990s overhaul of Times Square swept away the porn stores. The remaking of the High Line turned a chunk of superannuated freight infrastructure into a verdant catwalk. Hudson Yards, that branded Oz with a suicide drop at its core, created a new (and hollow) center. And now we have Moynihan Train Hall, a $1.6 billion workaround to take the stink off Penn Station. Cuomo is hoping to leverage all those transformations and finally reseed vitality in a part of Manhattan that has stubbornly clung to its bleakness.
The back-of-the-house quality of this area, managed by so many public agencies, has one potential advantage: So much of it is owned and operated by the state that it serves Cuomo's interests to declare it his turf. And because his favorite toys are of the multibillion-dollar kind, a pile of outdated transportation facilities makes this flank of Manhattan a gubernatorial candy store. The fact that his own ambitions and budget prospects depend on federal largesse give him a good reason to approach Washington with a fistful of specific projects: two more cross-Hudson tunnel tubes, eight more tracks coming into a new Penn South, a rebuilt Penn Station, a rebuilt Port Authority Bus Terminal, and a massively expanded Javits Center — a $51 billion wish list. Cuomo has made it clear that he aspires to do more than build the urban-scaled equivalent of a utility closet. He's the Mr. Rogers of Midtown West, singing the virtues of neighborhood.
Infrastructure usually has a hard time coexisting with neighborhoods. Highways obliterate them. Tunnel entrances fumigate apartments with standing clouds of carbon monoxide. Train stations can act like toxic spills, poisoning urban life over a wide radius. In front, vast plazas teem with buses and cars. Out back, noise, pollution, and a long tail of tracks cleave neighborhoods from each other. Their flanks attract cheap hotels, prostitution, and crime. Yet stations can do the opposite, too, leveraging convenience and grandeur to create vibrancy and lure money. The original Penn Station lasted a little over 50 years. Grand Central Terminal is 108 years old and owes its longevity, in part, to Terminal City, the complex of hotels and office buildings built to line the then-new Park Avenue. While Cuomo futzes with a needless walkway, he has pushed aside other opportunities. The architecture firm Perkins and Will has suggested expanding the Javits Center out onto Pier 76 and using the complex's basement for the Port Authority Bus Terminal. This would make it possible to demolish the elevated bus ramps that slice up the sky above 40th Street. Another firm, Practice for Architecture and Urbanism (PAU), proposes liberating Penn Station from Madison Square Garden by pushing the arena across Seventh Avenue and flanking it with a pair of supertall towers. Then there's the city's decade-old, half-forgotten plan to convert 34th Street into a 14th Street–style busway. Together, these ideas, all of them complementary with Cuomo's goal, add up to the highest civic ambition: to let a city breathe and flow and move.
The timing of this push to Grand Centrify the Penn Station area is slightly surreal: a transit hub trying to boost a business district at a moment when trains and offices sit largely vacant, and when some seers warn that they're likely to remain that way. Cuomo is betting that they won't, and I agree. Even if work and travel change, Americans will still need ways to do both. I don't believe that the executive suite of the future will be a suburban basement, or that many new recruits in the white-collar armies will happily spend their days in the "work" area of their tiny studio apartments, a few feet from the "sleep" and "eat" zones. So Penn Station and the West Thirties are inching toward each other, fusing journey and destination. That chemical reaction requires three ingredients: fleet and reliable public transit, new buildings, and more alluring streets. We may start to get a handle on the first during the Biden years. Big Development is feverishly taking care of the second. The third part, which should be the easiest and cheapest to achieve, may wind up being the straggler.