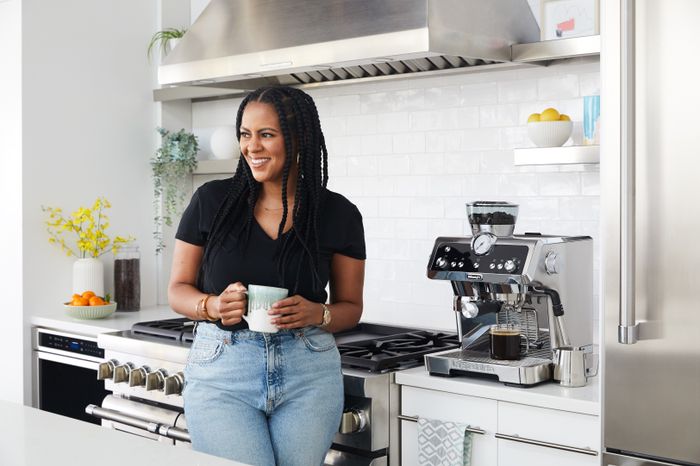 Over the past year, our homes have become our catch-alls. Kitchens are our coffee shops. Living rooms are our meeting rooms. Dinner tables are our desks. And when almost everything happens inside the same four walls, it's only natural to crave something — anything! — to make our days feel fresher, brighter, and less stressful.
Nicole Gibbons, the founder and CEO of the beloved paint brand Clare, spends every day thinking about how to help people make their spaces more joyful. And naturally, she takes cues from how she designs her own place.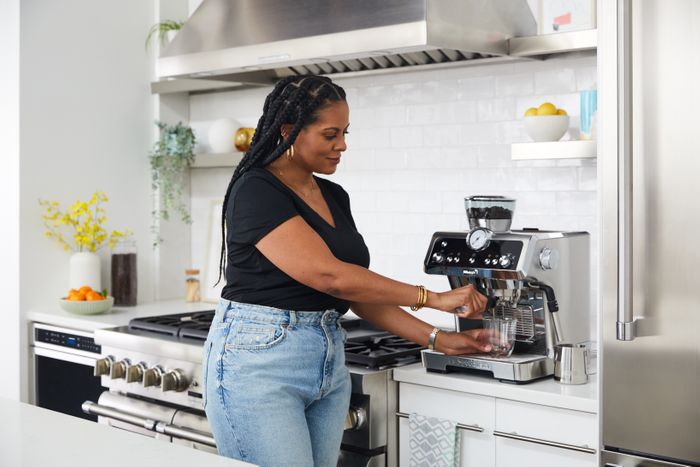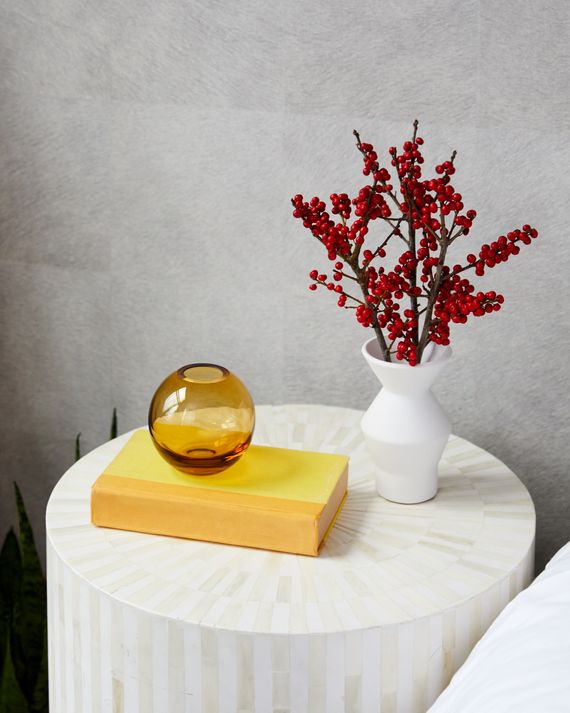 "I think that living well means surrounding yourself with things that you love," she says. Gibbons credits her mom and grandmother (two "consummate homemakers") for passing down "this immense amount of pride in creating a beautiful home."
It's thoughtful touches — painted walls, fresh flowers brightening the table, a morning latte brewed on her De'Longhi La Specialista Espresso Machine — that bring comfort and calm to Gibbons's everyday routine, even during long hours working from her one-bedroom apartment. Read on for her tips for turning a space into a sanctuary, the paint color she recommends for anxious times, and her advice for starting the day with a bit of joy.
On her WFH routine:
I'm on a lot of Zoom calls and a lot of video chats nowadays. I don't put on a full face, but I still put on a little bit of foundation so that I feel confident. Getting myself ready is still part of my routine, but my wardrobe is pretty casual. Then I'm always off to the kitchen to make the coffee.
Coffee fuels my day — especially now that I'm working from home. I love that I can now brew espresso and make delicious lattes at home that rival my favorite third-wave coffee shops. One part of my ritual that I love most is grinding my beans each morning. That freshly ground coffee scent is intoxicating. I love that the De'Longhi La Specialista machine has the grinder built right in to make that step a breeze. The smell of freshly brewed coffee is almost like a subliminal signal that my day has officially begun. Plus, as a designer, I always appreciate beautifully designed appliances, and this looks stunning on my kitchen counter.
On pursuing instant calm:
Color has a tremendous ability to impact your mood and the way that you feel when you're in your home. It can make you feel calm. It can make you feel energized. It can make you feel productive. A lot of people, especially city folks, tend to neglect their walls. Sometimes paint is viewed as almost an afterthought, but I think it can really set the foundation for your whole space, as well as your mood. My space is painted in a very airy shade of grayish. It's very light and soft and it reflects the light beautifully, so I feel like I'm in this little ethereal, calm space all day, which is exactly what I need during this pandemic era. Paint can be really transformative, and it has the power to totally enhance your mood.
On simple touches:
I love having little fresh flowers around my place. I try to do little things to make my environment feel good. I live in a well-designed space, but even I can get sick looking at these four walls after nine months.
One thing I've been doing since quarantine is buying plants. I look at them every day and having that little bit of life and beauty makes me so happy. I also bought this really beautiful handcrafted planter from this ceramicist that's fancy, but not too expensive. I have it in my living room with this beautiful snake plant in it.
On what's worth the splurge:
Invest in your personal comfort and the things that bring you joy. So if you love cooking, buy all the nice kitchen things, because that's what's going to bring you joy every time you use them. If you are the type of person that loves to take baths, make sure your bathroom feels like a spa and invest in making that space incredible.
On the future of entertaining, in a post-Covid world:
I used to host these elaborate dinner parties, and then it evolved into a more casual buffet style — food out, you can eat if you want, a glass in everybody's hand, and just good conversation. I actually prefer the more unfussy style of entertaining these days. I think that all the pomp and circumstance takes away from the fun of it. So I love just having a few bites lying around and plenty of drinks and things for people to enjoy — it could be a glass of wine, it could be a cup of coffee. The people that I surround myself with are really what helps to make the experiences the most enjoyable.
This advertising content was produced in collaboration between Vox Creative and our sponsor, without involvement from Vox Media editorial staff.