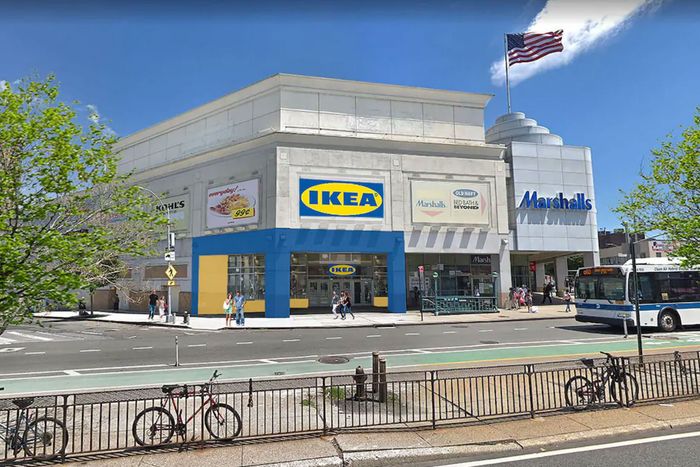 A new, smaller-format Ikea store just opened in a shopping mall in Rego Park after the coronavirus pandemic pushed back the outpost's planned summer 2020 opening. The 115,000-square-foot space at the corner of Queens and Junction Boulevards is the first "mini" Ikea store in the U.S. and is part of the retailer's plan to reach more urban consumers. (Ikea will also debut mini-stores in Los Angeles and Chicago in the next two years.) Here's what you can expect.
What can I buy?
The Rego Center store will have the typical Ikea room sets, tweaked slightly for small-space New York living — get ready for lots of storage solutions and compact love seats instead of sprawling sectionals. There will be thousands of products you can purchase and take home that day, but the larger furniture items on display will be available only for home delivery. Shoppers can use self-pay and assisted-checkout options and schedule appointments with Ikea planners to map out kitchens, living rooms, and bedrooms.
To minimize crowds, the exact date of the opening won't be announced, and standard COVID precautions will be implemented at the store. You can expect physical-distancing requirements and capacity limits, extra cleaning and sanitization of high-touch surfaces, and temperature checks for employees.
How can I get it home?
For items you can carry home yourself, the Queens store is located near the Q59 and Q60 bus stops and the 63rd Drive Rego Park subway station, which serves the E, M, and R lines. For larger items, Ikea will offer home delivery for a flat fee starting at $49 for anywhere in New York City, and you can schedule home assembly if you cringe at the thought of an Allen wrench and cryptic manuals. To boost its delivery capacity, Ikea opened a 975,000-square-foot warehouse on Staten Island in 2018, and the retailer also has a goal to use electric vehicles for all of its last-mile deliveries in NYC by January 2021.
How does the new store compare with other Ikea stores?
Ikea has experimented with various store models in New York City in the past; a since-closed marketing concept shop operated in the 1990s at the corner of 59th and Lex, and the region's most popular — and largest — store is the 346,000-square-foot Red Hook location, built in 2008 on 22 acres of the former New York shipyard. In April 2019, Ikea opened a "Planning Studio" on the Upper East Side between East 59th and East 60th Streets. The trilevel, 17,350-square-foot store doesn't include a full buy-and-carry operation; instead, customers peruse popular items, order products for delivery, and schedule consults.
The newest Queens store fits squarely in between these offerings. It's about half the size of the Red Hook location but has shoppable take-home items not found in the much smaller UES Planning Studio. And while Ikea doesn't have any plans to abandon its sprawling warehouse-style stores in the suburbs, the retailer hopes this midsize store will satisfy shoppers who want both delivery options and the instant gratification of traveling home with a new purchase. "This is how we have accelerated in our ambition to become more accessible. It's never going to be that we go back to only opening big stores," said Jon Abrahamsson Ring, Ikea's chief executive officer, in a press release. "It will be a mix of formats, including smaller stores closer to where people live or work or move."
What about the meatballs?
The new Queens mini-store won't have a full restaurant, but that doesn't mean you won't be able to pick up some grub while snagging a new Billy bookcase. A grab-and-go eatery will (eventually) have a selection of side dishes as well as Swedish meatballs and salmon and veggie balls — just be aware that the eatery won't yet be open because of COVID-19 delays, according to a spokesperson.