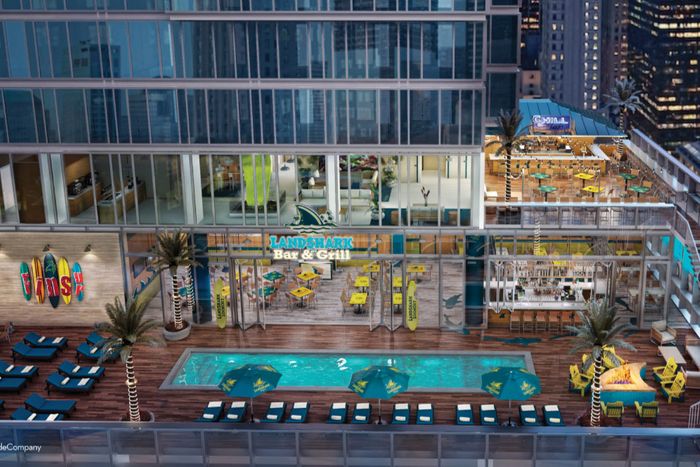 Photo: Margaritaville/The McBride Company
Construction is nearing an end on the Margaritaville Resort in Times Square, prompting the revelation that New York City will soon reside in the Margaritaville universe. The 32-story tower is musician turned leisure capitalist Jimmy Buffett's second attempt to breach the city, following an ill-fated Broadway musical that ran for six months in 2018. Initially slated to open in fall 2020, the resort will now debut in late spring, according to the official Margaritaville website. Can Buffett, who has about 22 resort properties across the U.S. and the Caribbean, bring the beach to Times Square at the tail end of the pandemic? Here's what we know so far.
Where will it be?
The massive hotel and retail space is on the southern edge of Times Square at 560 Seventh Avenue, on the corner of Seventh Avenue and West 40th Street (close to the N, Q, R, W, 7, 1, 2, 3, B, D, F, and M trains). The tower replaced a six-story building that housed the former fashion campus of the Parsons School of Design and a synagogue (more on that later). Before the deal was struck between Buffett and developers Sharif El-Gamal of Soho Properties and MHP Real Estate Services, the proposed building was meant to house a Dream Hotel.
How big are we talking?
The 32-story tower, designed by Stonehill Taylor, will reach 375 feet, with 234 guest rooms and 4,861 square feet of retail space on the ground floor. All in all, it's expected to cost around $300 million to build. According to renderings of the tower, the first four stories will house retail space and four of its five restaurants and bars. The other one is on the two rooftop floors, where you'll find sweeping views of New York (and the Lot-Less on 40th Street).
Wait — is there going to be a synagogue in the Margaritaville Resort Times Square?
Yes. In 2014, the New School sold its building at 560 Seventh Avenue to Soho Properties, prompting the closure of the Garment Center Congregation synagogue, which was given a 99-year lease for $1 a year in the 1970s. In order to purchase the building, Soho Properties' El-Gamal had to negotiate with the congregation, and he agreed to build a synagogue (complete with a kosher kitchen — no cheeseburgers in Talmudic paradise — and a small terrace for a sukkah) in the new building. The synagogue's lobby will be on the first floor, and it will also occupy two below-ground levels. We can safely say this would be the first synagogue in Margaritaville.
What will the accommodations be like?
Although there are no renderings of interiors available yet, we know that the guest rooms will feature an "island-style design." They'll have some typical hotel-room offerings, like walk-in rain showers, toiletries from Margaritaville house brand St. Somewhere, Keurig coffee makers, and bathrobes and slippers. You'll have to bring your own flip-flops and Hawaiian shirts.
What's the food and drink situation?
The tower will have five restaurants and bars that promise to ease the pain of Señor Frog's closure: Margaritaville Restaurant, Landshark Bar & Grill, License to Chill Bar, 5 O'Clock Somewhere Bar, and Joe Merchant.
Margaritaville Restaurant will span two stories and serve "island-inspired dishes" along with Volcano Nachos and cheeseburgers (in paradise). It'll also have margaritas and "cool concoctions." Landshark Bar & Grill claims to be a hidden gem, with American beach food and more of those cool concoctions. At License to Chill Bar, visitors will find more cool concoctions — plus fire pits and views of Times Square. 5 O'Clock Somewhere Bar, on the 31st and 32nd floors, will serve craft cocktails. Should you run into a hangover in paradise, Joe Merchant, Margaritaville's Starbucks-style coffee shop, will be there to lend a helping hand.
What else is going on in there?
Well, Landshark Bar & Grill will have the only outdoor pool in Times Square, which will be open year-round, weather permitting. The Margaritaville-provided rendering of the tower suggests that the interior will feature a Statue of Liberty replica holding a margarita, along with what appears to be a biplane suspended from the ceiling. Other details about its resort-level offerings are somewhat slim, but according to a publicity rep for the project, it'll eventually host live music acts. It'll also have concierge service, valet parking, laundry service, and a fitness center.
The resort doesn't differ much from other Margaritaville properties — in fact, it's a little smaller than many of them, some of which have features like spas, zip lines, or, in one case, an entire amusement park. There are no plans as of yet to add an erupting volcano to any of the New York location's bars. Its urban environs seem to be the main draw — other than the Nashville outpost, this is the first Margaritaville hotel in a major city.
Will Margaritaville feel like Times Square?
No. The resort will bring a "laid back, 'no worries' vibe to the city that never sleeps," according to David Crabtree, president and CEO of IMCMV Holdings Inc. Fair enough!