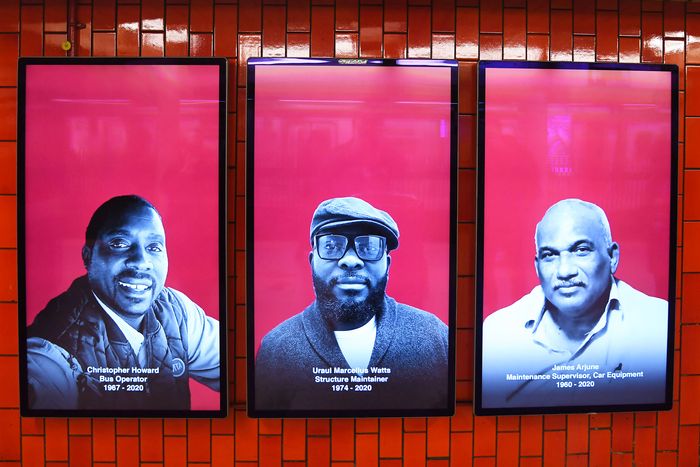 Photo: MTA Arts & Design/MTA New York City Transit
From fields of white flags to candlelight vigils on the National Mall, memorials and tributes to the 400,000 lives lost in the COVID-19 pandemic are beginning to help the country collectively grieve. It just keeps getting worse, and the permanent memorials of bronze or stone are years away from being constructed or even conceived. Till then, those ad hoc tributes are doing a lot of powerful work, and today, the MTA—an agency whose essential workers were especially hard hit by COVID-19—is opening its own memorial, a project that will be on view throughout the subway system through February 7.
Portraits of MTA workers who've died from COVID will be displayed on the screens that normally show maps and service changes, along with a newly commissioned poem, "Travels Far," by the U.S. Poet Laureate Tracy K. Smith. The memorial will appear within 107 subway stations —about a quarter of the system's 472 stops—in all five boroughs, and online. The nine-minute video, with audio by composer Christopher Thompson, will roll three times a day, at 10:30 a.m., 2:30 p.m., and 8:30 p.m.. The screens that will be showing it are inside the fare gates, but relatives of the workers being remembered can visit the memorials without paying if they talk to a booth agent.
Those families have been through a lot. Train operators and conductors experienced the highest rate of COVID-19 infection within the entire MTA workforce. To date, nearly 140 workers (that the agency can confirm) have died from COVID-19. About 111 families accepted the invitation to participate. "At minimum, I want all of the families of the colleagues who have passed away to be able to easily, safely, and conveniently enter the system and see how much we care about their loved ones and honor their sacrifice," says Sarah Feinberg, NYCT's interim president. "And I want our 55,000 employees to see the memorial as well — to constantly walk by screens that show how grateful and honored we are."
Feinberg started her position on March 2, 2020, just as the pandemic hit the city. By March 29, the MTA reported its first related deaths, of Peter Petrassi, a subway conductor and operations guy, and Oliver Cyrus, a bus operator. Each had worked for NYCT for 21 years. From those first days, Feinberg knew that honoring MTA colleagues and taking care of their families would be a priority. One of the first things the MTA did was launch a new unit to help liaise with their families. While the agency has always intended to build a physical memorial, it's been pushed back further and further as the pandemic itself has stretched out and dragged on. "We couldn't wait until it's over, because it's not going to be over anytime soon," Feinberg says. "Here we are 10 months after we lost our first colleague and we still can't gather in a physical space." Eventually, something will be built at the agency's headquarters at 2 Broadway, and the agency is also looking at other sites, too. Feinberg says there'll be an in-person service as well.
Sandra Bloodworth, director of the MTA Arts & Design department and a visual artist, conceived of the idea, and worked with an in-house team to create the artwork and video. The team invited families from all MTA departments to submit portraits of the employees who died, and set them against backdrops of MTA colors. (It's mostly NYCT workers who died, and they make up the majority of the portraits, but some LIRR and Metro North workers are also included.) The portraits will be displayed wherever there are triptychs —banks of three adjacent screens — in the system.
While in-memoriam slideshows are nothing new, this decentralized memorial represents an inventive way to honor and celebrate the lives lost to COVID-19 given the constraints of the pandemic. It's also a reminder that the MTA's employees, who don't have the luxury of working from home, continue to risk their lives every day to keep the city moving.
"It's so important for New Yorkers to understand the price that has been paid by so many," Feinberg says. "If this gives the city a way to honor the people who carried the city on their backs for the bulk of the pandemic, it could help the city grieve, it could help the city understand, at its core, the price that's been paid."