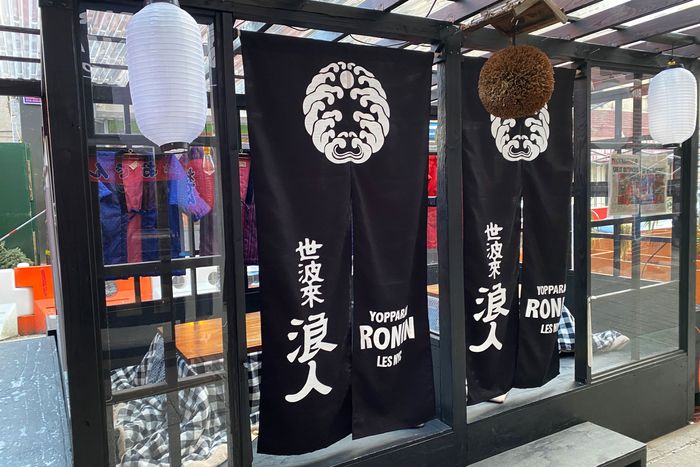 Japanese restaurant Yopparai Ronin's outdoor dining structure.
Photo: Courtesy of Yopparai Ronin
On January 15, Christy Shibata, the owner of Japanese restaurant Yopparai Ronin on the Lower East Side, received a letter from the Department of Transportation telling her to immediately take down the restaurant's streetery. If she didn't, Shibata would have to cover the costs of the city removing the structure and pay a $1,000 fine. Continuing to serve alcohol in the structure, the letter continued, could lead to her liquor license being suspended. The same letter was sent to three other restaurants on the same Clinton Street block: the Burgary, Taqueria Diana, and Thailicious. The reason? A new eight-story, 12-unit condo (developed by Vault Development Partners) is going up on that block, and DOT determined that there just isn't enough room for streeteriers, construction vehicles, and cars on the narrow street.
The day before Shibata received the letter, a DOT inspector came to check on several structures on the street and said her streetery looked fine, only asking for more reflective tape to be added. The interaction with DOT was similar for Jayj Lue, the owner of Thailicious. A DOT inspector asked her to fix some things on her streetery, which required her to buy some construction materials. After ordering additional wood the next day, she received the notice asking her to take down the structure. "It means that we have only one way [to operate]: takeout and delivery, but this is not enough to survive," she said.
Yopparai Ronin's wooden streetery was built by professional contractors and is wired for electric heaters, so while it technically can be removed, it would be a difficult and expensive undertaking. "These are real structures and we feel kind of stupid for having made that investment and [now] they can just rip the rug out from under us like that," she said. "We can't serve inside right now, and so if we also can't serve outside, it basically shuts us down. It's hard enough as it is, just to stay open with outdoor dining."
With little space available on the narrow street, DOT decided to move the travel lane from in front of the 66 Clinton Street construction site to where the streeteries are to allow cars coming from the Williamsburg Bridge to pass by. "This is a rare case, and unfortunately we can't let local construction prevent New Yorkers from accessing their roadways," a DOT spokesperson said. "We know this is a hard time for local restaurants in any circumstance, and we're actively reviewing solutions for this establishment."
The restaurant owners are now in touch with Community Board 3 and their local elected officials to find a solution to the situation. Meanwhile, the 23,000-square-foot condo which the developers describe in its website as "a quiet sanctuary and majestic garden in the heart of Manhattan's Lower East side" continues construction, and is slated to be completed in the second quarter of 2022. (Vault Development didn't immediately respond to a request for comment.)
Removing the streeteries would affect not only the individual businesses, but the block as a whole, which has seen new life and increased foot traffic since they were built. "When I think about all of these diverse restaurants all in the same area being attacked by this," Shibata added, "it just feels so anti-New York."