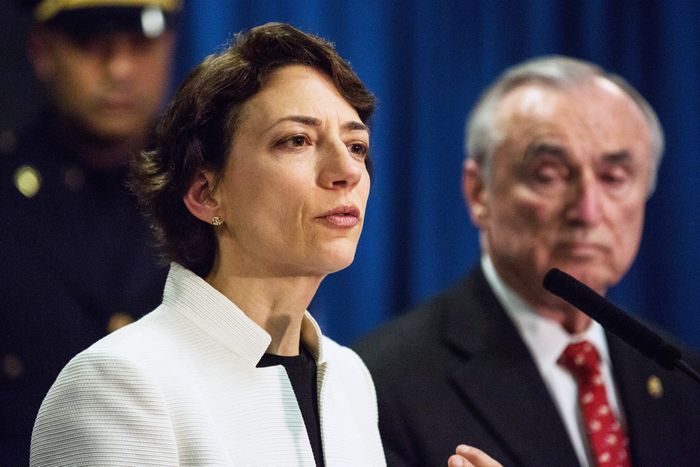 Photo: Andrew Burton/Getty Images
Polly Trottenberg had a big task ahead of her when she was appointed the commissioner of the city's Department of Transportation in 2014 by Mayor Bill de Blasio. Her predecessor, Janette Sadik-Khan, was credited with transforming the city's streets under Mayor Michael Bloomberg, adding hundreds of miles of new bike lanes and converting streets into pedestrian plazas. Trottenberg picked up where she left off, ramping up bike and bus infrastructure and making the city's streets safer across the five boroughs. Her seven-year tenure, which ended in November, apparently impressed President Joe Biden, who nominated her to become deputy secretary of the Transportation Department under Pete Buttigieg.
Her résumé shows a series of solid achievements, although some transportation advocates say she could have done more. Trottenberg led Mayor de Blasio's Vision Zero initiative to reduce traffic fatalities, which sank to a 100-year low in 2018 before rising sharply over the past couple of years. Under her tenure, thousands of speed cameras were installed, and the city's speed limit was reduced to 25 miles per hour. She also lined the streets with miles of new bike and bus lanes (though the quality of those "protected" bike lanes is sometimes lacking) and implemented car-free Central and Prospect Parks. According to Danny Pearlstein, the policy and communications director at the Riders Alliance, her efforts to improve the city's bus networks and the rollout of the 14th Street busway are a high point in Trottenberg's tenure. For five years, she also served as a firm advocate for New Yorkers on the MTA board, repeatedly butting heads with Governor Andrew Cuomo.
Jon Orcutt, a former policy official at the DOT and current director of communications and advocacy at Bike New York, describes Trottenberg's legacy as "a mixed bag." Strides were made toward the mayor's lofty goal of reducing traffic fatalities to zero by 2024, but those numbers have recently spiked, down to a low of 205 in 2018 and up to 220 last year. "The traffic deaths have gone up so steeply, the statistical gains of Vision Zero are being erased," he said. That stems from what Orcutt sees as the city's failure to roll out solutions to support that vision, like protected bike lanes that actually separate cyclists from the road instead of relying on paint and plastic barriers that drivers can simply mow down. A vital part of Trottenberg's job was making the case to the mayor on why something matters, so it's troubling that she and the mayor didn't speak "all that often," as she told the New York Times.
Of course, it is hard to disentangle the legacy of Trottenberg from de Blasio. In the early years of Vision Zero, advocates say de Blasio fell short on bold budget commitments required to implement his most ambitious measures. Even last year, amid a bike boom spurred by the pandemic, the city cut funding for the mayor's own Green Wave plan to beef up bike infrastructure in the wake of a particularly grim year for the city's cyclists. The mayor, for all his progressivism, has been slow, if not reluctant, to get behind big plans, like the City Council's Streets Master Plan (which would require the city to build 250 miles of bike lanes along with a dizzying list of other street upgrades), which he only signed on to after adding the caveat that he didn't have to implement it. His administration has also backtracked or stalled on some street redesigns aimed at making the city's intersections and roads safer in the face of community opposition.
Still, in the last and most challenging year of Trottenberg's time at the DOT, the city has made street changes during the pandemic that have fundamentally shifted the way public space functions in New York. More than 10,700 restaurants operate on the city's sidewalks and roads under the Open Restaurants effort, and the Open Streets program — which de Blasio and Trottenberg initially scuttled a pilot version of before reinstating and expanding the effort due to pressure from the City Council — makes it easier for pedestrians to socially distance. Both initiatives have since become permanent and year-round.
As second in command at the federal Transportation Department, Trottenberg won't be overseeing project rollouts; rather, she'll be a key player in setting the country's transportation agenda and pushing for projects to advance it. "That means a helping hand for New York in Washington," said Tom Wright, the president and CEO of the Regional Plan Association, who notes that Trottenberg will be uniquely positioned to assist with the implementation of congestion pricing, refilling the MTA's crippled coffers, and finally funding the Gateway project. It's also a chance for her to support unresolved infrastructure projects she began working on during her DOT tenure, like replacing the crumbling triple-cantilevered section of the Brooklyn-Queens Expressway.
Even if her legacy at NYC DOT is mixed, Trottenberg moved the needle forward on street safety, and New Yorkers are better off for her time in office. Leaders in New York's infrastructure world are mostly enthusiastic over her appointment. "I think that the next couple of years are going to be the most transformative in infrastructure and transportation in America since the 1950s with Eisenhower," said Wright. "And I think Polly is going to be at the center of shaping that."