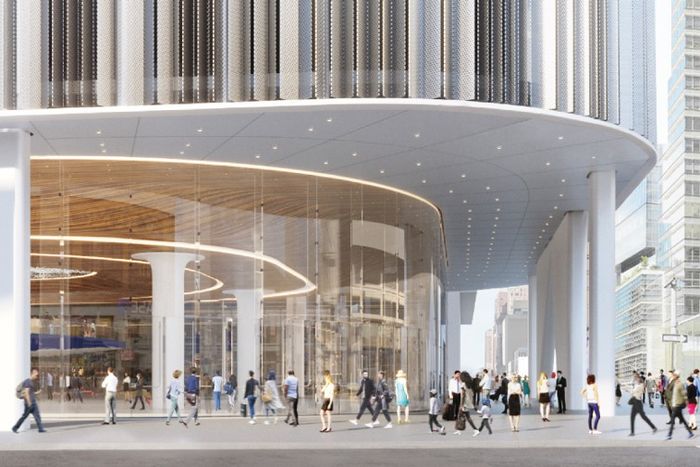 A possible future PABT, which will remain bright white like this for approximately ten minutes.
Graphic: Courtesy of Port Authority of New York and New Jersey
The opening of Moynihan Train Hall has settled one point of argument, at least for the next few years: What's the most unpleasant mass-transit gateway into New York City? For a generation, it was a hard-fought race to the unsanitary bottom, but now — and even though Penn Station, if we're being honest about it, has mostly the same old constipated innards with a gleaming new headhouse on top — the Port Authority Bus Terminal stands alone. It is bleak. It is worn. It is overtaxed. It is a symphony of non-harmonizing shades of brown. Particularly downstairs, it is grimy. (Upstairs, it does contain one art gallery after a fashion.) The entire place smells like old cooking oil and feet.
It's also only about four stories high, and the idea is to sell its air rights for millions, funding its replacement. The PA would build a new structure nearby to handle bus traffic for a few years, then knock down the current terminal and build anew. The combo of new terminal, new towers, and the New York Times building across the street would, they hope, constitute a new mini-neighborhood right off Times Square, with a quick pipeline to Montclair and Maplewood. Not a bad idea, at least before the pandemic; lately, when offices may be shrinking their footprints left and right, it still sounds promising, if slightly less financially solid. Regardless of the money, though, today's new renderings of the building are enticing, not least because they look nothing like the Port Authority Bus Terminal We Have Now. That swoopy curve in the photo above might remind you of the building's original façade, present from 1950 into the late '70s, which was somewhat institutional but quite a bit handsomer than the aforementioned PABTWHN.
The renderings depict a design heavily dependent on pure white cladding and clear low-iron glass, making the building look, as a Curbed colleague noted today, "like an Apple Store." You do have to wonder about choosing white for a building that exists in part to funnel diesel-powered buses in and out all day long, because it will get sooty fast. (Then again, maybe they'll all be electric by the time this building goes into service.) That warm, wooden strip ceiling does look handsome and will absolutely be an improvement on the current building's hard, almost painful acoustics.
Notably, this is only a piece of the plan. (You can see the whole complex in the diagram below.) It's a big lift, planning for the long term — and, indeed, even the construction is part of that very long term. The temporary terminal will, under the current schedule, be completed in 2026, the new main one in 2031. Given the usual delays that apply to these things, it's likelier to open in the mid- to late 2030s. We look forward to a ribbon-cutting attended by President Ocasio-Cortez and Mayor Ella Emhoff.