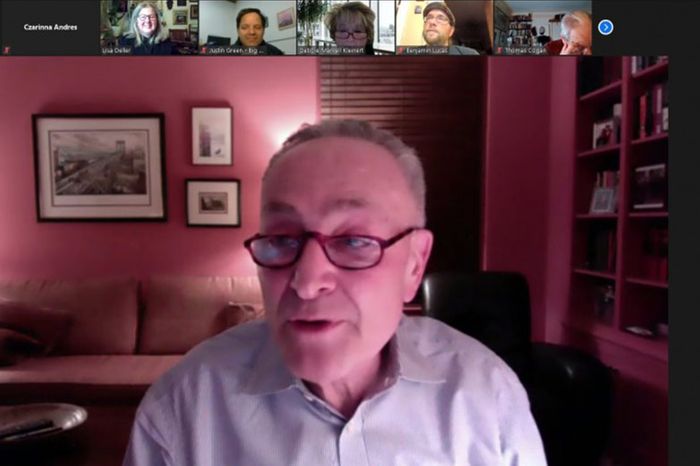 Chuck virtually visits Queens, talks bikes.
Photo: Courtesy of Queens Post
The Jackson Heights Post reports that Senator Chuck Schumer bobbed up on Zoom last night at a Community Board 2 meeting and spent 20 minutes on the call talking about the attack on the Capitol and thanking the board for its service. The community board (it's the one for Sunnyside, Woodside, Maspeth, and Long Island City) and attendees (numbering about 75), as well as the reporter, seem to have been surprised that he showed up and stayed for as long as he did, given that it had been barely a day since he was rushed out of the Senate fearing for his safety. "I'm sorry. I usually spend 45 minutes on a community-board call," he told the attendees. "When we set this call up, we did not know what the events of yesterday would be." He went on to discuss his fondness for biking around western Queens before proceeding to more serious talk about the assault on the Capitol this week.
Schumer seems to have been quite accessible via Zoom this year, showing up to talk to constituent groups around the city, and it's perhaps a little uncanny to find yourself with the Senate majority leader in the same Zoom grid where you usually encounter, say, Lou from accounting. But it also makes total sense. Schumer — whether you admire or disdain his congressional leadership record — is an extroverted man with long experience in retail politics, one who engages often and at length with his constituency and rarely turns down a chance at the microphone. That makes him the sort of politician who will indeed turn up at community-board meetings to talk policy, doing an unglamorous but significant part of the job that sometimes involves getting yelled at. Before the pandemic, doing so involved showing up in dingy community rooms in various corners of your home state, and if you're commuting from Washington, you can't do that nearly so often. On Zoom, the barrier to attending is considerably lower, since there's no travel involved, and an efficient scheduler can stack the meetings up one after another, like so many planes over LaGuardia. Even if you're sick of Zoom calls — virtually all of us are; they're wearying, and nobody's still clear on whether eating during a video chat is acceptable or repulsive — this is probably a win-win for everyone.
Now, Senator, about this traffic issue we're discussing on Queens Boulevard …