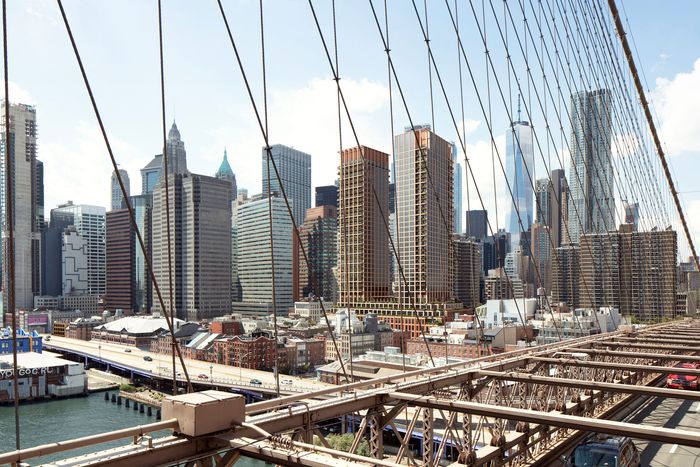 Howard Hughes aims to build a dual-tower building in the South Street Seaport.
Photo: The Howard Hughes Corporation/SOM
Despite occupying prime real estate in Lower Manhattan, a city-block-size parking lot between Water and Pearl Streets has sat undeveloped for decades. The Howard Hughes Corporation hopes to change that; last October, the company presented plans to build a 470-foot-tall dual-tower complex with both market-rate and affordable housing. A chorus of community complaints quickly sprang up, as is expected when new development is proposed in someone's backyard. But this isn't a plain old NIMBY story — because the site falls within the boundaries of the Seaport's 11-block historic district. In theory, nothing so large is allowed to be built there, but it may happen anyway, and that could be a big deal with some big repercussions.
The area's zoning caps buildings at 12 stories, and several developers who've sought to build some sort of high-rise there in the past have been thwarted. The land itself isn't historically significant, of course; who wants to preserve a parking lot? But there are fears that approval of the Howard Hughes building, which has the key support of local City Councilmember Margaret Chin and Manhattan Borough President Gale Brewer, would set a precedent that may lead to more high-rises in historic districts across the city.
At a marathon nine-hour Landmarks Preservation Commission hearing this week, Simeon Bankoff, the executive director of the Historic Districts Council, called the plan "a Trojan horse" and said it would set a "dreadful precedent for the regulation of historic districts in New York City going forward." By the city's definition, a historic district is a collection of buildings that together "create a distinct sense of place." A 40-something-story high-rise isn't exactly in keeping with that spirit (it's down from an earlier 990-foot design). That said, the parking lot that's currently there isn't in keeping with that spirit either — and probably shouldn't have been included in the district in the first place.
What sets this plan apart is a detail that makes it harder to reject out of hand: It would fund a $50 million endowment for the South Street Seaport Museum, which is struggling financially. And that is, at least in part, why some big names in the landmarks world, including former LPC chair Bob Tierney and commissioner Sherida Paulson, back the developer's plan. Technically, the Commission is only supposed to consider the "appropriateness" of the building itself, but the tradeoff of allowing the development in order to save the museum, which might otherwise shutter, has some preservationists willing to back the towers. The Howard Hughes Corporation also says that the circumstances around this site are unique, as this is the city's only undeveloped full-block lot within a historic district. "There's no rules that all construction in a historic district must match the height of all other buildings in the district. It's really a case-by-case determination," Valerie Campbell, a land-use counselor for Howard Hughes, told Curbed. And, the argument goes, this case is unlikely to recur.
If the commission does decide the building is appropriate for the Seaport's historic district, it would set a new precedent for development in landmarked areas for similarly underbuilt lots. Precedent, Bankoff notes, is generally used by the LPC as "a guide post for decisions in the future," although there's no formal rule dictating such. A savvy developer could propose a similar undertaking elsewhere in the city and point to this project as fresh fodder — and that could ultimately reshape our historic city spaces.