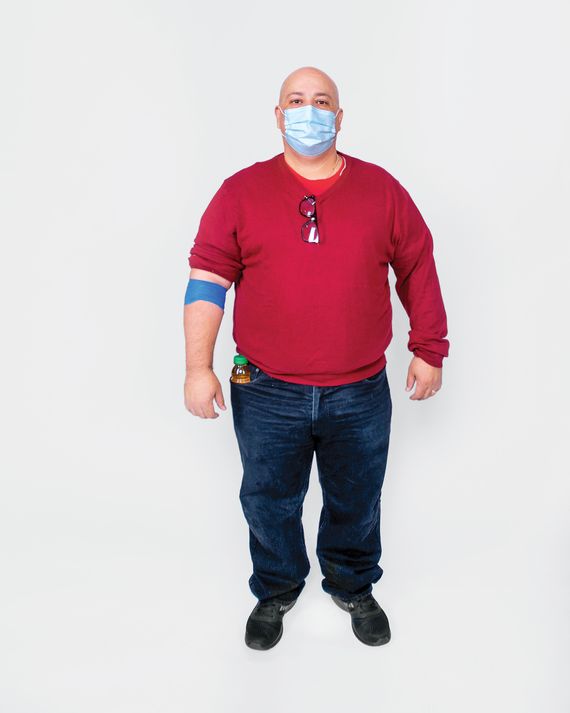 Modesto Ruiz.
Photo: Rochelle Brock
Modesto Ruiz (pictured above), School-bus driver, Throgs Neck.
How many times have you donated blood?
Twenty-nine times or something. I'm a member of the "gallon club," meaning I've given over a gallon of blood. I don't really like to get pricked by a needle; I just enjoy helping someone. I had a heart operation four years ago, and somebody donated blood to me.
How has your health been lately?
Well, my wife and I were positive in April. My mom lost her father, and my mother-in-law is dying. I'm not gonna lie to you: Sometimes I start acting like a big baby — I am all "Boo-hoo-hoo" and "It's all about me." Then I have to apologize to my wife, because she is under a lot of stress too. It's major stuff that we're going through, so it feels good to be able to get out and do things like donate blood. It gets me out of my normal routine. I like to talk to people, and I like the chips at the end.
How long have you been working here?
Twenty-seven years. I used to be a social worker, and I got laid off. One of my friends worked here and said I'd like it. I was like, "Blood? I'm scared of blood." He ended up being right. I met my wife while I was taking her blood. Now we have four kids.
Are you scared of needles?
I'm not afraid of the needle, but do I like looking at the procedure? No. I mean, when the guy put the needle in, I said, "I don't like the look of this." He said, "Neither do I."
What brought you here?
I used to do it all the time, but then I forgot about it, to be honest. Then I heard there was a blood shortage, and I thought, Oh boy. I'm not working because they're not calling in substitute teachers, and I didn't go to Georgia for the holidays, and I didn't go on my group cruise, so I thought, May as well do a follow-up.
Did anyone faint?
I've taken blood at the Empire State Building, at police academies, on the set of The Walking Dead — the place where people most often faint is high schools. The color drains from the students' faces, and they go down.
*This article appears in the January 4, 2021, issue of New York Magazine. Subscribe Now!