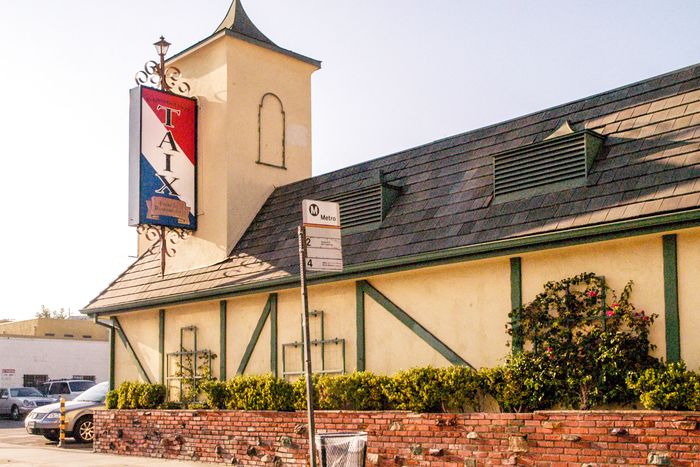 It's time to let it go.
Photo: Kent Kanouse/Flickr
As Sunset Boulevard curves towards downtown Los Angeles, Taix French Restaurant sticks out like an anomaly amid the strip malls, a single-story green-and-cream French chateau festooned with gabled roofs, half-timbering, and clinker bricks. At a meeting of L.A.'s cultural-heritage commission last month, two historians dramatically recounted these Francophone flourishes in great detail, emphasizing French pronunciations like porte-cochère, and noting that, in addition to this convincing Normandy-esque façade, Taix's architects had designed an entire fake Danish town 120 miles to the north. It was the final plea — la dernière chance! — to convey the historic significance of the 60-year-old Echo Park restaurant, which is staring down the threat of demolition.
As I listened to this exchange, I felt like this was a scene that might play out more frequently as the pandemic widens the existing fissures in L.A.'s economy. It's estimated that half of L.A. County's small businesses will have closed for good by the time the crisis is over. These closures are eerily ubiquitous citywide; in some neighborhoods it's not unusual to walk past a handful of storefronts on the same block all flanked by yellowed, warped plywood. On the other hand, real-estate developers seem to be busier than ever, with cranes hoisting beams into high-rises like perpetual-motion machines. This perfect, virus-fueled storm of shuttering business and unfettered capital almost guarantees an accelerated loss of both a family-owned business like Taix and the building it currently occupies — these weird, irreplaceable structures that make up L.A.'s vernacular. The types of structures that a place like L.A., if we're being honest, has always been likely to destroy, pandemic or not.
By nominating Taix as a cultural historic monument, the neighborhood heritage group aimed to save the building, and therefore the business. But according to the restaurant's owner, Mike Taix, it was already too late. Many of the "significant" architectural details cited by the historians, like pressed-tin ceilings, were not original, Taix revealed, but had been added by Taix himself over the last 25 years. "Our business revenues cannot continue to support the overhead associated with our megasized, grossly energy-inefficient, outdated building — the infrastructure is terrible — and the property on which it's located," he said. In fact — and here's the twist — it was Taix's own idea to remake the site into a new, large, mixed-use development, with housing on top and room for a smaller, more profitable restaurant on the ground floor.
Dozens of longtime patrons vehemently disagreed with this strategy, showing up to the meeting to chastise and sometimes outright shame the business owner for his decision. "I understand that it's a business and people want to make money," one such patron said. "But this is taking away part of our soul." Another equated the demolition of a 1962 restaurant to "burning down old-growth forest." The superficiality of the building itself was not lost on L.A.'s cultural commissioners — "That brick is glued onto the wall," said commissioner Richard Barron, adding "It's not architecture as we want to consider architecture. It's Disneyland" — but they seemed sympathetic to the commenters' demands, wondering out loud if the new development might be re-sited to occupy the parking lot that surrounds the restaurant instead of demolishing the restaurant itself. Which was completely contradictory to their arguments to keep Taix alive: it was clear they cared more about saving the building than about saving the business. And while there are certainly structures in L.A. worthy of preservation on their own merit, Taix's building clearly isn't one of them. (It isn't even Taix's original location, which dated to 1926.) If the owner is explicitly saying the business itself won't survive, keeping the building around as a cultural monument raises additional questions about what culture, exactly, is being preserved. On a fundraising site, the neighborhood heritage group says Taix's demolition would "leave a deep void in the cultural fabric that holds our community together." But the heritage group hadn't mounted the same call-to-action to protect the façade of a Mexican restaurant next door, which was whitewashed by a barbecue chain in a move that a local tenant group cited as a sign of Latino displacement.
This weaponization of preservationist tactics reminded me of a similar battle faced by the owners of Amoeba Records when they sold their Hollywood building to developers at quite a profit in order to stay financially viable. The two-story, 18-year-old stucco box had been appended with just enough retro-looking neon to make it feel like it'd been there forever. As soon as they'd put the building up for sale, they had to squash a landmarking effort by various groups, including the hyper-litigious AIDS Healthcare Foundation (AHF), which tried to argue it should be preserved because it was the only place in the U.S. that Paul McCartney played a secret concert that was turned into a live album (I'm not making this up). As Amoeba struggled to find a new space in Hollywood — they wanted to stay nearby but needed more sales floor and a bigger performance space — co-owner Jim Henderson said the landmarking effort was hurting their ability to sign a new lease, threatening "the very existence of the business it is claiming to hope to preserve." In public statements, AHF president Michael Weinstein expressed sentiments that were extremely similar to that of the longtime patrons of Taix, claiming he was seeking to preserve a valuable cultural asset for the community, but, in the same sentence, accusing Amoeba's owners of trying to "cash out and milk it for everything it is worth." It just doesn't seem like he's much of a music fan, does it?
Like Taix, Amoeba needed a better building. And successful, property-owning businesses are able to leverage their own upgrades to provide another asset desperately needed in L.A.: apartments. Taix's proposal, for example, will not only keep a beloved restaurant afloat, it will add 170 units of housing to the four floors above, 24 of which will be deed-restricted for very low-income residents. The planning department should absolutely push for those ratios to be higher citywide, while offering better protection for renters — including commercial renters — in neighborhoods that are seeing interest from developers. But those numbers are extremely good for what is otherwise a parking lot. No one should fight to preserve an energy-inefficient, floral-wallpapered backdrop for someone's Parisian cosplay dinner party when this outcome is so much better for the many people who might actually live and work there. If we honestly want these businesses to make it, some of L.A.'s low-slung, architecturally insignificant stucco structures will simply have to go. Legacy businesses shouldn't be chided into staying in the buildings they have outgrown, however charming they might be.
I recently read a beautifully written requiem for a beloved taqueria adjacent to an East Hollywood subway station that will be torn down this year. But the story failed to mention three critical details. One, that it will be replaced by 187 units of permanent supportive housing, a property that's 100 percent affordable — you truly cannot beat that. Two, the family that owns the taqueria is ready to move on, with their children possibly reopening another location. And three, the housing developers are deliberately reaching out to legacy businesses in the area, many of whom are at risk of being displaced, to fill ground-floor retail spaces and food carts at rents they can afford. It's rarely this neat of a narrative, but this should be the model, and there's no reason that the city can't incentivize these types of policies to make it work for other developments. I, too, will miss sitting at the slippery Formica booths of El Gran Burrito while gauging how many exquisitely charred carne asada tacos I can devour without missing my train. But I'm looking forward to patronizing the half-dozen restaurants that will eventually be located here, content in the knowledge that instead of investing in endless maintenance just to stay in business, they're passing on the profits to their workers instead.