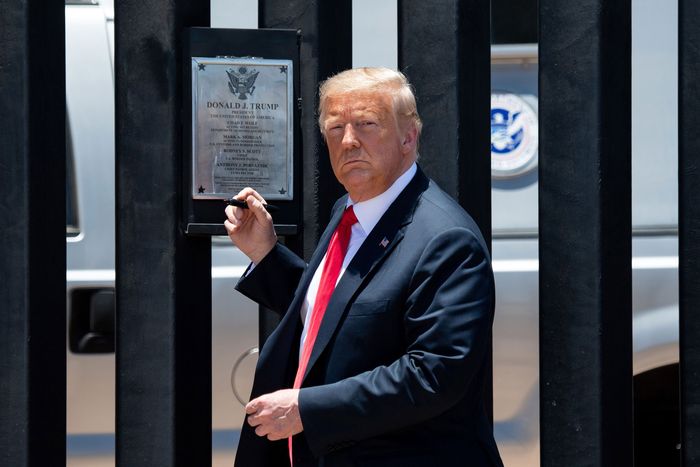 The not-so-big, not-so-beautiful wall.
Photo: Saul Loeb/AFP via Getty Images
"I am the builder president — remember that," Donald Trump told Texas governor Greg Abbott in 2017, after Hurricane Harvey walloped the Houston region in one of the country's worst-ever climate disasters. It was the same pitch Trump had made to the American public, starting with his inauguration address — "We will build new roads and highways and bridges and airports and tunnels and railways all across our wonderful nation" — a vague, nebulous promise of infrastructure that was oft-repeated, never fully explained, and rarely delivered.
At the beginning of his term, as Trump asked fellow New York City developers Richard LeFrak and Steven Roth to head a high-profile advisory council for his $1 trillion plan, his aspirations drew some praise but also quite a few comparisons to the megalomaniac empire-building of Mussolini. But Infrastructure Week, for all its memes, never happened. After four years of lies, corruption, incompetence, and often all three in combination, Trump the builder didn't actually get all that much built. Rather, what he erected was something far more sinister — a series of highly symbolic architectural constructs that created an alternative narrative for his time in office that's clearly dissociated from reality. It would almost seem like a subtle maneuver, if Trump were capable of subtlety.
It now seems extremely possible that Trump will never build anything again. Since the Capitol riots, his façade has started to crumble, as business associates (cities, developers, financiers) have been severing ties with his organization. In an almost profanely symbolic gesture, his namesake Atlantic City casino will be imploded in a few weeks (though the auction for the rights to push the button has been called off). What he built in office, in addition to mistrust, comprises an even shorter list.
15 Miles (Arguably More) of Border Wall: Trump's 2016 campaign chant promised 2,000 miles of a newly constructed concrete barrier along the Mexico border, but by February 2020 the pledge had been whittled down to "substantially more than 500 miles." As of the start of 2021, this administration has built 15 miles of brand-new wall, reinforced 350 more, and held the world's grimmest architecture competition, where 180 firms jumped at the chance to design the fence. (Mexico did not, in fact, pay for any of it.) Work continues apace on 27 different contracts, slaughtering protected cacti and wrecking sacred lands.
What we said: "Taken solely for what they are — symbols of an imagined architecture — the efficacy of the prototypes is that they sound so clearly and so loudly such a profound emotional note. That note is dread. As no other architectural initiative before it, the prototype exhibition bodies forth an imminence of absolute doom, and after you've seen it you find that it taints everything around it in Otay Mesa — and, for some time after, everywhere else as well."
The (Temporary, Second) White House Fence: A redesign of the fencing surrounding the White House was already underway during the Obama administration, but Trump made the transformation his own after he felt the need to cordon himself off from the Black Lives Matter protests of the summer; his own personal border wall on Pennsylvania Avenue. The resulting fortress of menacing non-scalable fencing has resulted in a "People's House" that's almost completely removed from public view.
What we said: "Around the White House now, there are two wrought-iron fences, one at the perimeter and one at the sidewalk. There are crowd-control barriers made from arched black steel. There are monolithic white panels that look like cheap kitchen cabinets from Home Depot with neoclassical panel molding. There are white concrete traffic barriers to match. In a photo from July, the fences alternate, black and white, layers of further insulation from reality."
Tent Cities for Separated Children: In 2018, photos released by the Department of Health and Human Services showed a cluster of canvas tents erected in the south Texas desert that were made to look like a summer camp: bunk beds, a communal space with a large-screen TV, children in brightly colored clothing playing soccer in 100-degree heat. In reality, these facilities in Tornillo, Texas — including three additional "tender age" shelters for babies and toddlers — were built to house thousands of migrant children separated from their parents at the border through unspeakably cruel immigration policies. More than two years after the practice was to be ended, the Trump administration says it has no idea how to reunite hundreds of children with their parents.
What we said: "Like the border wall — and the farcical prototype competition — the tent city at Tornillo has become yet another physical manifestation of the Trump administration's immigration policy. And the images of these structures — strategically distributed by a government that does not allow access to photojournalists — are being used to promote its agenda. But the design of these camps isn't the question; the inhumane policy of forcibly separating children from their families is."
A Lot of Rural Highways: As part of a policy shift baked into the Republican Party's 2016 platform that was intended to halt Obama's multimodal recovery act, the ratio of U.S. transportation spending flipped under Trump to heavily favor car-centric projects, prioritizing rural highways over urban busways. Budget cuts, including the elimination of entire grant programs, further stifled mass-transit investments, and agencies — including the MTA — experienced construction delays because Trump's Transportation Department pulled funding to punish political foes.
What we said: "Holding a scroll of paper that illustrated an unnamed 17-year approval process for a highway project, Trump claimed the same project could be completed in two years. 'No longer will we allow the infrastructure of our magnificent country to crumble and decay, while protecting the environment we will build gleaming new roads, bridges, railways, waterways, tunnels, and highways.' Besides the emphasis on car-centric infrastructure that will increase emissions and contribute to the greenhouse gases known to cause climate change, environmentalists are worried because the order specifically recommends fast-tracking oil pipelines, which will deliver even more climate-devastating fossil fuels to U.S. cities."
Rose Garden Renovation: What was to be this administration's signature White House project — and was competently designed, if somewhat sterile — was quickly overshadowed by this administration's signature super-spreader event as the redesign provided an almost funereal backdrop for a COVID-splashed ceremony commemorating Amy Coney Barrett's nomination to the Supreme Court.
What we said: "Late last month, Melania Trump announced a sweeping renovation of the White House Rose Garden — a from-the-bulbs-up restoration that involved removing and replacing basically everything but the garden's four magnolia trees. On Saturday, the First Lady revealed the finished product. For a rose garden? Not very rosy, and perhaps closer in appearance to a manicured lawn than a garden. But not totally out of step with this administration's spare and haunting aesthetic." 
White House Tennis Pavilion: It's an uninspired, if pleasant, neoclassical building that matches the White House's architecture, and with its completion just under the wire last month, one might argue that Melania, who oversaw the redesign and restoration of several notable federal institutions as First Lady, has left the White House with a built legacy greater than Donald's.
What we said: "It's 'contextual,' blending in with the looks of the West Wing, and it certainly conforms to the administration's wish to erase any hint of the past seven decades from government architecture. Predictably, it was savaged this morning: fiddling while a quarter-million people have died, Marie Antoinette in white-soled kicks, etc."
An All-White, All-Dude Fine Arts Commission: Just as Trump reshaped the federal courts, he tried to ensure that future courthouses will be designed in a style just as reactionary as his judiciary. Trump's "Make Buildings Classical Again" order didn't directly result in the destruction of any Brutalist landmarks, but his mandate will be carried forward by his recent appointments to the Fine Arts Commission, a seven-person architectural review panel where 100 percent of the members are men, 100 percent of the members are white, and 42.8 percent are wearing bowties in their headshots.
What we said: "The White House's proposed architectural edict is a boneheaded idea cooked up by a crackpot cabal of ideologues who hate not just modern architecture but modernity itself. Yet on the scale of Trump's iniquities, the move barely registers. This administration's attack on the natural environment is far more dire than anything it could wreak on the built environment."
The (Almost Surely Never to Be Built) National Garden of American Heroes: In the very last twilight hour of his presidency, Trump signed an executive order for the construction of a Disneyland-esque statuary garden honoring those who have "contributed indispensably to America's noble history." (It was originally announced in the summer as a direct denouncement of the toppling of Confederate monuments.) The names of the 244 honorees, an incoherent mix of the righteous and the monstrous and the trivial, don't matter; like the racist and xenophobic language of his 1776 Commission's report, this is a final, desperate attempt at cementing his legacy within the context of a white-supremacist history.
What we said: We didn't. Everyone will forget about it in a week anyway.