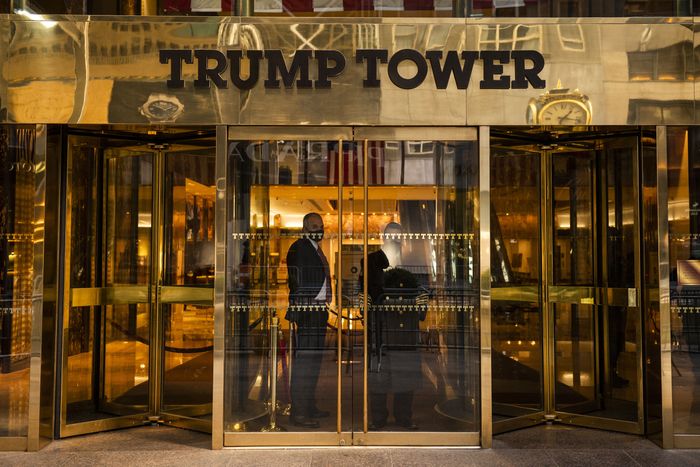 Photo: Mark Kauzlarich/Bloomberg via Getty Images
The original version of this article was based on a UrbanDigs report that contained an error. It stated that the average price per square foot for a Trump-branded property in 2016 was $3,346, indicating these properties have lost half their value. The real price was $2,065, and the properties have instead lost 21.5 percent of their value. The articles has been updated with corrected figures.
It appears that people simply don't want to live in a Trump-branded building anymore: Trump-branded properties in Manhattan have lost 21.5 percent of their value since Trump took office, according to NYC real-estate data firm UrbanDigs. Even properties that used to bear Trump's name are feeling the pinch, losing about 17 percent of their value, compared to a 9 percent drop for Manhattan as a whole.
The report looked at seven Trump-branded buildings in Manhattan and three buildings on Riverside Boulevard that previously bore his name, part of Donald Trump's disastrous attempt to redevelop a former rail-yard site. The average price per square foot of a Trump property in 2016 was $2,065. After his election and inauguration, it dropped in 2017 to $1,903, and in 2020 it sunk again, to $1,619. (Manhattan properties as a whole held steady around the 2016 price of $1,995, before dropping slightly to $1,815 in 2020.) Trump's properties, which normally fall in the luxury category, have now fallen well below the citywide average.
Since the buildings sell condos, the decline in value is a bigger problem for the individual owners than for Trump himself. But it's yet another telling sign that the former president's name has become a toxic asset. Trump's licensing business, which boomed following the popularity of The Apprentice, has bottomed out since he became president. The trend has accelerated since his attempt to topple American democracy on January 6. The PGA has yanked the PGA Championship from Trump's golf course in New Jersey, and a number of entities — including the City of New York and real-estate firm Cushman & Wakefield — announced they will no longer do business with the Trump family. Even before the insurrection, the Trump Organization has been unable to sell the Trump Hotel in Washington, D.C., partly because of the stipulation that the new owners retain the Trump name.
With the days of earning a quick buck by slapping his name on a random product long, long gone, the money is going to have to come from somewhere for Trump, and quickly. The Washington Post reported last week that various Trump properties lost more than $120 million in revenue in 2020, and Trump owes an estimated $340 million in loans coming due in the next few years.