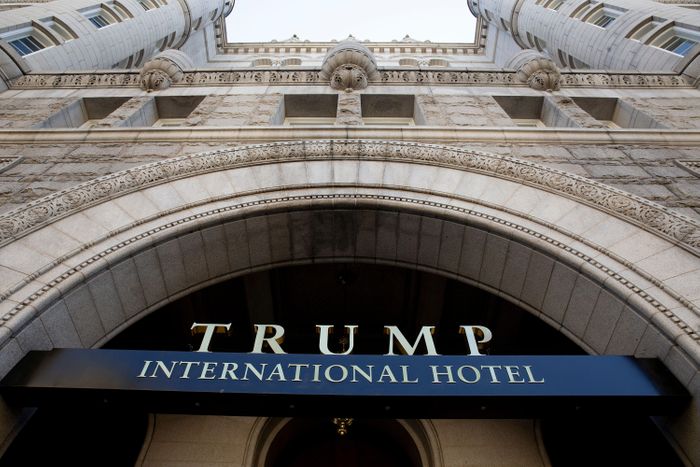 Photo: Michael Reynolds/EPA-EFE/Shutterstock
Who could have guessed that inciting an insurrection against the United States government would be bad for one's personal brand? JLL, the real-estate brokerage that has been marketing the sale of the Trump D.C. hotel, says it is no longer involved in the effort, according to the Washington Post. The Trump Organization has been shopping its lease on the 263-room hotel for the past year, hoping to fetch $500 million for a hotel that, according to one potential buyer, has underperformed since Donald Trump took office in 2017.
It's unclear exactly when JLL backed out or what role last week's insurrection played in the decision. There were already clear signs that the hotel was becoming a liability when the Trump Organization put plans to sell it on indefinite hold in November after bids came in at less than half the asking price. And its requirement that the new owners retain the Trump name as part of any deal was a sticking point that has likely become untenable now that the name is synonymous with the mob that stormed the Capitol last week.
The hotel saga is emblematic of the challenges the Trump Organization will face after Trump leaves office next week. Trump hotels worldwide have suffered since his fateful trip down the Trump Tower escalator in 2015, which transformed his brand from brash rich guy to racist authoritarian demagogue. Businesses and conferences won't want to deal with the potential blowback from booking a Trump hotel, and the president's business partners are already cutting ties with his properties. The PGA announced over the weekend that the 2022 PGA Championship, one of the tour's four major tournaments, will no longer be played at Trump's golf course in Bedminster, New Jersey. It likely won't be the last business to cut ties.