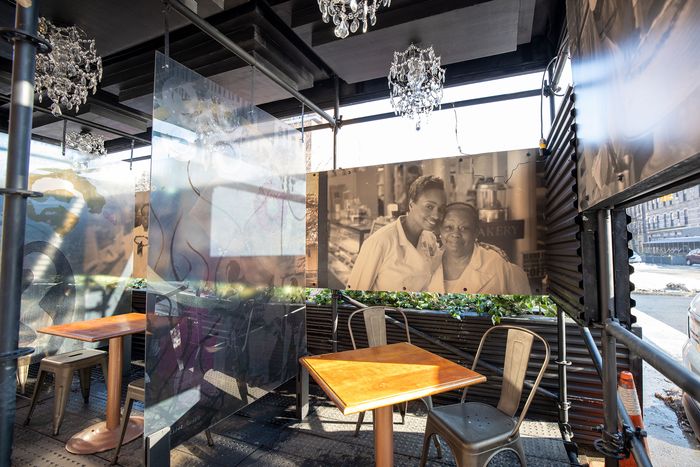 An outdoor-dining structure by firm JP Design for Harlem's Ma Smith's Dessert Café.
Photo: New Kingston Media
Walking up Adam Clayton Powell Jr. Boulevard in Harlem, a translucent shed with a jagged roofline and a couple of slatted wooden canteens are among the new temporary structures that have taken over parking spaces between 137th and 139th Streets. These are part of a new Uber Eats–funded program called Renaissance Pavilion, which paired six Black-owned businesses on historic Strivers' Row (including Ruby's Vintage, Sexy Taco, Ma Smith's Dessert Café, and Alibi) with local architects and artists to create custom streeteries. "We know Black-owned businesses have been disproportionately impacted by the health crisis," Julia Paige, director of social impact at Uber, told Curbed. Participating restaurants are not obligated to use the Uber Eats app or have any other obligations to the company.
New York architecture firm WXY coordinated with Harlem-based firms JP Design, Brandt:Haferd, and Body Lawson Associates along with local artists LeRone Wilson, Dianne Smith, and Omo Misha in creating the two blocks of streeteries. The directives that WXY gave the designers were simple: Build a structure that would be able to withstand inclement winter weather while also making it "uniquely Harlem." At first, the architects thought making something modular and simple would be the way to go, but then they saw the value of building unique structures for each restaurant, explained David Vega-Barachowitz, director of urban Design at WXY. The resulting pavilion has four streeteries and two scaffolding structures by Urban Umbrella.
On the corner of 139th Street in front of Ma Smith's Dessert Café, local architect Zevilla Jackson Preston of JP Design designed a lightweight, translucent structure based on an easy to source scaffold system, most of which could be set up with a hammer in half an hour and disassembled just as easily. Its enclosure depended not on plywood, now ubiquitous in the streetery scene, but on a surprising material: foam. Jackson Preston, along with Misha, designed the structure to be able to hold large graphic panels of family photos that hang behind each table. "Having an opportunity to really talk to the family and to hear their story — their ancestors and the matriarch of the family coming from Mississippi to New York — it dawned on me that I really wanted to create an experience so that someone on the street would be able to understand the backstory behind this family business," she said. She and the owner's family also wanted the space to look like three separate tearooms and completed the effect by hanging a small Ikea chandelier in each "room."
Another streetery by Brandt:Haferd connects the outdoor dining of two restaurants, the Row and Alibi. Architects Brandt Knapp and Jerome Haferd of Brandt:Haferd built an eight-by-40-foot aluminum frame and covered it in acrylic plexiglass panels that show a piece by artist Thomas Heath about the African migration experience. The design of the structure evolved so that the artwork could wrap around it.
Relying on more familiar materials, Body Lawson Associates created structures for two restaurants with reclaimed- and upcycled-wood shipping pallets with fixed seating. For Ruby's Vintage, the firm conceived of an all-white "ice" theme with clear polyethylene roof panels and insulated frosted polycarbonate. The other structure, for the Chocolate Factory, was themed "heat" and has a black base and cladding. The idea was to "create a space where residents and passersby can interact with each other" through "protected yet open public spaces," a statement from the firm explains.
The two scaffolding structures covering another set of restaurants are decorated with art that celebrates the area's history. Harlem-based artist Dianne Smith designed a six-panel photo montage made up of images she took at last year's African American Day Parade. The other scaffold or "umbrella" structure was decorated with a colorful piece by artist LeRone Wilson, a melted-beeswax drawing that represents African migration and the continent's ancient history.
The details of the streetery pavilion might be rooted in Harlem, but, for the architects, the project was intended to showcase easily replicable structures built with readily available materials. Spaces like these, just eight feet wide, might help a business survive through the winter — and these designs could serve as inspiration for other restaurants. Like Vega-Barachowitz said, the beauty of projects like this one is "having the spaces also be a symbol of something larger: neighborhood recovery and resiliency."