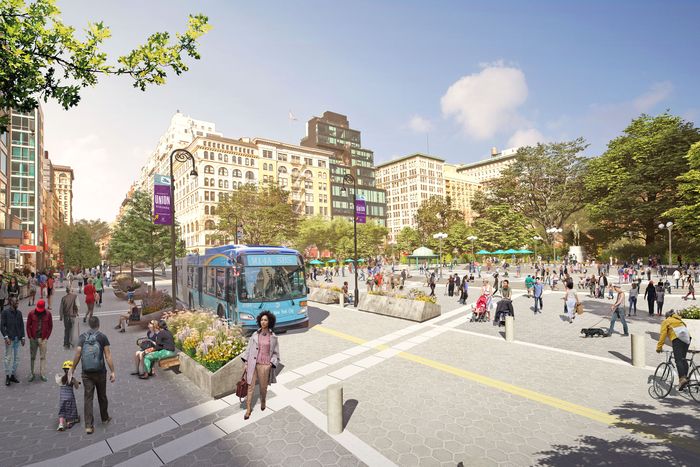 Photo: Marvel, courtesy of the Union Square Partnership
Union Square Park, long a major protest hub and photogenic farmers' market destination, may become even more pedestrian-friendly if a new proposal is realized. As first reported by The Wall Street Journal, the Union Square Partnership unveiled a $100 million plan to increase open space in the park by 33 percent, and make several sections in the park's surrounding streets car-free. The timing couldn't have been better, as parks have become even more essential to New Yorkers during the pandemic.
The most recent change to Union Square Park was the 2019 launch of the 14th Street busway, which sped up travel times on the M14 Select Bus Service line and made the thoroughfare significantly more friendly to pedestrians. The project builds on that busway success, and is divided in five different sections: the 14th Street Boulevard; Union Square West; the Triangle Plaza; Broadway Gateway Plaza; and park infrastructure. The partnership, in conjunction with Marvel, created the plan in consultation with 1,000 community members over a period of two years.
On the west side of the park, where the farmers' market is located, the plan includes extending the park across Union Square West to where the surrounding buildings stand to create a "town square" — in addition to creating permanent infrastructure for the Greenmarket. The proposal also creates more car-free space on the east side by connecting the park to the Triangle Plaza on Fourth Avenue, and includes much-needed upgrades to the existing park (better public restrooms, new lighting, a renovated dog run, and street seats). Bus riders also gain additional designated bus boarding zones along 14th Street.
Following a launch event on January 26, the Partnership will continue to refine its proposal, and it will host public events in the summer of 2021 and into 2022 to test the plan's feasibility. The project still has to go through an extensive public review process, and the Partnership needs to figure out how to fund its big ideas (Partnership officials told WSJ that part of the money will come from fundraising and a lot of it from the city).
For now, the plan has the stamp of approval from several city officials from the Parks Department, the DOT, and the Department of Small Business Services. But as with everything, there will probably be some pushback. Andrew Berman, executive director of the Village Preservation, told WSJ: "There are some critical qualities to the identity of Union Square that we would not want to see lost." He elaborated on this statement, telling Curbed, "Union Square always has been a place of mass gatherings — protests, rallies, memorials, gatherings for speeches, [so] whatever changes come, they should always accommodate this critical role it has played across three centuries."