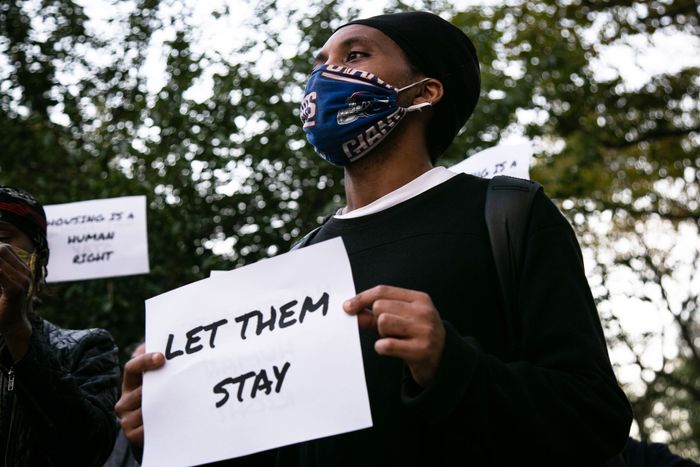 Photo: Karla Ann Cote/NurPhoto via Getty Images
You're probably used to seeing headlines about neighborhood groups as they rail against shelters and hotels housing homeless New Yorkers — particularly over the past year and particularly on the Upper West Side. This week, residents on the Upper East Side surprisingly bucked that trend: At a community-board meeting about a new shelter on East 91st Street, locals overwhelmingly supported the project, Patch reported. "No fanfare, no problem. The men can stay," said City Councilmember Ben Kallos, who actually advocated for the shelter (imagine that!).
This couldn't be more different from the monthslong saga of their neighbors on the other side of Central Park. There, residents raised just shy of $180,000 to support legal action against three Upper West Side hotels to oust their homeless residents, and on a Facebook group, locals openly fantasized about using wasp spray and dog feces to make the homeless feel unwelcome. Some now oppose a newly planned shelter for women on West 59th Street. As one commenter on a recent West Side Rag post put it, "I don't want to hear another word from anybody that the UWS isn't doing its 'fair share' of housing the homeless. We're doing far more. Why doesn't the UES have any shelters and we get flooded with them?" This sentiment was echoed at community-board meetings, where residents asked why their similarly well-to-do Upper East Side neighbors weren't hosting more homeless beds.
The Upper East Side does in fact have permanent homeless shelters, and about 300 men are temporarily staying at the Bentley Hotel on East 62nd Street, housed by the same program as operated at the Lucerne. But the neighborhood hasn't gone to war over the shelters, so you might not have heard about it. That's not to say that every resident is onboard, just as some on the Upper West Side have supported sheltering the unhoused there. But the difference is notable. Is the East Side a little less overwhelmingly rich, a little more diverse, maybe a little younger overall? Probably not to any meaningful degree. But here's a theory: These East Siders looked at their crosstown neighbors' shameful behavior, thought, That's ugly, and we don't want to be like that, and did the right thing.