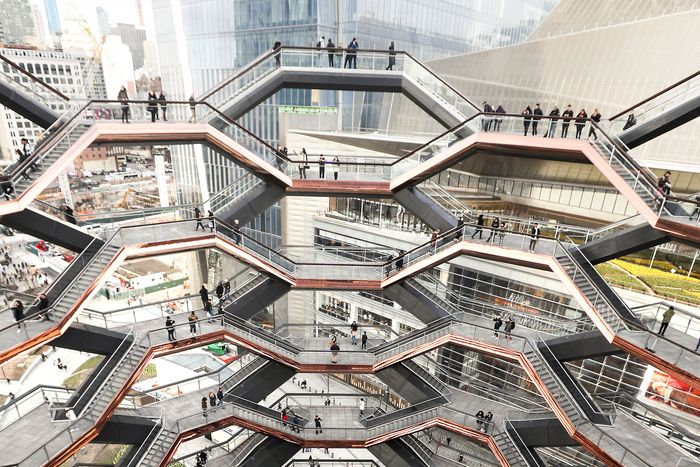 Visitors at the Vessel in Hudson Yards.
Photo: Atilgan Ozdil/Anadolu Agency/Getty Images
On January 11, a young man ended his life by jumping off the Vessel, the freestanding observation structure in the middle of Manhattan's Hudson Yards. It's the site's third suicide in less than a year, and the Vessel is currently closed to visitors pending a safety review.
A shuttered Vessel is not an outcome I could have envisioned at the extravagant multimedia design unveiling I attended five years ago. On that day, Related Companies, the developer of Hudson Yards, played a video of Alvin Ailey dancers performing for hundreds of spectators on a mock-up of the Vessel's signature staircases. In an address to the crowd, Mayor Bill de Blasio jokingly warned Vessel designer Thomas Heatherwick, a Londoner, that 100 New Yorkers would have 100 different opinions on the project.
Heatherwick, who'd previously designed public spectacles like the Olympic Torch, seemed game. At the event, he explained why he had chosen to make an interactive structure instead of a monumental museum piece: "[We] wanted to make something that everybody could use, touch, relate to."
It was clear at the design reveal, however, that Heatherwick's "everybody" didn't include every body. The movement, physicality, and vigor that's baked into the Vessel's design underscores an ideal user who is energetic and unencumbered. While the Vessel was marketed to out-of-towners and New Yorkers on midtown outings, it's also a lure for office workers and residents at Hudson Yards who might occasionally trade a Stairmaster session at Equinox for a glute workout with a billion-dollar view. But unlike parks, plazas, and sidewalks that accommodate different ages, fitness levels, and degrees of mobility, the Vessel's one-note program ices out all modes of movement except stair climbing and walking. People who use mobility aids like canes or wheelchairs and parents with strollers or young children can attempt to ascend the best they can or reach the upper tiers of the Vessel using the elevator. But at its essence, the Vessel is a giant staircase. Where does a wheelchair or stroller user belong on such a structure?
The apparent ambivalence towards how different bodies — including bodies in crisis — might relate to the Vessel are the consequence of the structure's privately-financed, closed-door origins. By choosing to design the entire structure in private, and then framing the Vessel as a universally welcoming site (despite its obvious hostility to some), Related and Heatherwick missed an opportunity to understand the needs and limitations of a broader public.
Despite its public presence, the Vessel was very much one individual's pet project. Stephen Ross, Related's billionaire founder and chairman, personally commissioned and approved Heatherwick's proposal. Ross reportedly kept the Vessel model under lock in the company's offices before its dramatic debut. Only prospective commercial tenants were allowed a look at it. If the Vessel was anywhere else in New York, the model may have chilled in a humble storage area, but the proposal would likely have gone through a thorough community review.
Instead, the public got its first chance to examine the Vessel at the unveiling, when its form and function was more or less a done deal. At the time, critics like myself raised serious questions about the structure's accessibility and safety.
Until last year, the elevator stopped on only three of the 80 walkways, all of which were on the south side, which prevented visitors with mobility limitations from experiencing the Vessel as fully as their able-bodied counterparts. Disability rights activists protested, and the U.S. Attorney's Office for the Southern District of New York entered into an agreement with Related that required the developer to install a lift that stops on more floors.
While elevators broaden access, other areas of the Vessel are just too open. The most alarming example is the height of the barriers along the almost 2,500 stairs and connecting walkways. As the recent fatalities have unfortunately demonstrated, a severely distressed person with decent upper body strength can clear the chest-high railings with ease. The most straightforward harm-prevention tactic — raising the barriers above eye level — may have saved lives, but it also would have obstructed the view, the Vessel's key selling point.
The low railing height also reflects how the city's building code might fail to regulate novel structures like the Vessel. In Department of Buildings filings, it's described as an aerial walkway viewing platform. My review didn't find any other projects described as such in New York City. (Readers, if you know of others, please get in touch). Unlike the observation decks at the Empire State Building and One World Trade Center, the Vessel is freestanding, so it was coded in the same category as amusement park rides, stadiums, and bleachers. But stadiums and amusement parks don't allow people to free fall from great heights. In the case of the Vessel, the building code did not account for its unobstructed 150-foot-high drop to the ground below.
A higher railing might seem like an ineffective deterrent. But the latest research on suicide prevention and architecture, especially for vulnerable youth, shows it might make a big difference. The three people who died by jumping from the Vessel were between 19 and 24 years old. In her dissertation on how the design of the built environment influences injuries in young people, Charlotta Thodelius at Chalmers University of Technology, Sweden, observed that "[younger] people commit a different type of suicide from adults. They are spontaneous and act very impulsively. They might not want to actually die, they just want something to stop. It might be something that has been going on for a while, but it can also be something that, as adults, we might find quite trivial — breaking up with a partner, fighting with parents, doing badly in a test, or being gossiped about." A higher railing, however minimal, might make the difference in those split-second decisions.
But these accessibility and mental health concerns had no chance of being submitted into the Vessel's design process. Since the Vessel isn't a building per se, and because Hudson Yards — even its open spaces — is private property, Related wasn't obligated to trot out the concept for concerned neighbors, advocacy groups, and others who could have provided feedback on safety and access during design development. Had the public gotten its eyeballs on the Vessel before the design was in construction documents, someone at a meeting might have flagged these issues.
There's no guarantee, of course, that the public review process will identify and resolve all issues — just look at the beautiful but accessibility-challenged Hunters Point Library. And even a publicly-financed structure or complete community control over a project doesn't prevent fatal falls. That's a job for physical infrastructure like barriers and netting, and for social infrastructure like accessible mental health care. But public conversation and feedback for The Vessel could have offered a critical intervention. It's clear that at the Vessel, designing for a narrow group of users and disdaining public input ended up costing lives.
If you or anyone you know is considering suicide or self-harm, or is anxious, depressed, upset, or needs to talk, contact the following people who want to help:
Crisis Text Line: Text CRISIS to 741741 for free, confidential crisis counseling
The National Suicide Prevention Lifeline: 1-800-273-8255
The Trevor Project: 1-866-488-7386`