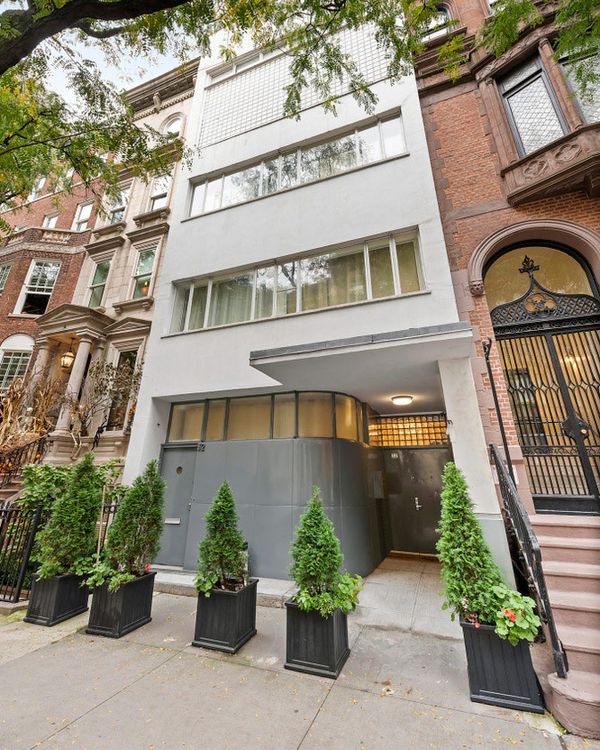 The Kramer House at 32 East 74th Street.
Photo: Rise Media
Walk down East 74th Street between Madison and Park and not a single building exterior has changed materially in a hundred years — except for one. Among the mix of historical revivals (Romanesque, Greek, Gothic), there's a single rowhouse that's bright white with severe lines and a double-height swath of glass brick across the upper façade. A pair of blue-gray enameled steel panels, rather than an Italianate stoop with a big pediment, beckon you into the entrance. The house is an outlier on the street, simultaneously ageless and fresh. It could be from 1995, or 1965, or — and this is the correct answer — 1935.
It's on the market now, which might be considered a grab-it-quick event for a marquee house. Yet it has been a tricky sell. It's been listed for sale four times since its current owner took possession in 2014, at various prices ranging up to $20 million, and was sold twice in the seven years before that. It's not a white elephant, exactly, but it has definitely not been a place where buyers are leaping in. About those previous listings, says Compass's Todd Vitolo, who now has the exclusive, "I think it was more of an aspirational listing — if someone would've given him his number, he'd have sold it. Now he's come to terms with the market, and he has other things he wants to focus on." It's priced at $15.995 million this time, a million and a half more than it sold for seven years ago.
And now, Vitolo says, everyone seems to want a look at it. "We put a sign up on the house when we listed it," says Vitolo, "and I get phone calls from brokers, from random neighbors. People are very curious about this house, and they call me up and want to take a look." He adds that among the very wealthy, townhouses are selling briskly lately because they are a way to avoid the germy possibilities of shared lobbies and small elevators.
Besides, it's a rare chance to own a showstopper by a pioneering architect. It's the work of William Lescaze, who, at the time he got this commission, had recently made a splash in Philadelphia with his tower for the PSFS bank. He then got the commission for this Upper East Side house from Raymond and Mayme (a.k.a Mildred) Kramer, a well-off Manhattan couple who'd been living at One Fifth Avenue. The Kramers' affluence had come from textiles and retailing — Raymond was on the board of Gimbels, the department store that squared off with Macy's from a block away — and they'd admired a house, on East 48th Street, that Lescaze had recently built for himself. A year or so later, they moved into a similar place of their own, this light-filled sugar cube that must have scandalized the neighbors. "It's a landmark," says Vitolo, and, for once, that's not just sales talk. The typical buyer for a place like this, he suggests, will be "someone who wants to be part of a very special club — wanting to own a top modernist architect's house. You can't sleep on a Picasso."
Why, then, has this great house been such a tough sell? Well, when the current owner took possession of the building, it had deteriorated and was in fairly rough condition. (He did not speak to Curbed for this story; Vitolo would say only that the owner prefers his privacy.) A year before he'd bought the house, the New York Times columnist Christopher Gray noted that those steel panels at the entranceway had rusted through, and photos from then reveal that the house had gone from a crisp white to a dirty ecru. Apparently, a couple of previous owners had bought it intending to renovate but then — perhaps because they discovered how much work it needed — sold it off.
The current owner, by contrast, dived into a renovation, cutting the interior up into three apartments that he and his extended family eventually occupied. He did the arduous gut rehab that needed to be done, getting the mechanicals and other systems back in shape, and restored the exterior excellently, in keeping with the Landmarks Preservation Commission's strict rules for the Upper East Side Historic District. The rear of the house, with a great swoopy asymmetrical balcony and bay window off the upper floors, also looks impeccable. The interiors, though, are a different story: They've been done over in a mix of neoclassical and contemporary styles that is at odds with the rest of the house, with elaborate moldings on the kitchen cabinets, glossy herringbone floors, swag curtains, and sorta-Colonial balustrades. Although it's at least fresh and new — the broker offers that it's "warmer" than the house's exterior — it is not, as a preservationist might say, a highly sympathetic renovation.
That said, it's not as if this latest round of renovations destroyed the house's historic interior, because that was mostly gone by the time this century rolled around. But once upon a time, it was really something. Lescaze, in the 1930s, was an early pioneer of American modernism, prominent enough to have been profiled in The New Yorker in 1936. (The headline on the story was simply "Modern.") His larger New York projects include the excellent Williamsburg Houses in Brooklyn and the okay New York City Civil Court on Centre Street.
When the Kramers built their house, Lescaze designed not only the rooms but also the built-in custom furniture. Their grandson, Scott Tower, recalls spending time there starting in the early 1960s, when "it was still a very modern house. I always wondered what it was like in the '30s. It must've been a shocker." Inside, he recalls, "there was built-in shelving, framing for couches in a variety of the rooms. And the bathrooms were extraordinary, in that there were floor-to-ceiling mirrors, and, as a kid, I remember the back-and-forth reflections. It was modern, but it wasn't cold; it wasn't austere. It had a lot of warmth to it." The family always referred to it by its street number: "It was never 'grandma's house' — it was 'We're going to 32.'" Two servants lived there with the Kramers, including a beloved cook, Maria Warren, who stayed for decades. The family left town in the summers, partly because they had a country house and partly because Mayme refused to install window air conditioners lest they spoil the appearance of the building from the street.
Apart from the built-ins, the rest of the furniture was early production Le Corbusier in steel and leather. The third floor, Tower remembers, had a library and a small office for his grandmother's assistant up front, and in back was the master bedroom with an extra-extra-oversize bed: "Two queen mattresses sewn together. And my grandmother was all of five-foot-one!" His sister, Ann Spooner, remembers the house warmly, too: The ground floor, which unusually for its time held the dining room and kitchen, had "two huge heavy Parsons tables, and beyond, this lovely garden." She paused after recalling that and then asked, "Is there still an elevator? Because that was my favorite thing with my sister." There is, or, rather, there is again: The recent renovation put in a new one.
Raymond Kramer died in 1957, and Mayme in 1969. Her daughter (from a previous marriage), Jo Parrish Maloney, didn't want the house — "the upkeep," explains Tower, sounding the slightest bit rueful about it — and sold it to the government of Madagascar, which used it as its permanent mission to the United Nations. That's when it lost its residential details and custom furniture. (Tower recalls that a couple of the Corbusier furniture pieces stayed with the family, and when they were auctioned off a few years back, they brought a steep price because of their unbroken chain of ownership.) The Malagasy government sold the house in 2007.
There are only three William Lescaze houses in Manhattan, all from this period, all somewhat similar in style. The one he built for himself is the house on East 48th Street that the Kramers had admired, and the other is at 124 East 70th, a short walk from the Kramer house. Those two have been meticulously restored by their owners, their details harmonious with Lescaze's aesthetic. That leaves this house on 74th Street — on which the heavy structural and mechanical work has already been done — to go, perhaps, to a buyer who'd complete it with that same dedication to fastidious historical detail. "I think the buyer for this house is someone who appreciates the pedigree," suggests Vitolo, "and wants to probably convert it back into a single-family-ish kind of house." Tower agrees: "I'm sure it makes sense from a financial point of view, but it's sad that it was chopped up — it was an extraordinary architectural creation. Hopefully they're of a mind to do something in keeping with the history of it."