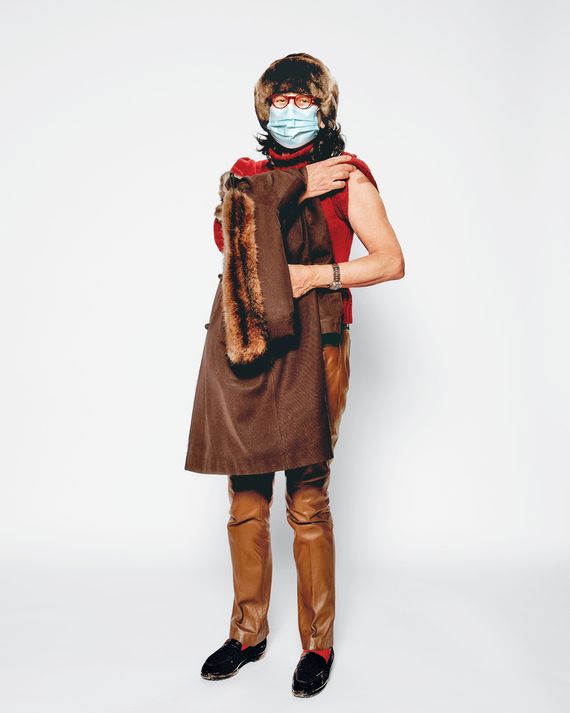 Cheryl Lefkovits.
Photo: Victor Llorente
Cheryl Lefkovits (picture above), Entrepreneur, Upper East Side.
What time was your appointment?
12:15 a.m. I was not thrilled about coming down here in the middle of the night, but it was the only appointment available. I got it because a friend of mine's son is super-savvy on the computer. She called me last Friday night at 11:30 and said, "Call my son, Drew. He's going to get it for you." And he did.
Did it hurt?
Let me tell you, it was nothing compared to chemo. My story is this: My husband died in May 2018. July 2018, I was diagnosed with triple-negative breast cancer. I went through chemo, surgery, a lumpectomy, and radiation — all of it all alone. I was bald. That was fine; hair grows. Really. So last January, my hair was growing back, and I said to myself, Now you can go out and resume life. Well, you know what happened then. But now I'm cancer free.
How'd you get the appointment?
My sister-in-law went online for me, and next thing you know, she called and said I had an appointment for 10:45 p.m. I said, "Don't you know that I'm old?" There was a woman walking out when I walked in; she had white hair like me. We looked at each other, and I said, "We're partying late, huh?"
Are you excited?
I mean, yes. I feel like I'm getting pure liquid gold.
What's your role here exactly?
Administrative: setting up, getting people checked in. People have been coming in anxious — worried about allergic reactions, worried about dying. I have worked in the medical field every single day of this pandemic. I've seen death. I've seen a lot of bad things happen. So I try to make everyone optimistic.
Were you nervous?
No. I was one of the group of people who received the very first polio vaccine. We all lined up in the basement of my public school in the suburbs. After, we got a pin that said POLIO PIONEER. For me, this bookends being involved in two terrible epidemics.
*This article appears in the February 1, 2021, issue of New York Magazine. Subscribe Now!