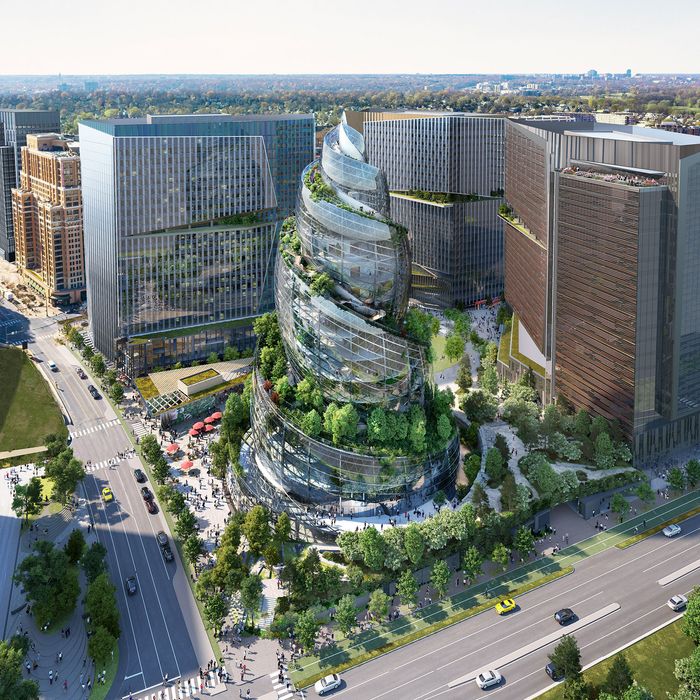 A rendering of the Helix at Amazon's new Arlington headquarters.
Photo: Courtesy of NBBJ
In most offices, the design commitment to nature starts and ends with a potted plant. But Amazon has bigger architectural ambitions (and heftier profits with which to realize them) for its latest corporate Eden in Arlington, Virginia.
In renderings released earlier this month, Amazon teased the Helix, the leafy centerpiece of its upcoming Arlington headquarters. Its driving feature is a forested path that snakes up a 350-foot-tall, conical tower (the effect is that of a soft-serve cone or, as one architecture critic said on social media, the poop emoji). The green trail will be landscaped with trees and plants native to the state, specifically the Blue Ridge Mountains, the 550-mile range that runs through the western part of Virginia. When it opens in 2025, workers will be able to step outdoors on every floor and use the path to access other levels.
With the Helix, Amazon is experimenting with what Daniel Barber and Erin Putalik call the "eco-fantasy project": ambitious buildings meant to mitigate their environmental impact by tying themselves to natural systems. The briefs for these projects hype the latent performance potential of the foliage embedded into the structures, although the extent to which it provides a net ecological benefit is up for debate. In both form and rhetoric, the Helix taps into the eco-fantasy architecture seeded by Emilio Ambasz's Fukuoka Prefectural International Hall and MVRDV's Expo 2000 Pavilion and refined in recent years by designers like Stefano Boeri, Jean Nouvel, and Thomas Heatherwick.
Amazon is hardly the only tech company to embraced eco-branded headquarters. The halo office at Apple's giant Cupertino campus is powered by renewable energy, and its grounds are planted with 9,000 native trees (keep in mind that Apple Park has more parking space than office space). Google's planned "landscraper" HQ in London is topped by a souped-up garden roof with a running track, an amenity-heavy take on the traditional green roof. And in Menlo Park, Facebook festooned the roofs and courtyards of its LEED Platinum offices with ferns and pine trees.
For Amazon, the Virginia complex is actually its second attempt at an eco-campus. The company's first headquarters, in Seattle, is essentially a giant greenhouse. The Spheres, as it's known, enclose vest-clad techies together with 40,000 plants under three gigantic, connected domes. (Both the Helix and the Spheres were designed by the same firm, NBBJ.) The similarities between the buildings' green aesthetics extend to their respective campuses: Both sites aim to be carbon-neutral in the next two decades. Meanwhile, the buildings at the Virginia headquarters will be heated and cooled by 100 percent renewable energy.
But the dream of carbon-canceling headquarters often obscures the actual ecological footprint of new construction. In a recent interview in Domus, green-architecture pioneer Emilio Ambasz posed a question that highlights the paradox of the eco-fantasy project: "What is the relation between an emerging green-sensitive culture, plant-covered buildings, and all the new — some very valid, but many quite superficial — technologies claiming to produce 'green architecture'?"
The Helix may full well embody this paradox, if you consider the carbon emissions of its steel framing and operable glass windows, as well as the custom-engineered terraces, retention systems, stairways, and irrigation rigs that will support and sustain the looping landscape. When reached for comment about the specifics of the Helix's embodied carbon calculations, Amazon told Curbed that it's tracking emissions and that its new buildings are designed to be LEED Platinum.
SCAPE founding principal Kate Orff, whose firm is working with NBBJ on the headquarters, explained that they are working with a team "to keep sustainability in construction a top priority." For the campus, she added, SCAPE is intent on maximizing tree coverage and soil depth and using carbon-neutral concrete where possible.
Since the design is in its early phases, it's hard to evaluate how sustainable the finished building will really be. But precedents like Stefano Boeri's green-hemmed Bosco Verticale apartment buildings in Milan provide a framework for estimating the Helix's future ecological footprint.
The 21,000 plants that cover Bosco Verticale's two towers are situated on terraces kitted out with deep concrete pots and custom irrigation systems. Although a green façade controls temperatures within the buildings and puts residents closer to nature, engineering the terraces to support the plantings added extra material — and extra embodied emissions — to the structure. Ultimately, Bosco Verticale's 280 terraces increase emissions rather than decreasing them, a case study by the World Green Building Council found. And so it's incumbent on future eco-fantasy designers to figure out how to mitigate the additional materials required to support a green landscape.
The carbon debate aside, Bosco Verticale gets a lot of attention because it's one of the first vertical forests that performs to expectations, at least in terms of keeping the greenery alive. Boeri credits engineers at Arup, who figured out how to prevent tall trees from falling over in the wind with bindings and deep waterproof pots. The team designed 11-foot-long cantilevered terraces that support 3.5-foot-wide-by-3.5-foot-deep tree containers filled with topsoil, compost, and lapilli. A sensitive planting scheme placed deciduous trees on the north façade so apartments there would get more light during the winter. Instead of being watered by human gardeners, the terraces are irrigated by a groundwater-fed drip-irrigation system with humidity monitoring. Ongoing upkeep is another crucial factor in the buildings' success: Annual visits from aerial arborists and plant checks from inside apartments tell maintenance where and when plants need attention. As a result, Boeri told Mashable, the 10 percent plant-mortality rate the architect had estimated was actually close to zero three years after completion.
Other experiments in urban greening haven't fared as well. At the Qiyi City Forest Garden development in Chengdu, China, mosquitoes built a city of their own in the lush plantings that covered the complex's eight towers. The problem was so bad that, although the units were almost sold out, only a handful of families moved in. Curbed spoke with a landscape architect and terrace-design expert who guessed that the plant pots were poorly designed for Chengdu's humidity and badly maintained by building management. They may have been filled with stagnant water, the ideal hatchery for biting bugs.
But unlike the flat terraces of Qiyi City Forest Garden and Bosco Verticale, the plantings on the Helix will live on a slope. So what will keep them in place? Orff explained that the designers are developing a kit of parts that will hold soil with a series of stepped and sloped retention systems fitted to the steepness and exposure of each given section. Biodegradable coir mats will protect soil and plants while they root, and trees will be introduced through live staking. Here, too, plants will likely be watered by a drip-irrigation system.
As on a real mountain, the trees on the Helix will be planted tall and full on the bottom and become stubbier at higher elevations. Orff said this was inspired by the rocky trails at Maryland's Catoctin Mountain Park, a national park in the Blue Ridge Mountains. Unlike mountain forests, however, the Helix's flora will not have millions of years to evolve within this environment. Instead, the plantings will have to adapt quickly, because blazing sunlight will test their will to live from day one. Prospective trees like birches or pin cherries might be at their natural elevation, but as journalist and researcher Tim De Chant pointed out on his blog Per Square Mile, extremes of heat and cold are magnified when a tree lives on the unshaded portion of a tall building. He also pointed out that a leaf's surface in bright light can be many degrees warmer than the surrounding air. Extreme temperature fluctuations can dehydrate, stress, and eventually kill plants.
While SCAPE and NBBJ hash out the design details, we should contextualize any sustainability claims about the Helix with something we do know for sure: the environmental impact of Amazon's business model as a whole. The company is famously mum about its energy use, though it congratulates itself for its net-zero carbon plan, as well as its plan to go all-renewable. But thanks to pressure from its employees, we know Amazon's true carbon footprint. In 2019, the company emitted 44.4 million tons of carbon dioxide, according to Forbes. That figure rose to 51.1 million tons in 2020. Those emissions put it in the same league as the oil company Chevron, which produced 60 million tons of carbon dioxide in 2019.
No amount of blue vervain or bushy bluestem on a corporate campus will make even the slightest dent in Amazon's cumulative carbon footprint — from its growing empire of data and fulfillment centers to the delivery-vehicle miles traveled — however sustainable its headquarters are advertised to be. The USDA estimates that a mature tree absorbs 48 pounds of carbon dioxide from the atmosphere annually. This amounts to 0.000000047 percent of Amazon's 2020 emissions. We can take a moment to appreciate the Helix's potential for advancing the forest-building concept, but its green intentions only distract us from Amazon's full ecological impact.