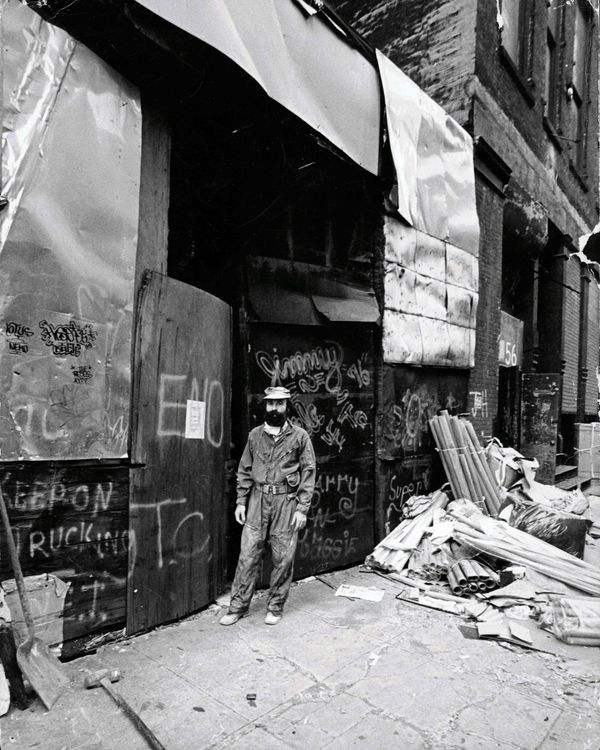 Arturo Di Modica, before he replaced this shack at 54 Crosby Street with a hand-built studio.
Photo: Arturo Di Modica Photo Archive
A little over 20 years ago, I was sent by an editor at this magazine to interview Arturo Di Modica, the sculptor best known for the bronze Charging Bull on Wall Street. We met at his home and studio, a small building in Soho on Crosby Street between Broome and Spring. (There were still a lot of artists in Soho then, although the shift to other neighborhoods was already happening.) At the time, Di Modica was chasing financing to open a restaurant on the ground floor — he wanted to call it the Bull Bar — and we talked a little about his career and work. He was a little bit of an odd character, his personality a mix of reticence and macho, and I came away with a brief, serviceable magazine story. But what stuck with me about Di Modica — who died this week at 80 — was not his personality or even so much the sculptures he made, which were well-loved by the public but remained on the fringes of insider art respectability. It was the story of the Soho building into which he had poured a portion of his life.
Two decades before that, in the late 1970s, Di Modica was a recent immigrant from Sicily. He was broke. But he had an eye for public art stunts, and he made a big splash with one in 1977, dropping eight of his huge marble sculptures on the Rockefeller Center plaza one night to establish an impromptu, permitless art exhibition. It worked exactly as planned: He got fined, almost got arrested, got tons of news coverage, and then Mayor Beame asked to meet him. All eight sculptures sold. He did the same kind of furtive nighttime drop a decade later with Charging Bull, which the city first impounded like an abandoned Chevy, then grudgingly installed in the Financial District, where it has drawn a wealth of attention and love. It was an Instagram object before Instagram. By the end of the 1970s, Soho, where Di Modica lived, had gone from desolate to borderline respectable, with just enough outlaw sheen remaining that it was very, very cool. Di Modica lived on Greene Street, and he had his eye on a piece of property nearby, at 54 Crosby.
It was not even a building. It was a vacant lot with a half-rotted sheet-metal-covered shack on it. The owner didn't want to sell, but Di Modica wore him down, and eventually (as Di Modica's art dealer, Jacob Harmer, told me this week), he said, "Okay — come down to the office with $5,000." Arturo didn't have the five grand, but he scraped it together by borrowing from some art collectors he knew, and he brought a lawyer and the cash. Whereupon he learned that $5,000 was not the total price, but the down payment. Against his lawyer's stern advice, he signed the contract anyway, on the theory that he'd figure out the rest of the payments later. "That was how he worked," Harmer says, noting that later in life, when much more money was flowing, Di Modica would commit to projects that were going to cost millions of dollars to produce with little idea where or how those dollars would materialize.
The vacant lot had previously been the site of a one-story commercial building that (as I remember it) Di Modica told me had burned down. Being a sculptor who was comfortable working with his hands — and a man who was in no position to hire a contractor — he set out to build on the lot himself. He bought a truckload of 8,000 bricks for $400 — from a priest, no less. He did not bother with the Department of Buildings and its permit process; this was the city of a generation ago, when you could do things a little bit under the radar. Instead, he found a pile of discarded 20-foot wooden beams somewhere, made up a kind of fabric sling, and dragged the lumber home, one piece at a time, under cover of night. The shack came down, he found the footings of the previous building, and he started to build up. A couple of years in, he had a finished building that, from the street, looks restrained and utterly craftsmanlike, to the point where it just blends in. You would never, and I mean never, suspect that it was a renegade guerrilla project.
It was — and still is — a rather modest two-story building with a kind of balcony loft upstairs (as Harmer put it, "it's two levels but kind of three"), and he soon decided he needed more space. And here's where Di Modica's story goes from plucky to over-the-top berserk. Over the subsequent years, Di Modica began to dig a two-level basement. By hand, with a pick and a shovel. He would dig by day, and (because, again, this was all clandestine) would haul out the tailings by night, ditching them somewhere far from Crosby Street, God only knows where. By the mid-'80s the building was finished. The city eventually got wind of its existence and sent out an inspector who, in a Hollywood ending (at least as Di Modica told it), was impressed enough with his workmanship to approve the whole thing retroactively. For décor, he fitted out the ceilings with some tree-trunk-size wooden screws that had been part of a wine press, or some such rustic mechanical contrivance, from the family home back in Sicily. I remember, when we spoke all those years ago, asking him if he'd really dug the whole thing out by hand, and he quietly said, "I was very tired."
Di Modica never got the Bull Bar open, although he did hold parties and art events in the space. At one, Harmer remembers, "he'd finished some sculptures based on nude models, and at the opening, the sculptures were there and so were the nude models, recreating the poses. He called it 'Sex on the Beach,' and shipped in tons of sand to make the beach." Eventually he needed money to finance his art projects, and also to get a sculpture school off the ground back in Sicily. So in 2004, he gave up on the restaurant and reaped his incredibly hard-earned profit: He sold 54 Crosby for $3.2 million. The interior was renovated into a crisp minimal retail store, one that's had a couple of tenants since then (sadly, no more giant wine screw). And there you have the story of Soho: from unlivable shack to handmade outlaw home to art-party space to seven-figure real-estate play, in 20 years.