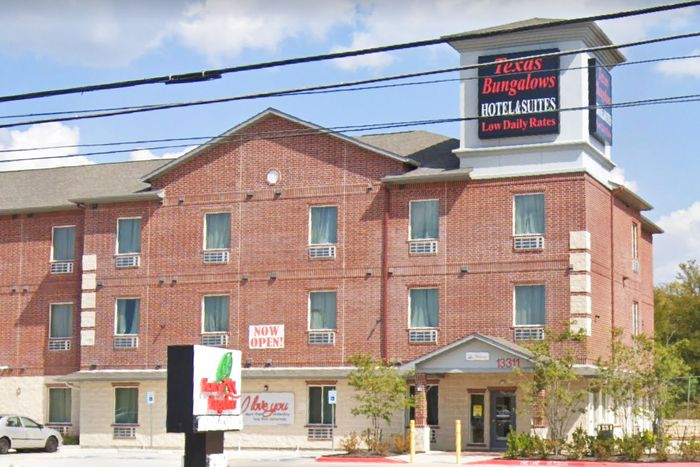 Buying homes, one hotel at a time.
Photo: Google Maps
The Texas Bungalows Hotel & Suites in North Austin has been well maintained during the two years it's been open. It's near the highway and a commuter rail station, which provides a convenient 35-minute ride to downtown. But the family-owned property hasn't seen many extended-stay guests during the pandemic and was recently put up for sale. Last week, Austin's city council voted to buy the three-story hotel as the first of many the city hopes to convert into permanent housing for previously unhoused residents. The new residents in its 61 units will gain access to (in addition to their own living rooms and kitchenettes) wraparound social services like on-site health care and job counseling. A $6.5 million allocation from the city will pay for it, all siphoned from a $20 million chunk redistributed from the city's police budget. As Austin councilmember Greg Casar, who represents the lowest-income district in the city, told Curbed, "We reinvested $20 million almost entirely focused on reducing harm and violence and safety issues in ways that our police budget has oftentimes failed to do."
Over the past six months, calls from Black Lives Matter advocates to defund law enforcement have spurred dozens of U.S. cities to consider reallocating police dollars toward social services. But actually moving the money has proved more difficult in practice. In Minneapolis, for example, where George Floyd's murder at the hands of a cop sparked last summer's global protests, the city council pledged to "end policing as we know it," yet the reform has so far been limited to a handful of policy shifts, not the wide-scale fiscal redistribution called for by advocates. Even in the cities that have successfully cut policing budgets, it's not always clear how the reallocated funds are answering the calls for racial justice. In Los Angeles, the city council voted to redistribute $150 million from the police budget to a variety of community infrastructure projects like park improvements and sidewalk repair. The plan was vetoed by Mayor Eric Garcetti, who wanted to see more aggressive changes; he said the plan was "routine over what could be revolutionary."
Redirecting Austin's police money to have the biggest impact meant prioritizing homelessness, and particularly the rampant criminalization of unhoused residents, says Casar. In Austin, as in much of the country, the demographics of who becomes homeless is evidence of systemic racism in the local housing system: One-third of the county's 2,500 homeless residents are Black, despite making up only 10 percent of the local population. Being homeless also means more interactions with law enforcement, which carries a higher risk of harassment, abuse, and incarceration, says Casar. "If all we do is move people around from one part of the city to the other using the police, not only are we not going to fix the problem — the problem actually gets worse," he says. In addition to funding housing, including a new shelter to protect families facing domestic violence, the reconfigured budget proposes a plan to replace police officers with social workers to respond to nonviolent 911 calls, meaning the people who are the first point of contact for unhoused residents will be armed with mental-health training and access to shelter beds instead of guns.
Austin has more than just police dollars backing its plan to provide stable housing for its most vulnerable residents. A bond passed by voters in 2018 gives the city another stream of revenue for purchasing more properties. Last year, Austin's council bought two additional hotels to use as transitional shelters, and a vote on an additional hotel for permanent housing may happen this week. But some Austinites who believe a better solution is criminalizing those same people for living on sidewalks are pushing back. A movement to reinstate a ban on public camping will likely gather enough signatures to appear on the May ballot, and Texas governor Greg Abbott is threatening to introduce a statewide anti-camping ordinance. Casar says that will just shunt even more people onto the streets. "We know that policing and jails doesn't solve homelessness," he says. "Housing does."