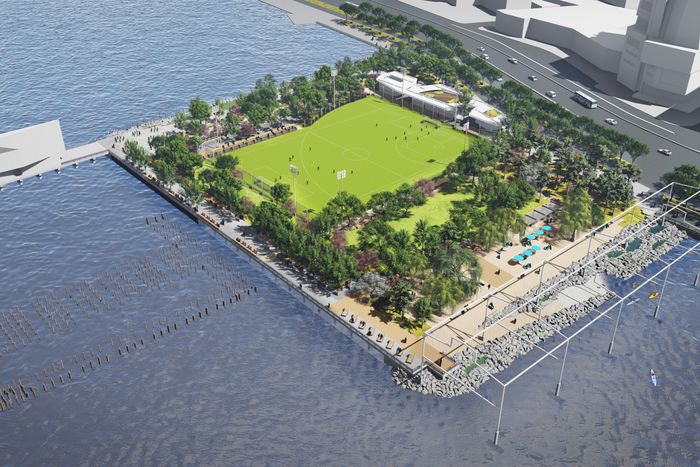 An aerial view of the proposed Gansevoort Peninsula Park on the Hudson River.
Art: James Corner Field Operations, courtesy of the Hudson River Park Trust
New Yorkers may soon be able to lounge, tan, play sports, picnic, and kayak —everything but swim — on a beach just blocks away from the clubs of the Meatpacking District. The proposed 5.5-acre Gansevoort Peninsula Park, at Pier 52 between Gansevoort and Little West 12th streets, will begin construction this spring and is slated to open in 2023. Dumping tons of sand on a pier might seem a little outlandish, but Gansevoort Peninsula is actually on solid ground, on a one-block span of what used to be the city's 13th Avenue. This week, the Hudson River Park Trust issued a request for proposals to build it. The $70 million beach will be funded primarily by the city, and will be Manhattan's first since a sandy expanse of Battery Park was created in the 1970s (mostly as a result of stalled construction) and closed in the '80s.
Designed by James Corner Field Operations (JCFO) — the same firm behind Domino Park and the High Line — the park will have some standard features, like a large sports field and a dog run, but the beach is going to be the thing here. The sand-covered sections of the site, a former Department of Sanitation parking lot, are sure to become a prime sunbathing and Nutcracker-selling location. The site will also include added flood protections to the coastline, along with a salt marsh and access to a kayak launch.
Back in July 2019, JCFO's Lisa Tziona Switkin, who was part of the design team, told Curbed that the idea was to create a place "where you can actually have a stronger relationship with the river, the water; a sanctuary for wildlife." The project may not only get New Yorkers closer than ever to the water, but also tame some people's urges to spontaneously dive into the Hudson.