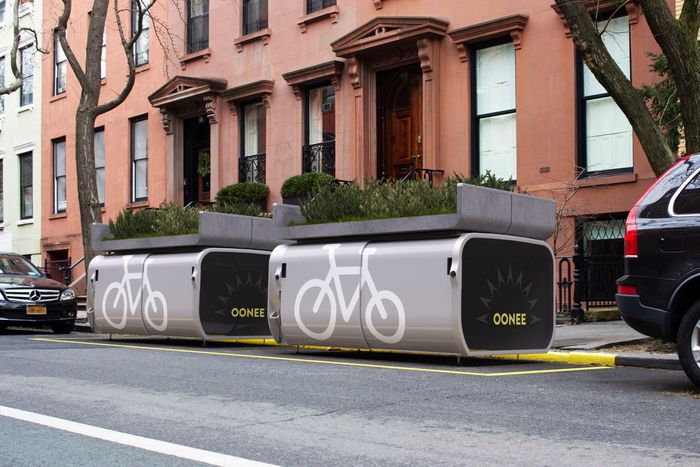 Seven bikes can park in a space for one car.
Photo: Courtesy of Oonee
Shabazz Stuart has done the math. New York City might be in the midst of a pandemic-fed bike boom — cyclist counts over the East River were 55 percent higher in November 2020 than one year before — but there's barely anywhere to park those bikes. That creates huge barriers in a city where one in four households reports having had a bike stolen. "If we want to achieve 30 percent mode-share on bikes and scooters, we have to take parking seriously," Stuart tells Curbed. "There are three million free parking spaces for cars; if you took just 5 percent of them for secure bike parking and charging, you'd have spaces for one million bikes."
To start changing those numbers, Stuart's Brooklyn startup Oonee is deploying the Oonee Mini, a new secure bike-parking pod for residential streets. Each is about the size of a sedan, fitting (physically and symbolically) within the footprint of a curbside parking spot. Two of these boxy containers, which hold seven bikes each, will be installed somewhere in the city as part of a pilot program paid for by scooter company Voi, which won a City Innovation Fund grant as part of its imminent expansion. Users can sign up for a subscription to get remote access, and spots are first-come-first-served. Each pod costs $12,000 to $17,000 to manufacture, depending on the materials and amenities — pumps to inflate tires or charging docks for e-bikes or e-scooters; rooftop gardens or seating are also options — and once they're in place, Oonee handles maintenance, operational support, and snow-shoveling.
Oonee already has larger bike-parking setups in place at transit hubs like the Staten Island Ferry, but these smaller curbside versions hint at something broader. Stuart envisions a network of citywide facilities that serve people who ride bikes and scooters, with flexible, neighborhood-appropriate solutions that could roll out block by block. The pods are modular, and thus can be customized to a wide range of colors and finishes, which Stuart believes can make them as ubiquitous, useful, and handsome as subway wayfinding. "High functionality meets high design," he says. "What if bike parking was just as iconic?" To gather feedback from potential users, Oonee is asking the public where it should put those first two new pods, and will be releasing the data it collects to show city leaders where New Yorkers want bike parking. But Stuart also realizes that the response to an online survey doesn't accurately reflect demand, so Oonee will also be doing its own outreach to find potential locations with lots of bike-dependent residents, especially those with essential workers.
In a recent report, Transportation Alternatives framed the lack of bike parking in the city as a major equity issue. For all the talk about the "hunger games" of car parking, consider that there are 1.5 free on-street parking spaces for every car registered in New York City but only one bicycle spot for every 116 bikes. That disparity especially hurts New Yorkers who use their bikes to do work, says Transportation Alternatives's Cory Epstein. "If you're relying on a heavy e-bike, and you live in a household where there's only stairs, finding a safe place to put your bike, which is your livelihood, is really key," he says. "Getting a bike stolen is seen to some people as something that's annoying—but if you're a working cyclist, it's a direct attack on your economic stability." Earlier this month, the city's new Department of Transportation commissioner Hank Gutman announced that 10,000 new bike racks would be installed by the end of 2022, but without more secured parking, that still leaves a large number of cyclists behind, says Stuart. "In order for bikes and scooters to be viable as a mainstream mode of transportation we have to make them more convenient and more reliable than driving a car," he says. "We can create a network of bike and scooter parking spaces that allow micromobility to really flourish."