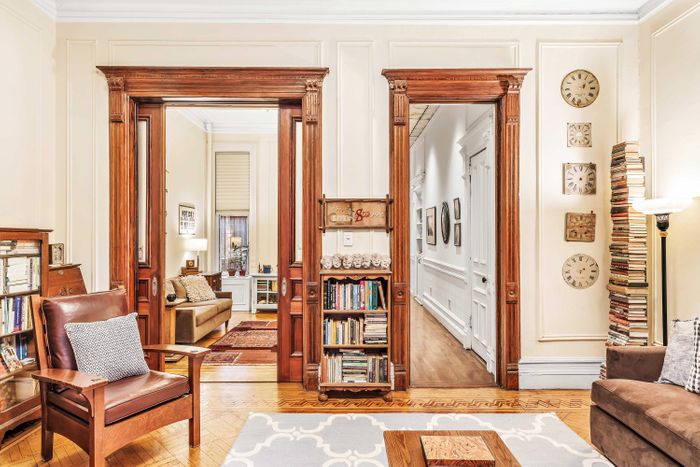 Photo: Eitan Gamliely for Sotheby's International Realty
On a quiet residential block of West 16th Street, a set of twin five-story red-brick co-ops built in 1884 retains some of the grandest prewar apartments in Chelsea. Each floor of the Irvington has two floor-through apartments with a classic "Edwardian five" layout, which were popular at the turn of the century with well-off bachelors or widows. They were known for having especially large bedrooms, oversize dining rooms for entertaining, and — typically — a smaller bedroom meant for a maid.
This parlor floor unit was actually once only half its size, before it was combined with a rear unit into a complete floor-through. It has 11-foot ceilings, and more or less every original period detail one could imagine: two fireplaces, wall moldings, window casings, and parquet floors with ribbon inlays. The current owner, who bought the place 15 years ago, renovated both full bathrooms and upgraded the kitchen, putting in tin tile ceilings reclaimed from a parochial school in Minnesota, plus a Bertazzoni stove.
You enter the apartment into a roughly 13-by-13-foot dining room, which is open to the C-shaped kitchen. A long hallway with a built-in shelf and storage (plus more tin tile as wall covering) ends with a street-facing living room that's over 17 by 13 feet. There, original pocket doors open up to a smaller room. At the other end of the apartment is a 13-by-16-foot bedroom, which leads to a closet with a washer/dryer and another smaller room, currently used as an office. There are 11 windows.
Since there are only a dozen units in each of the two Irvington buildings (and units rarely come up for sale), you end up knowing all the residents, the owner says. And some former ones. One time the owner noticed an older man (who didn't live in the building) staring at the buzzers in the vestibule. "I had a hunch he had once lived in my apartment. And I was right, he had — over 50 years ago, in the rear unit before it was combined," says the owner. "I invited him in and gave him a tour."